We are just a few days away from the start of Geo Week 2023, the premier event that champions the coming together of geospatial technologies and the built world, which includes a sold out exhibit floor and over 2500 registrants. Here at Geo Week News, we've talked a lot about all of the exciting events on the conference program this year, including a keynote address from Esri founder and president Jack Dangermond as well as a keynote panel discussing the AEC industry's readiness for digital transformation. That's in addition to speaker and panel sessions touching on the worlds of 3D technology, geospatial, and the AEC industry, plus an impressive lineup of discussions taking place at the Exhibit Hall Theater.
On top of all the exciting speaker and panel sessions throughout the three-day event, though, there is also going to be a tremendous amount of innovative technologies on display around the exhibit floor. All corners of the floor will feature companies looking to show off and provide demonstrations for their newest products, a list of companies which includes Mosaic. The 360-degree camera and mobile mapping specialist will be offering Geo Week attendees a chance to experience their newest products via both a test-drive as well as by foot.
The last year has been a busy one for Mosaic, who have updated and added integrations to their Mosaic 51 camera as well as introducing their Mosaic X mobile mapping 360-degree camera. The former is their trademark hardware, a durable and precise camera which is made for urban mapping and surveying, while the latter allows for accurate data capture at highway speeds.
Lynn Puzzo, a senior content manager with Mosaic, told Geo Week News about the state of the 360-degree camera industry, for which the company hopes the Mosaic 51 will be the standard, "There was very little innovation in the 360º imaging market for years. There were few companies making such cameras and they were not motivated to improve and offer customers better quality images. While some data collectors and sensors improved over time, cameras did not. And many had started to realize that while positional data and point clouds are very important and useful in some situations, sometimes they just needed high resolution, photo realistic images that are discernable with the human eye and understandable to anyone looking at it."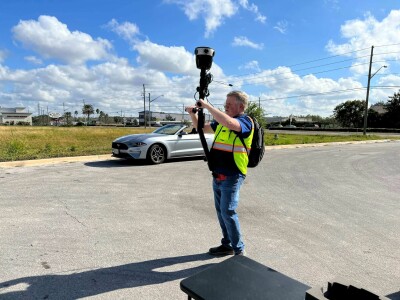 She also points to the integration with other industry-standard sensors as one of the big separating factors for the Mosaic 51. That includes an integration announced in the back half of 2022 with RIEGL's mobile mapping systems, allowing for accurate point clouds to be created with RIEGL's hardware in addition to the high-resolution photogrammetry to colorize the point clouds from laser scanning. Other separating factors include the versatility to work within most any workflow, easy transitioning between data capture methods, and low barriers to entry. The camera was utilized by Site Tour 360 to capture imagery in the aftermath of Hurricane Ian's impact in Florida. With the Mosaic 51, the team estimated their "workflow speed increase [was] about double to quadruple," while also talking up the camera's durability and reliability.
All of that will be on display at booth 1027 for interested attendees, who can schedule a test drive with the Mosaic 51 here and can also test the hardware on foot using a forward-facing mount designed by one of the company's customers. When asked what type of professional would likely get the most out of the live driving demo, Puzzo pointed to "surveyors and inspectors who are using other 360 imaging solutions - many of which are overly complex systems that are difficult to work with to see how a simple device can also be powerful and user-friendly at once," in addition to, "upper management who are frustrated with the poor image quality that they get for themselves or for their customers, to understand that there is a reliable and robust solution for them."
At conferences like Geo Week, it's always valuable to see a variety of speakers to gain more knowledge about the latest technologies and strategies being utilized in your industry. But, in addition to that, it's important to carve out time to see everything on display on the exhibit floor, including live demonstrations like the ones being offered by Mosaic.
And as for these trainings, Puzzo is confident that the simplicity of their hardware solutions will be on display for potential customers, telling us, "We don't conduct training sessions for our customers. We give them a few very short videos and a few easy to follow documents. Why? Because our systems were built to be easy to operate out of the box. Don't believe us? Come see how."