In late May 2022, after announcing an upgrade to the Mosaic 51 camera, Mosaic, a Prague-based geospatial hardware company, announced the launch of its next mobile mapping camera, the Mosaic X.
Designed for everyone from surveying and mapping to asset management and real estate companies, the Mosaic X is Mosaic's next step to provide the 360° mapping and surveying industries with a singular, easy-to-use system, purposely built mobile mapping camera.
Primarily targeting GIS, surveying, infrastructure, road maintenance, and mobile mapping, the new model produces "extremely accurate" photos and 360° videos, as well as photorealistic 3D models using photogrammetry instead of lidar.
As stated by Mosaic, the camera is "being touted as the only 360° mobile mapping camera featuring global shutter for photogrammetry ability at highway speeds", and it is "more economically feasible than other similar devices on the market."
"We've had a wide variety of companies and industries approach us in the last year," said Jeffrey Martin, CEO at Mosaic. "Many are in the business of creating detailed street-view maps of their communities. Many companies have primarily used lidar technology for point cloud creation and are looking for cheaper, easier-to-manage solutions. There have been many inquiries from companies currently employing outdated systems that are looking to upgrade to a device that offers improved clarity in the image quality, something these systems have long lagged on."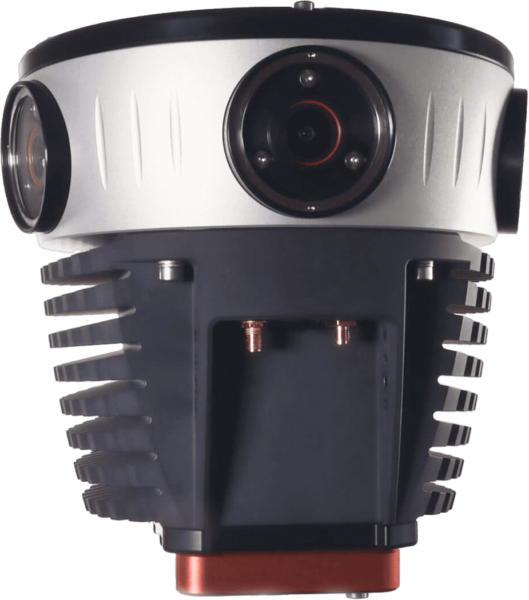 While the Mosaic X uses the same frame as the company's current flagship camera, Mosaic 51, the newest model replaces Mosaic 51's sensor type, from a rolling to a global shutter, and sees an increase in resolution from 12K to 13K. Additionally, it features sub-millisecond synchronization and precise triggering from external sensors, and distance-based triggering. Also, it is easier to calibrate the camera in terms of the lens intrinsic and spatial geometry of the separate sensors.
"We spared no expense on the optics this time around," Martin commented.
"The Mosaic 51 is very good, don't get me wrong - much better than any other 360° mobile mapping camera on the market. But the Mosaic X produces extraordinarily sharp images that surpassed our expectations."
Like its predecessor, the Mosaic X also features industrial-grade water-resistant connectors and IP64 certification, handling harsh conditions, like moisture, mechanical shock, cold, and extremely hot environments without overheating. Moreover, the camera comes with an AUX port, making it possible for the camera to connect with external GNSS devices and/or lidar, and a built-in CPU and GPU, allowing users to operate the camera and capture data all day long without the need for a computer within the vehicle.
The Mosaic X is ready for pre-orders, with the first shipment planned for September 2022. For more information on the Mosaic X, contact the Mosaic sales team.