Interested in more on this topic?
Register for Geo Week! Geo Week audiences can use code GISDAY for $100 off or a free expo pass.
Going back to the early days of human civilization, location has always been important as cities needed to be built in optimal places. The value derived from this locational data has certainly changed as time has gone on, and the area of study around mapping has become infinitely more technologically-based, but the basic idea of locational knowledge remains crucial. In the present, we study this data with geographic information systems, or GIS, and November 16, GIS Day, is an international day of celebration for this important field of study.
Jack Dangermond, the president and co-founder of Esri, credits Ralph Nader for inspiring the creation of GIS Day, a day for people all around the world to learn about geography and its importance to our modern day society. Even just in the 23 years since the first GIS Day celebration in 1999, the field and adjacent fields have changed substantially with the exponential improvement of technology and information sensors, but the basis remains the same. All around the world today, universities, government agencies, non-profits, and private companies are coming together to celebrate the importance of GIS and providing the opportunity for anyone to discover the benefits of the tools.
These benefits are wide-ranging, too, and the world was – and continues to be – reminded of how crucial this locational data can be throughout the COVID-19 pandemic. GIS has been heavily leaned upon throughout this global pandemic as spatial analysis became as important as ever. Maps using ArcGIS and other platforms were created and constantly updated to track where people were becoming infected with the virus, giving organizations both public and private crucial information about where potential outbreaks were taking place, as well as what areas were most in need of sites for both testing and vaccination. Having one map with these multiple layers of information helped local entities slow down the spread of the virus to the extent that was possible.
We see other important use cases for GIS as well for both commercial gains and the public good. On the point of the latter, all sorts of nonprofits rely on this information – which Esri makes available for free for some – to more effectively and efficiently perform their important work. The information gleaned from GIS can also be used to protect citizens before, during, and after natural disasters, while also being a key tool in the fight for water conservation. Commercially, companies rely on this data to choose the best location for their companies, as well as planning complex projects like telecom networks, among many other uses.
In celebration of GIS Day, the Geo Week team is offering a limited time offer for GIS professionals to attend Geo Week to see crucial GIS updates. The case studies and presentations featured at Geo Week include creative, innovative and forward-thinking applications of GIS. You can learn how point clouds and GIS data can be visualized in new ways in Advanced Visualization and Applications of AR/VR/XR, the benefits of GIS, BIM and CAD are coming together in Empowering Digital Twins, how AI could add even more value to GIS data in AI/Machine Learning Opportunities for Geospatial Data – and more! Geo Week audiences can use code GISDAY for $100 off or a free expo hall pass.
Moving forward, this information is only going to grow in importance, too, in both the public and private realms. As the effects of climate change become more pronounced, extreme weather events will become more common and water conservation will become more of a priority, leading to an even greater need for this data. On the commercial side, sensor technology will only grow, adding more crucial information to layers of GIS maps, and telecom networks will only become more complex. City development is expected to grow exponentially over the coming years, leading to more complex urban planning which will require detailed maps. And even with whatever the "metaverse" may turn into, companies will be looking to maximize their digital location using many of the same ideas from our physical GIS analysis.
Given the current importance of GIS tools and the expected growth of this importance as time moves along, things like GIS day are important to give everyone the opportunity to learn how to harness this data, and at least become aware of its significance to their everyday life.
Want to learn more about the latest in GIS? Attend the 2023 edition of Geo Week!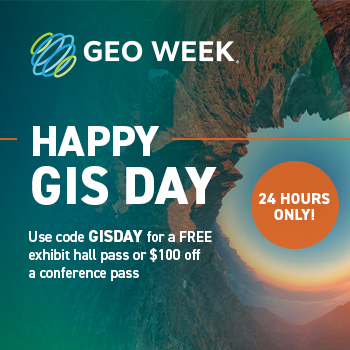 Geo Week features more than 180 solutions providers showcasing the latest technology across the disciplines under the Geo Week umbrella – AEC, 3D technology and geospatial/lidar.
A powerful conference program will detail practical applications, best practices, and innovative approaches to complex projects. Thousands of attendees will be onsite to network, explore market-specific challenges, and make headway on the larger issues facing the industry as a whole. Registration is now open -  click here to register today.
SPECIAL PROMOTION: Use code GISDAY for $100 off a Geo Week conference pass or a FREE exhibit hall pass – must register by GIS Day, November 16, 2022.
Register Now>