In just about any industry you can think of, it's a safe bet that Microsoft products are ubiquitous throughout the space. Emails are sent on Outlook, spreadsheets created on Excel, instant messaging is done through Teams, and presentations put together using PowerPoint. Of course, this isn't true for every company and worker in a given industry, but the Office 365 product suite dominates the business world. The construction industry is no exception here, even if it's not necessarily thought of in the same light as others. But for the project management side of things, and work done in the office, Microsoft's tools are still king, even if there are construction-specific platforms for some of these tools.
SMARTBUILD, a provider of construction management software, is one company who's recognized this trend. The Toronto-based company offers a number of solutions for construction managers, including a Critical Completion Monitor to help prevent mistakes before they happen, Smart Messaging, Smart Reports, Smart Documents, and Smart Contacts, with specialized products for general contractors and subcontractors. They also have a new product coming for designers, which is scheduled to be released in November.
To continue providing the most value possible to their users, earlier this summer the company announced a new collaboration with Microsoft, combining the construction-specific tools from SMARTBUILD with Microsoft Office applications. Geo Week News recently spoke with SMARTBUILD founder and CEO Zulq Malik about the company's founding, the integration with Microsoft, and the process of digitization in AEC.
A platform by contractors, for contractors
Speaking with Malik, it's clear that the backbone of SMARTBUILD is his and his team's background, which is in the general contracting space. Prior to founding the company in 2019, when they put forth what Malik refers to as a "soft launch," he worked in the field as a contractor, largely working on large civil projects. As a manager at the firm, Malik most enjoyed working on the complex projects.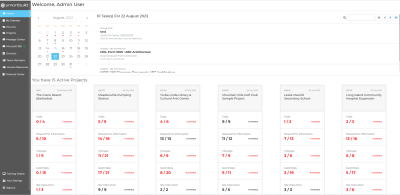 "We were a more boutique-ish, smaller firm. If the project had hair on it, we were your best candidates," he said. "As a manager throughout my career, I really enjoyed the jobs where you can actually reevaluate phasing and scheduling, and come up with a new plan. That was successful for us; it was very successful for me and my career."
Malik dates the birth of SMARTBUILD back to 2006, a year after he had established his own general contracting company. That year, they had bid on a large airport project, pitting them against significantly bigger firms. "We knew that for us to punch above our weight class," Malik told Geo Week News, "we had to do something a little bit different. I got the itch to evaluate what we were doing in our company and said, How do I re-tool that department to make it better?"
As a result, they launched what today is SMARTBUILD Bids, a bid information and invitation system, in 2007. Four years later, they had a fully integrated project management tool for the GC firm. While there were always ambitions to take the tool to the open market, that didn't happen for another seven years, in 2018. He spent the next year leading up to, and following, the aforementioned soft launch, readying the platform and ensuring people will react positively from the outset, knowing firsthand how the industry operates.
"It's got to stand the test of time. I don't want funky colors that are in fashion today that I'm going to have to redo three years from now," Malik said. "I want somebody to say, Hey, that looks nice. Contractors are already resistant to change, so do not put all these drop down menus that 20-year-olds are used to. Make it front and center, and they know where they have to click next. Bring features into the platform that allow easy navigation. I'd rather spend the time and effort to do that up front, because the benefit down the road is immense."
Those instincts worked out, and the timing of this launch a year before COVID hit – instantly moving work to remote settings – helped set SMARTBUILD up for success. Generally, they are targeting small- and medium-sized firms – much like Malik's former company – and they've made the platform fit into their budgets.
Talking about pricing, Malik told Geo Week News, "A lot of companies that are selling technology, it's about: What are they willing to pay? If they own a $2 million excavator, that must mean they're willing to pay me $30,000 a year for my platform. No, that's not true. What is my cost of delivery, and what's a reasonable profit for us that we can continue to grow and support their system, and cover our costs? Even a company that has three guys in the field can afford to have our platform."
Integrating with Microsoft
More recently, the bigger news has been the company's integration with Microsoft, announced this summer, bringing Office 365 products into the SMARTBUILD platforms. Malik and his team recognized Microsoft as the "dominant player" in the construction industry, and had already made their own email integrations with Outlook. So, they reached out to Microsoft to broach the topic of a collaboration, and the value was clear for both sides quickly. For Microsoft, they were a dominant player in the construction industry, but their knowledge of the industry wasn't where it could be.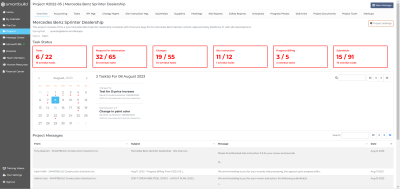 "Their limitation in construction, because they don't understand it, they are traditionally used to selling seat count," Malik said. "What they've done is they've organized sectors based on seat count. So, if you are not selling 300 seats in one shot, you're considered small to them. Construction as a whole is made up of so many stakeholders, so many two-, three-, four- and five-seat counts that the net aggregate is huge."
Malik says the ultimate goal is for SMARTBUILD to become "the face of [Microsoft's] construction knowledge and insight into the industry." Today, they have integrations with products like Outlook and Excel, with the next step looking to add an integration for Teams, Microsoft's messaging and calls application.
The digitization of construction
SMARTBUILD's rise comes right at the time when the construction industry is starting to embrace technological tools like never before, something Malik has recognized. In fact, he is focusing on those people and firms who are willing to push forward rather than those that still seem stuck in the old ways. "I can sell software now anywhere I want in the world to contractors, because they're happy to jump on a Teams call or a Zoom call. The ones that say, No, you have to come to our office and it has to be in person, we're not interested. That means you're stuck in the past."
Malik also spoke to one of construction's biggest issues, the workforce, and what kind of management tools he sees being preferred by younger generations. "As far as the younger workforce, we have heard and seen scenarios where this segment is looking for tools that don't require a lot of steps," he said. "They are impressed by tools that have a UX that is similar to the social media tools they've grown up with. As this workforce is maturing in their roles, they are looking for tools that have all the data front and center. They don't like having to go searching to connect the dots."
Overall, Malik says the relationship with Microsoft allows SMARTBUILD to move faster with some of these new tools – like those involving AI, for example – because "they want to have a relationship with you first before they're going to give you access to the tools. But for us being into that ecosystem, we're connected to that space, we were already early adopters of it. That was the idea that spurred the relationship with Microsoft, and kind of deepened it. And for them, we proved to be a valuable partner that isn't just full of smoke and mirrors."