At March's ConExpo/Con-Agg 2023, Trimble introduced a new software module for their Siteworks software, the Trimble Siteworks Machine Guidance Module. The addition of this module will, per Trimble's release of the news, "extend the capabilities of Trimble Siteworks Software from surveying and layout to support on-machine excavator guidance and operator assistance." Their announcement in March indicates that the module would be available in the second quarter of this year.
Trimble produces technology for a number of different industries, with just a couple of recent examples being in the worlds of autonomous vehicles and forestry, but as we saw last fall at Trimble Dimensions, construction still remains one of their key industries. This is another addition which is designed to particularly help small and midsized contracting firms thanks to the ability to use the same hardware and software already being used with Siteworks Site Positioning Systems to complete other tasks on a job site, "including surveying, machine guidance, in-field design and reporting."
That ability to move the system between different excavators and jobsites is the crucial piece to this new module, removing the need to make multiple or bulk purchases of the same hardware and software to apply to all necessary equipment and job sites. Those who are already using Siteworks can utilize the technology they already own on machines with a, per Trimble, simple-to-install machine kit along with the software module.
In order to use the Machine Guidance Module, users can use either the Trimble SPS986 or the Trimble R780 GNSS Smart Antenna, along with Trimble's ProPoint high-precision positioning engine, and any bring-your-own-device or Trimble field tablet which can support Trimble Siteworks software. From there, users have the ability to design, measure, and lay out projects while off of a machine, and then move the GNSS receiver – the SPS986 or R780 mentioned above – and field tablet from pole to whatever machine is being used. As a result, they get in-cab 3D machine guidance and grade checking capabilities, all without the need for a surveyor.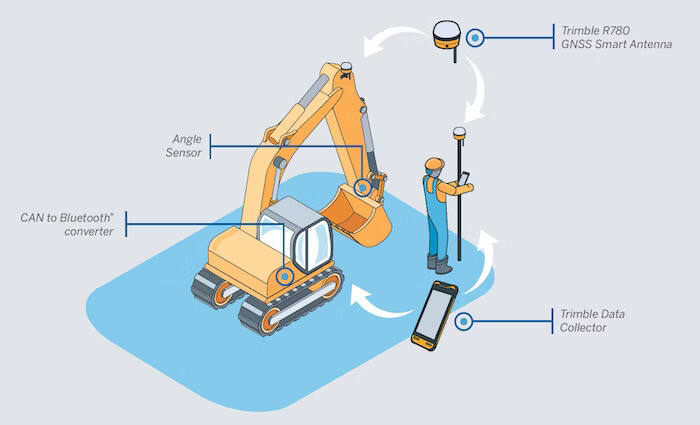 In a time where construction demand is booming, contractors of all sizes – but particularly on the smaller end – are searching for simplified workflows without adding too much to their budgets. An easy way to accomplish those goals is with a tool that can be utilized in multiple job sites and with multiple pieces of equipment, which is what Trimble accomplishes here. Furthermore, the new module also provides value by increasing collaboration capabilities between those on- and off-site. Using Trimble WorksManager Software, contracts have the ability to share designs between locations, access remote support, and ensure that progress continues for a project even while away from the site.
"The new Siteworks Machine Guidance Module is purpose-built to be versatile, portable and easy to use, giving local contractors an entry-point into construction surveying and machine guidance," said Kevin Garcia, general manager, Trimble Civil Specialty Solutions. "Our goal is to give users all of the benefits of Trimble Siteworks at the tip of the bucket, essentially turning the machine into a surveyor. Contractors can get more done with less training and time, and utilize their personnel for other tasks, while also moving workers out of trenches and away from equipment operating on the jobsite."