Shortly after the calendar flipped over to 2023, Trimble announced that they have added to a growing list of colleges and universities around the globe which will feature a Trimble Technology Lab. This newest one also hits on a new category of science for the company's program, as they have opened a Trimble Technology Lab specifically looking at forestry, housed at the University of British Columbia (UBC) at their Forest Sciences Centre. Two research forests in the area represent the main hubs for work being done at this lab: The Malcolm Knapp Research Forest and the Alex Fraser Research Forest.
By opening this new lab, Trimble is looking to both equip future generations with knowledge of the most cutting edge tools for a space whose importance should only grow in the coming years, and also assist with important research already being done today. Per the company's press release highlighting the news, this will not only be the first Trimble Technology Lab focused on forestry, but also the first lab of its kind in Canada.
In a prepared press statement, Dr. Nicholas Coops, UBC Forestry professor and Canada research chair in Remote Sensing, said, "The Trimble Technology Lab at UBC gives students and researchers access to some of the most innovative digital tools that are being integrated into forestry practices across the industry. Making this technology available under one roof will help UBC Forestry continue to provide the highest caliber educational and research opportunities."
Dominik Roeser, UBC's Program Director, Forest Resources Management & Forest Operations Programs, as well as an associate professor, provided Geo Week News with more information as to what exactly will be provided by this new tech lab from Trimble. Crucially, he notes that both students – and there, both undergraduate and graduate students – and researchers will benefit. For students, he notes those across the Faculty of Forestry at UBC will benefit, specifically calling out masters students in Geomatics and Sustainable Forest Management, and mentions the Trimble Catalyst, along with GPS receivers and total stations as technology with which students will have the chance to become familiar.
He also tells us that the "Trimble Technology Lab will also have a large application for research projects across the Faculty of Forestry," pointing to examples such as creating digital twins of the forest and developing tree models using laser scanners. Roeser makes sure to also mention software, such as Trimble's Tekla and SketchUp, being crucial as well, noting that those two solutions have been "critical research tools as we develop new, innovative building systems of the future based on wood."
Additionally, he told Geo Week News about research around timber harvesting supply chain analysis being done by looking at industrial Internet of Things (IoT) data, leaning heavily on data collection enabled by Trimble's technology in the lab, as well as other multidisciplinary research projects that rely on geospatial data and information.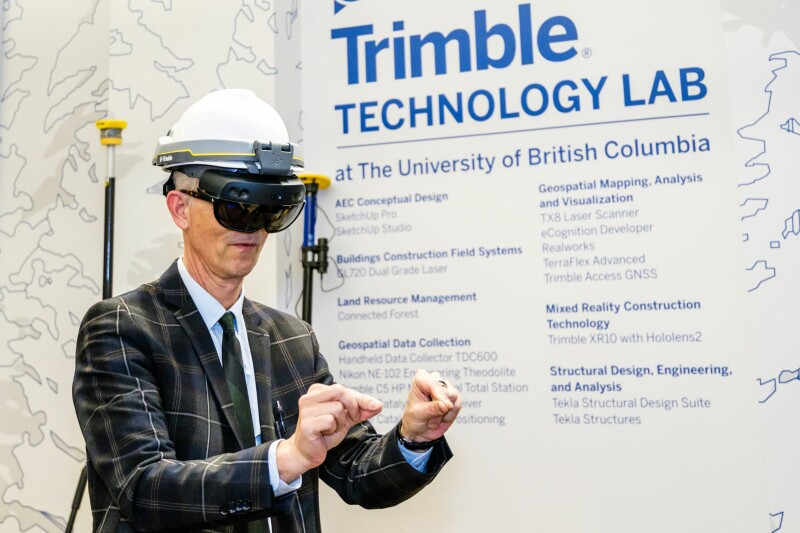 Along with Roeser, Geo Week News also spoke with Amy Northcutt, who is the director of Education and Outreach at Trimble, about both this new technology lab opening at UBC as well as the program as a whole. Beginning with this newest announcement, Northcutt notes that UBC was a natural fit for a number of reasons. One was a bit of circumstance, as the university boasts an alum who works within Trimble's forestry department, but in addition to that there is an existing relationship between UBC and Eginburgh Napier University in Scotland, the site of Europe's first Trimble Tech Lab. Even more important than that, though, are those two research forests mentioned above, as well as the just general interest throughout the university – and really, area as a whole – in sustainable forestry practices.
Northcutt also provided insight into why Trimble is now getting into forestry with this particular education outreach program. She notes that this is the company's "first lab moving into the natural resources space," which certainly makes sense given industry and societal trends. Calling forestry within the geospatial lens a "trending topic, partially because it's kind of entrenched in the conversation about carbon sequestration."
This is a key point towards what this new lab from Trimble suggests about the industry, and tracks with what we've been seeing as well. It goes without saying that the environment and sustainability is top of mind for the entire planet right now, and given forests' place in the sequestration, and at times release, of carbon, forestry is at center stage. We've seen recently scientists in the UK use laser scanners to show forests in that part of the world could be a significantly larger carbon sink than previously known, while Norway has created a SmartForest using mobile laser scanning techniques.
This move signals that Trimble is recognizing this trend and working to ensure future professionals are comfortable with the types of technology they will need in their evolving industry. Northcutt tells us that there are now 30 Trimble labs at universities spanning 17 countries, with the program kicking off back in 2017. As for the future, Northcutt couldn't give any specifics, but did suggest that we should continue to look at them focusing on other industries, including agriculture, which are more focused than ever on geospatial technology and the truths they can tell.
We can also expect them to continue looking towards these sustainability-leaning sectors. Northcutt finished our conversation by saying, "I think this is really Trimble's way of saying 'We're passionate and investing in the sustainable built environment, and the sustainable future. This is one of those tangible ways you can show that investment."