Quantum-Systems, a Munich-based development, design, and production company for small UAVs, did its part amid the COVID-19 pandemic, testing the feasibility of its Trinity F90+ drone in order to deliver COVID test samples from a mobile testing station to a lab. It was able to transport 20 samples at a time in a seven-minute trip, which would have taken nearly 10 times as long via a regular courier service. This month they made more news with the Trinity F90+ drone, announcing a partnership with Propeller Aero to include the latter's surveying and 3D software with the Trinity F90+.
Propeller, whose Post-Processed Kinematic (PPK) solution has previously been used with manufacturers like DJI, is an Australian-based drone data visualization and analytics platform. Their PPK solution can be used to quickly and accurately survey and 3D map worksites across many industries, such as construction and mining, and with this new partnership now has a dedicated large scale mapping drone that can fly for up to 90 minutes, 50% greater than the industry standard. Working with the Trinity F90+ drone, contractors will be able to not only receive more precise data and 3D models, but do so in just a few hours compared to what has typically been a weeks-long project.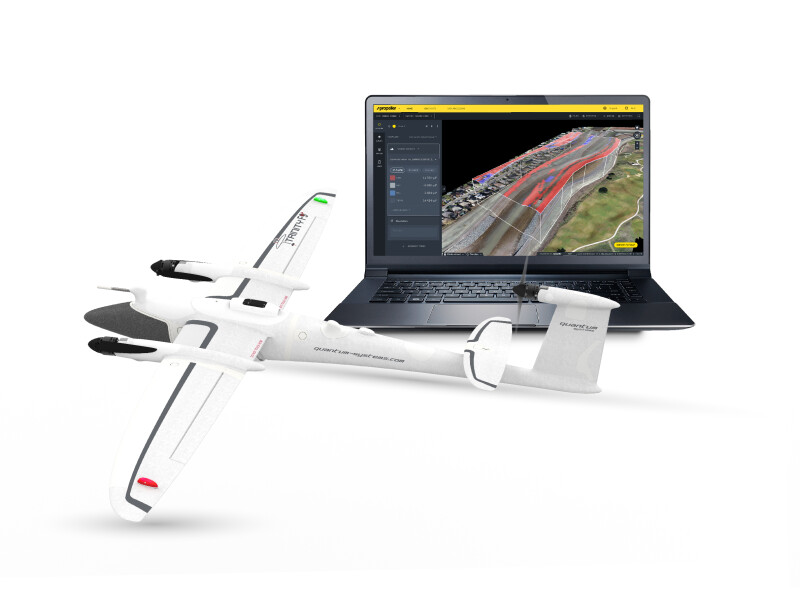 Using Propeller's solution, users will simply need to place the product's AeroPoints around the worksite to provide a perimeter for the Trinity F90+ to survey. After the flight is complete, data from the drone can be easily dragged and dropped into Propeller, who then transforms the surveying data into a 3D map of the worksite. The dataset and map goes through a quality assurance process by the company's team of GIS experts and is then returned to the user within 24 hours.
This partnership should be particularly useful for contractors and surveyors who are tasked with surveying large pieces of land, and especially those with potentially dangerous terrain. Rather than needing to undergo the arduous process of manual data collection, users not only get the work more quickly, efficiently, and accurately, but also can stave off any potential safety issues by utilizing the remote drone. The hardware is also only becoming more accessible, with Quantum-Systems building off a previous F9 model to make their latest electric vertical take-off and landing (eVTOL) UAV accessible to a wider user base.
Propeller also has a channel partnership with Trimble, allowing clients to now take advantage of both Trimble Stratus, Trimble's drone mapping software system which allows users to map, measure, and share worksite and asset information, and the Trinity F90+ as part of a purchasable all-in-one solution through participating SITECH distributors.
Florian Seibel, the co-founder and CEO of Quantum-Systems, has recognized that with the rapid progression of the drone industry over the last handful of years, customer expectations are changing just as rapidly. Seibel notes, "It is no longer reasonable to have customers figure out a complete solution for their needs. As a technology company, we listen to our customers and understand their needs and how best to address them." With this partnership and the Trimble Stratus solution as well, customers can now have end-to-end coverage on products.