Orbit GT is set to showcase a number of new mobile mapping solutions as the 2016 Esri Partner Conference in Palm Springs.
Mobile Mapping Integrations
Orbit GT will be showing new mobile mapping integrations in Esri's ArcOnline and Web App Builder.
"Our Esri integrations will change the way the Esri community looks at Mobile Mapping content", says Peter Bonne, CEO of Orbit GT. "At the upcoming Esri Partner Conference, we will showcase our new technologies to embed in ArcOnline, and provide a widget for the Web App Builder so any developer can take advantage of it."
Orbit GT's new technology supports streaming of imagery and point clouds of unlimited size directly into ArcOnline. The technology makes Mobile Mapping, from Street Level Imagery up to the vast point clouds representing a complete city or corridor in full 3D, available from within any web page built with ArcOnline or the Web App Builder. It includes Orbit's unique support for all and any mobile mapping system, introducing a first-of-its-kind standard for this type of content in the Geospatial Business.
Mobile Mapping Plugins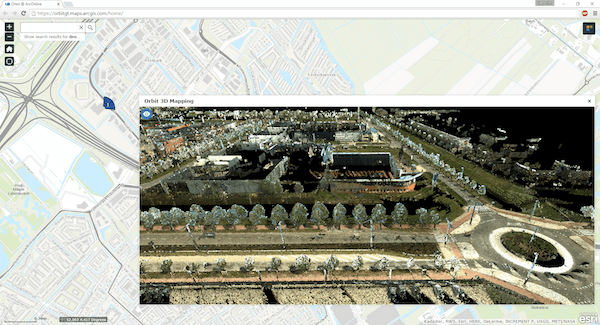 In addition, Orbit GT will launch the newest version of its mobile mapping plugin for ArcGIS for desktop.
"Our long-available Mobile Mapping plugin for ArcGIS is now updated to its latest version 11.2, adding features made available by the latest Publisher update", says Peter Bonne, CEO of Orbit GT. "At the upcoming Esri Partner Conference, we are demoing this new plugin and will have it available for download and purchase right after the show."
The ArcGIS plugin tightly links Orbit GT's Mobile Mapping technology with the ArcGIS for Desktop platform. Many different measurements can be made, and its results can be copied to create new objects in standard ArcGIS layers. Even so, all ArcGIS layers can be superimposed upon the Orbit Mobile Mapping view. This high end integration allows professionals around the world to embrace Mobile Mapping from within their familiar workflows.
Orbit GT will be in booth 104.