Somehow, we are already two weeks removed from the opening of Geo Week 2023, celebrating all at the intersection of geospatial and the built world. It was a record showing for the event, which saw a 50 percent increase in verified attendance compared to the 2022 event, with 2821 professionals seeing speaker sessions and a packed exhibitor floor in Denver, Colorado. The show included, but was certainly not limited to, a pair of keynotes – one from Esri founder and President Jack Dangermond and another panel discussion around the AEC industry's readiness for digitalization – winners of lidar awards and the annual Pitch the Press competition, panels on digital twins and federal projects, product previews, and a showcasing of different laser scanning hardware being tested on the floor of the event. You can see our full coverage here.
It was impossible to catch everything the three-day event had to offer, but being there for the entire show, it's hard to deny the buzz being generated by those in attendance. These conversations, perhaps even more than the speaker sessions and other events, are what really drive this show and others like it. Below are some of the key takeaways we had from the show, both from sitting through as many sessions as possible and derived from conversations we had and overheard on the floor.
The next step is going to take everyone
The biggest overarching theme one could come away from listening to professionals in the know and thought leaders in this space is that the geospatial industry, and data coming from it, is only going to grow in importance. The AEC industry has long realized their value, and that is going to trickle into other adjacent spaces as well. However, the effectiveness and speed at which this technology is integrated into other workflows is going to rely on collaboration and everyone pulling in the same direction.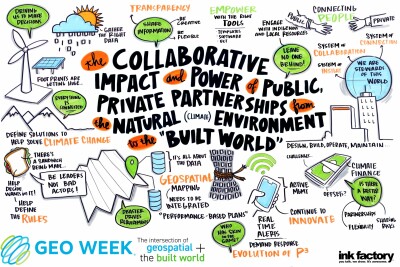 Really, this gets at the heart of why this show includes the companies and attendees that it does. Geo Week takes pride in being that intersection between the geospatial and built worlds, and both sides of that equation were not only present, but actively collaborating. We talked a lot in the intro about the different speaker sessions and events, but perhaps even more important to viewing this takeaway was on the exhibit hall floor. Here, we saw professionals who maybe would not have connected at all without this opportunity coming together and realizing what they can do to grow each of their businesses or industries in general.
This was also a major theme of Dangermond's keynote, who talked a lot about the coming together of industries and the importance of that continued collaboration, both for the success of industry, but also more importantly for the improved health of our planet. You can see his full keynote address, as well as the AEC keynote, here.
Standards and integrations must come next
Last decade saw a boom in both laser scanning technology and construction technology in general. As the demand for these tools became clear, companies rushed in to fill the void, and largely to great success. We have seen adoption rise in the AEC industry, a trend we expect to continue, and laser scanning has become both more advanced and simpler to use. That said, now that all of these tools have been built, the next step is improving the end user experience with more integrations and more standardizations. That last piece was one of the highlights of the USIBD Laser Scanning Event, in which they discussed their hope to develop a more standardized view of hardware specs. It may seem like a small thing, but it does make shopping and comparison easier for users and is just one piece of a larger puzzle in lowering the barrier to entry.
This idea was also a highlight of the AEC keynote, along with being a theme in conversation with those who work in the construction industry. There are a lot of reasons this space may be behind others in adoption of digital tools, but one of the big ones is that the tools available are too disparate. When this adoption was first taking place, as described above, companies – and sometimes individual construction firms – created tools to address specific issues. The end result is a number of different tools from different sources which don't always interact well with each other. The next step for the industry if we're going to maximize digital adoption is, whether through innovation, consolidation, or some other method, to enable seamless integration between these tools.
Why not 3D?
This is a bit of preaching to the choir considering the audience for both this website and the Geo Week conference at large, but the value of 3D visualization continued to be hammered home throughout the event. The big question many speakers and those on the floor had was simply: Why not 3D? It was pointed out, including in multiple sessions around the digital twin space, that humans naturally think about things in 3D, since that is how we perceive the world around us. We've long been limited to 2D designs because that was all technology allowed, and now some are resistant to change. There aren't really any good arguments against it, though.
And that was the strategy given by many around how to convince people to invest in and implement more 3D visualization tools. Simply ask why not, and pose the question: If we were just creating these processes from scratch today, would we opt for a 3D representation, or 2D? There's really only one answer to that question, and it should open the eyes of skeptics.
All eyes are on the future
This ties back to something we discussed in the first takeaway, which is that this is a space that is only going to keep growing. This was felt in a few different ways throughout the show, even beyond the general conversation piece of that. Part of that was with the university showcase, in which a handful of universities sent researchers and students to discuss the current projects and network with others in the industry. Located in the middle of the exhibit floor, presenters were available to talk through their research with anyone who was interested, and there was certainly an abundance of interest based on crowds in that area throughout the three days.
Companies and organizations throughout the floor were aware of the next generation's presence as well. With this being a growing industry, plenty of exhibitors – including the National Geospatial-Intelligence Agency – were actively looking to fill open positions and held on-site interviews with some of the young attendees. The growth of this show itself is a sign of the momentum, and based on what we saw on the floor and conversations companies were having, the industry is in good hands moving forward.