This is part 1 of 3 of Product Preview coverage. Check out additional highlights covering software and hardware.
Save the Date for Geo Week 2024!
February 11-13, 2024 | Colorado Convention Center | Denver, CO, USA

Even before the fascinating kick-off keynote panel discussion centered around digitalization in the AEC industry, attendees at Geo Week 2023 had the opportunity to see some of the newest and most exciting products hitting the market in the industry. Spread across two rooms, 21 different companies spent 15 minutes each detailing the new innovations their companies are excited to share throughout this three-day conference at the Colorado Convention Center in Denver.

These products ran the gamut in terms of what attendees can see throughout the exhibit hall at this event, ranging from laser scanning hardware to photogrammetry software to tool for the AEC industry and everything in between. We'll be highlighting all of these products over the next three days, starting today with a look at a group of products centered around aerial data capture.

Nearmap specializes in collecting high-quality imagery captured on a consistent basis throughout the United States and abroad. For their presentation, they introduced their new HyperCamera 3, which revolutionizes the way the company captures their data. The new camera, which was in development for two years before its release last October, provides twice the detail as their previous model to go with four times the capture area thanks to more angles from which an area is captured – 14, to be exact. All of this, combined with new AI features and upcoming collaboration tools to be rolled out in a series of releases, is sure to enhance the value for Nearmap customers.

One of the top companies for collecting and processing high-quality photography, Phase One presented on the newest innovations from their company over the last year. The company's cameras, which are used for aerial imaging as well as mapping and UAV inspections, include both compact and full-size versions. As explained in this presentation, they also take advantage of Bayer sensors and new blur control to ensure the highest-quality images possible. Additionally, they also showed off their processing workflows, which includes the recording of all RAW data from the collection to ensure a user can go all the way back to get any form of data they may need for a project.

It doesn't come as a big surprise given how influential and prolific RIEGL is in the data capture industry, but they had enough exciting new technology to discuss this year that they actually had two presentations, including one around aerial laser scanning. Running through their extensive product offerings for airborne lidar, they introduced a few new scanners in the VQ 580-IIS, the VQ-1260, and the VQ-1460, all of which can provide wide-area forestry scanning, while the latter two are also utilized for alpine environments. In addition, RIEGL discussed their pod solutions, which can be used with helicopters and other crewed aircraft, as well as their topo-bathymetric solutions, which includes the new VQ-840-GL.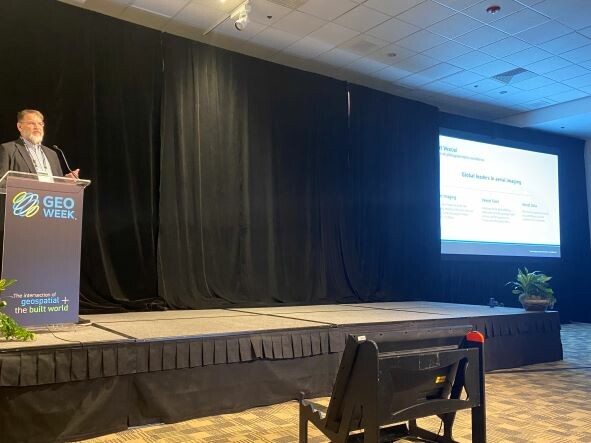 Vexcel is another company that offers both hardware and software solutions for the aerial imagery space, and discussed both aspects of their business in their presentation. Customers already have access to nearly the entire United States with Vexcel's data capturing, but they are expanding their program in the U.S. in the coming year to cover even more, and to cover some urban areas more frequently than they already were. In addition to that raw data, the company is also adding improved AI for extracting elements in the imagery for things like damage assessment, among other use cases. Their presentation also included introductions to their new Eagle 4.1 nadir photogrammetric aerial imaging solution as well as their Osprey 4.1 combination oblique and nadir photogrammetric aerial imaging solution.
AEVEX Aerospace specializes in providing their customers with the best and most actionable aerial intelligence possible, and discussed their wide range of solutions in their presentation. They not only touched on those aerial solutions, which are used for, among other things, powerline mapping, land surveying, and mining, but also their mobile solutions. These ground-based mobile systems add more detail to surveys getting accurate on-the-ground data collection. In addition to the data collection, the company also has the software to provide customers with real-time data viewing, pre-flight tools, and post-processing tools.
Teledyne made their presentation focused around their Galaxy product, which centers around airborne lidar data collection. Much of that process is centered around their Galaxy scanner, but this presentation focused more on innovation within the Galaxy Onboard platform, which can revolutionize the data collection process for pilots. The system collects data in real-time, with a separate, wireless display to make it easier for pilots to react to the data. Additionally, the system tracks where data was good, decent, and bad in real-time to more quickly react and adjust flight plans. Per the presentation, this new all-in-one workflow can provide a 60 percent reduction in re-flight cost and resourcing.