One of the defining trends in the world of surveying over the last decade or so has been the growing use of UAVs in mapping workflows, thanks to payloads becoming smaller and more affordable without sacrificing much in the way of accuracy. YellowScan is one of the companies helping make this trend a reality as providers of both hardware and software for UAV mapping. At this year's INTERGEO conference in Germany, the company announced a series of new offerings, including two updated lidar solutions on the hardware side. Those are the Explorer and Surveyor Ultra, which are joined by a new mobile app, new camera module integrations, and new mounting brackets.
We'll start on the hardware side with the Explorer lidar unit, which they call the "first compact, versatile and long range platform on the market." They add that it is the culmination of several years of research and development, and is an updated offering to what they first introduced in 2021. The unit is compatible with single or dual RGB camera modules, and has a range up to 300 meters with 2 centimeter precision and accuracy. In total, the unit weighs 1.8 kilograms, or about four points. The Explorer can be used with UAVs as well as light crewed aircraft, helicopters, and land vehicles. Along with the lidar unit, purchase includes a hardshell backpack, four batteries and a charger, a GNSS Antenna, two USB keys, YellowScan CloudStation, technical support, and more.
Like the Explorer, the Surveyor Ultra is also an update on an existing unit, this one originally introduced back in 2018. The Surveyor Ultra is meant to be used with YellowScan's Fly&Drive, which allows units to be easily transferred from UAV platforms to land vehicles to collect data with both aerial and mobile mapping techniques. Data can be collected from up to 100 meters above ground level, with 3 centimeters precision and 2.5 centimeter accuracy, and the unit comes in at just under one kilogram. The Surveyor Ultra features a 360-degree field of view, and can be used to penetrate vegetation with 32 laser beams included within the unit.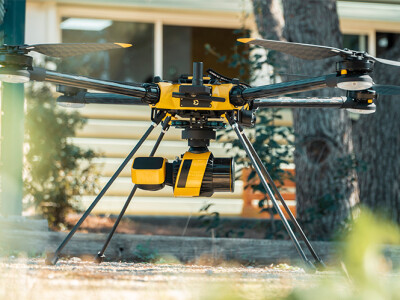 Along with these two updated lidar mapping units, YellowScan also announced ways to ensure users can more easily complete a wider variety of projects. Firstly, they say in their announcements that they've been working to create camera module integrations to better offer lidar and photogrammetric in concert with each other. To achieve that goal, they've unveiled new 20- and 60-megapixel cameras as well as dual camera options, which can be used with the company's lidar systems, including the Explorer and Surveyor Ultra. Additionally, they've introduced a new mounting bracket, opening up better compatibility for these sensor systems with a larger variety of UAVs. This is their latest, updated list of compatible drone partners.
Finally, the company announced a new mobile app available for both Android and iOS users. The free app allows users to connect their YellowScan system via Bluetooth, review and adjust lidar settings, and operate the system remotely.
This is a wide-ranging series of updates and new offerings being announced by YellowScan, but they all fit under the umbrella of adjusting to today's surveying needs. Specifically, the focus appears to be enhancing flexibility for users. The redesigns of the two lidar systems improve performance and also make them more compact, making them easier to transport and manipulate for projects. They are also making it easier to combine lidar and photogrammetry, an increasingly popular workflow, and the mobile application shows evolution with a younger generation coming into the workforce who are used to having these mobile options. In a space like UAV mapping which is constantly evolving, it's important to show this kind of flexibility with products, meeting users where they sit.