XYZ Reality is the transformational construction technology company behind Holosite, the world's first Engineering-Grade Augmented Reality platform. Recently, the company announced The Atom, its worldwide commercial launch of AR headset for construction. It combines a safety-certified hardhat, augmented reality displays and the in-built, computing power of the integrated cloud-based HoloSite solutions, and positions BIM onsite to millimeter accuracy. Now, engineering-grade AR can deliver a fundamental change in the way construction is carried out, enabling teams to move from reactive to proactive working practices.
Keeping the build process in 3D
The Atom delivers precision on-site by allowing the user to accurately position 3D models within construction tolerances. It has been built with construction protocols and safety in mind and is BSI/ANSI certified for hardhat impact, penetration and visor optical protection. Although XYZ Reality's technology is currently focused on the construction phase, it also enables design decisions in the field. Users can now build it right the first time and eliminate rework that may occur on-site.
There has already been an industry-wide shift to design more in 3D as it delivers a higher degree of coordination and clash avoidance through better visualization. However, during construction, the 3D model is converted back into thousands of 2D drawings, which workers are left to interpret and then build to millimeter accuracy. This is when errors happen on-site: laser scanning has successfully identified that up to 80% of works are installed out of tolerance by 200mm. By using The Atom, users can keep the build process in 3D and move away from reactive processes to a more proactive approach, thereby eliminating rework and building right, first time.
BIM positioning
The optics of The Atom allow for 720p resolution per eye, 40 degrees field of view (FOV) and are highly visible in sunlight. With regards to its power capabilities, The Atom uses 2x hot-swappable internal battery modules (just like a battery for a cordless drill), meaning the user can experience an all-day lifespan by swapping them in/out.
The Atom's controller is used to position the BIM model by tapping into the site coordinate system: this can be done by tapping into existing retro targets, gridlines and datums. Once positioned, the controller is used to interact with the model and place issues in space. By pairing the headset with the controller, the user is able to link a point in the real world with a point in the digital world. This opens a world of possibilities and is a gamechanger for AR in construction. Typical accuracies reported are to 5mm – which is comparable to engineering instruments in the industry, and is within construction tolerances.
Using The Atom and HoloSite within teams
HoloSite is XYZ Reality's AR platform, where Autodesk Revit, Navisworks and other project data is uploaded and converted into an XYZ format which plugs into The Atom. Data flow takes place between The Atom and HoloSite providing visibility and real-time information flow between site teams and office-based teams. The site coordinates are the local 3D project coordinate system.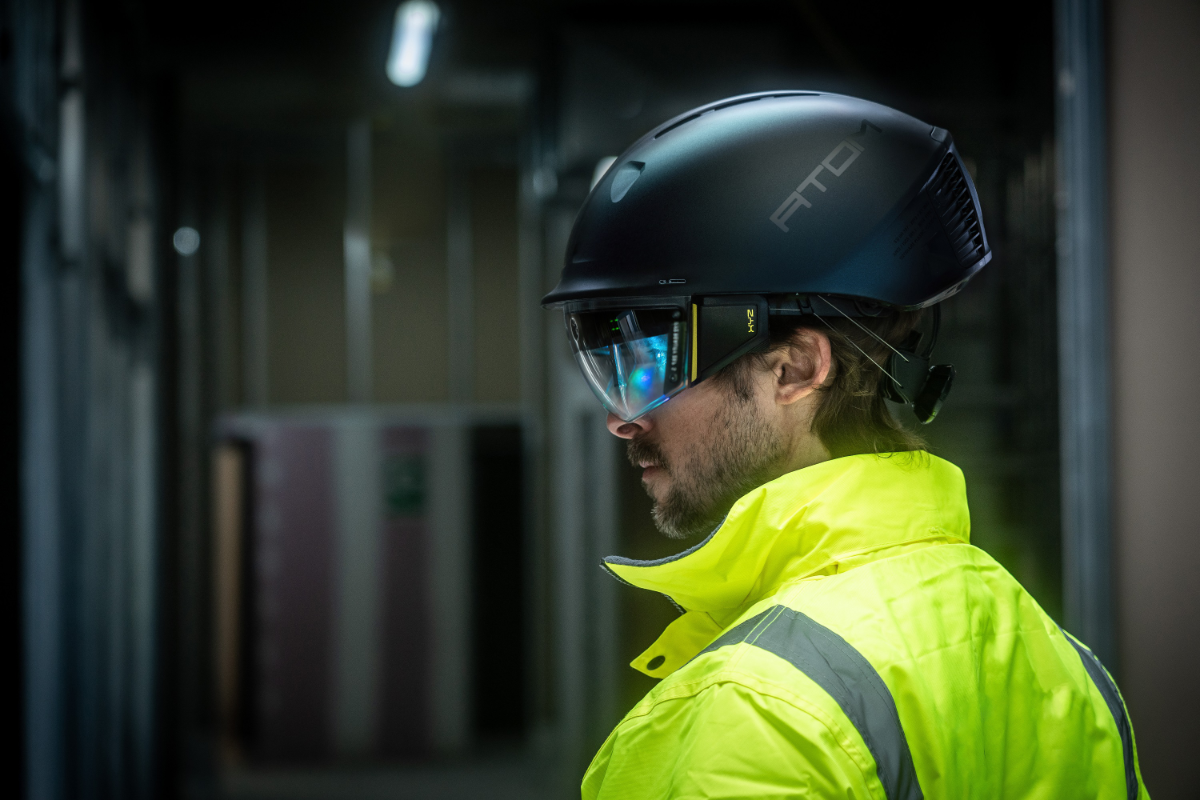 The Atom has standardized the 3D model for use across different site roles, which is especially relevant for construction managers who typically deal with 2D on site. Through XYZ Reality's issue management reporting tool, construction managers can create live and accurately placed issues on-site, which can be linked back to relevant trades and users to be resolved.
The ability to remote stream through the headset to get a user's point of view also means that collaboration has never been better. Rather than holding site meetings or looking at photographs, all project stakeholders (clients, engineers, architects, contractors, sub-contractors) can stream in remotely to troubleshoot issues on-site in real-time or complete key milestone walk downs.
Within The Atom, users can create their own issue management fields, allowing them to import any existing processes into our HoloSite system. XYZ Reality have some exciting ongoing beta trials with established synchronization platforms which will be announced later this year.