World of Concrete featured numerous tools that are designed to change expectations around AEC workflows as well as ones that will enable "jobsite automation" to enable whole new ways or working, but these innovations are not limited to construction sites. Robotic total stations are making an impact their, but surveyors in many different fields have adopted them to open up brand new opportunities. Attendees were able to explore what such efficiencies could look like for themselves at the Deaton's Geo-Tronics booth.
Deaton's Geo-Tronics services most major brands, but are focused on providing one-man systems that any surveyor can use. A full-time TopCon and Sokkia distributor, owner Troy Deaton understands the different kinds of pressure that surveyors are under given the legal responsibility that comes with their work. The heightened expectations on surveyors are part of the reason he's made sure that products like the Topcon GT 1000 Series Robotic Total Station and the Sokkia GPS/GNSS are available for purchase through his store. After supporting the Surveying/Engineering Industry for nearly three decades, he's seen the difference these innovations make for surveyors out in the field.
"Robotic systems can make things happen in an incredible powerful way," Deaton told Geo Week News. "In many cases, surveyors have to do their work before a project can really begin, which makes it that much more important for surveyors to use new robotic and GPS solutions that allow them to do what they need to do in a timely fashion."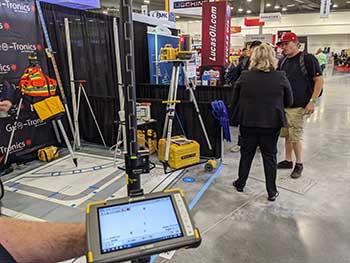 Deaton provided attends with a quick demo of what that can look like with a Topcon LN-150 and FC-5000 tablet. He quickly and expertly showed how simple it was to utilize the precise 3D positioning by setting up from across the aisle of the booth. Moving with the tablet provided real-time positioning, providing a sense of how positioning needs across a variety of projects can be met with little a single one-button, self-leveling setup.
That simplicity is at the core of the service Deaton's Geo-Tronics provides, enabling them to be a one-stop-shop for any surveying and construction positioning equipment, supplies, and service needs.
"Whether it's through the purchase of a new tool or support to better utilize an existing system or setup, we're here to support surveyors with tools that make their jobs easier," Deaton said.
Learn more about Deaton's Geo-Tronics by visiting their site.