While it feels like it took place in a whole different world, it actually wasn't all that long ago that Hexagon showcased the power of AR at an industry event to help users enable and create truly digital workflows. At World of Concrete 2021, this concept was further defined with multiple products on display at the Hexagon booth, although there were two that have and continue to change expectations around what an AEC workflow should be in a positive manner.

Highlighted as one of the 12 Products to Kick Off World of Concrete, Hexagon Smart Build is designed to connect the office and the field in a whole new manner. The transparency and better coordination it enables is the result of an effort to provide visibility into project status for everyone involved. Doing so has changed expectations around workflows and schedules so that every single project member can be on the same page. Making critical information available to everyone in this manner allows issues to be discovered and resolved before they turn into problems, underscoring the difference these digital workflows represent.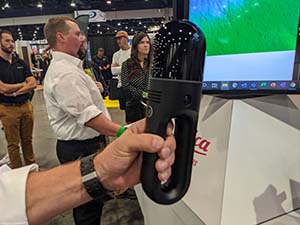 We've talked about what a great piece of hardware Leica made with the BLK360, and many of those same advantages have literally been built into BLK2GO at a more affordable price. The portability of the BLK2GO means that the time needed to plan and scan on-site can be vastly reduced and certain places like the area above a ceiling or cabinet can be scanned in a way that might otherwise be missed. Information can be captured in a faster and more complete way with BLK2GO, making it easier to avoid delays and provide project members with the information they need to make decisions.

With events and entire industries opening up, there's a big push to "get back to normal," although many want to retain the efficiencies that have been created over the past year with teams needing to be separated and certain processes having to be digitalized. Solutions like Hexagon Smart Build and BLK2GO have created these types of efficiencies by changing expectations related to the way in which information is captured and coordinated, helping to define the digital workflows that will effectively reshape organizations and entire industries.