Technologies and tools that are designed to augment certain tasks and jobs have redefined entire industries. Given that a large percentage of construction companies still use paper and pen on-site, such innovations have been slow to be adopted across AEC organizations and workflows, but the inefficiencies of such processes can no longer be ignored. Because of this, there's been a big push to adopt the new technologies and tools that are being designed specifically for the construction industry, many of which are enabling "jobsite automation" to better support and assist with certain jobs, rather than eliminate them. At World of Concrete 2021, Hilti showed off a number of their solutions that define exactly what this "jobsite automation" can look like.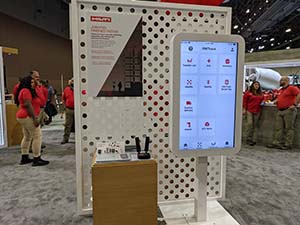 Hilti's ON!Track asset management solution was created to help solve problems related to managing data, services, workers, and safety certifications. This third generation of the software has gone from what was essentially a passive asset list to an active tracking system that uses data to optimize productivity. Users can get inventory counts in seconds that might otherwise take up an entire day. An upcoming public API will allow users to define further efficiencies with ON!Track while relying on the technical and backend support that have made Hilti solutions distinct.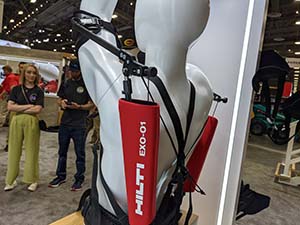 The EXO-O1 exoskeleton provides users with a much different type of support. Created to actively assist craft professionals that deal with upper-body fatigue and pain resulting from repetitive overhead tasks, the EXO-O1 provides literal support by relieving strain on shoulders and arms during overhead installation work. It has been shown to reduce strain that would otherwise be put on workers by up to almost 50%.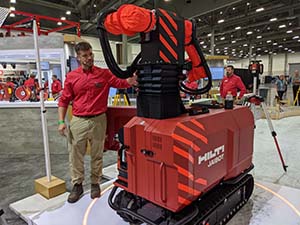 Positioned as a semi-automated drilling solution, the Hilti Jaibot doesn't replace jobs but rather extends careers. By relieving construction workers from the strenuous task of overhead drilling, the Jaibot is a collaborative robot that is designed to be part of the jobsite in a way that frees up resources to focus on other tasks.
All of these innovations are in addition to Hilti's efforts to develop robotic reality capture that will enable job site automation on a whole new level. Whether they're designed to impact a physical task or a digital workflow, all of these solutions define what it can mean to enable human augmentation for tasks that otherwise consume a great deal of time, energy or effort. Doing so will create the efficiencies in construction that can make a difference between finishing a project on time or going over budget.