August 1, 2014, Sophia Antipolis, France – Today, Acute3D, famous for its high end software solutions for producing high resolution 3D models from simple photographs, launches a truly free, fully functional, time-unlimited edition of its leading professional Smart3DCapture® solution.
Following the success of 123D Catch, the cloud based 3D reconstruction service from Autodesk which embeds the Smart3DCapture technology at its very heart and reported over 6 million users last September, Acute3D decided to offer a specific edition to every individual or professional willing to 3D scan their world (people, objects, indoor or outdoor scenes) with their camera or smartphone, without sending their photos over internet.
With Smart3DCapture Free edition, everyone can easily turn simple photographs into 3D models that can be published on the internet or printed in 3D.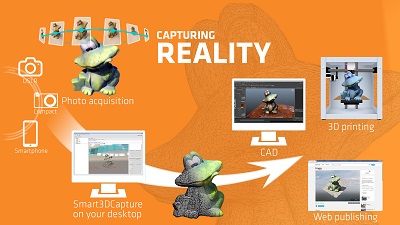 You like this Inukshuk stone pile in Vancouver? Just shoot photos of it from all directions with your smartphone or camera and run Smart3DCapture Free edition on your desktop to turn them into a stunning 3D model. Share it with your friends and family through Sketchfab for instance or with the free Smart3DCapture Viewer and enjoy adding 3D to your memories!
This new edition will be presented in preview at the SIGGRAPH Conference taking place on August 12-14 in Vancouver, Canada.
Visit our SIGGRAPH booth #518 and join the Acute3D community today!
Acute3D Company
Acute3D develops and sells Smart3DCapture a software solution allowing to produce high resolution 3D models from simple photographs, without any human intervention.
The principle of Smart3DCapture is to analyze several photographs of a static subject, taken from different viewpoints, and to automatically detect pixels corresponding to a same physical point. From many such correspondences, relative orientations of photos and accurate 3D shape of the scene can be inferred.
Smart3DCapture solves this problem with cutting edge photogrammetry, computer vision and computational geometry algorithms fulfilling industrial-quality requirements in terms of precision, scalability, efficiency, usage, robustness and interoperability.
About Smart3DCapture
For now, Smart3DCapture is available in three commercial editions:
Smart3DCapture Advanced allows the production of high resolution 3D models as well as the generation of digital surface models (DSM) and true orthophotos from imagery datasets as big as 10 gigapixels. It is most suited for, but not limited to, UAS/UAV/drone operators.
Smart3DCapture Expert pushes the limits of the Advanced edition with an extension to 30 gigapixels per input imagery dataset, and a batch processing ability through a job queue. It is the perfect solution for demanding scanning and surveying projects.
Smart3Capture Ultimate is dedicated to larger-scale 3D surveying and mapping. It can handle an unlimited number of photographs without any limitation in size, and allows computations to be parallelized on a cluster of 3D reconstruction engines.