Stockholm Municipality has set up an attractive way to communicate on its future urban projects. In the Culture House of Stockholm City, a large touch screen is available for citizens to fly through a photo-realistic 3D model and explore the various urban projects planned in Stockholm.
The impressive virtual mock up (pictured above) of the Swedish capital city was created by Blom Sweden AB thanks to the Smart3DCapture solution from Acute3D for the 3D reconstruction, and to Agency9's CityPlanner for the visualization.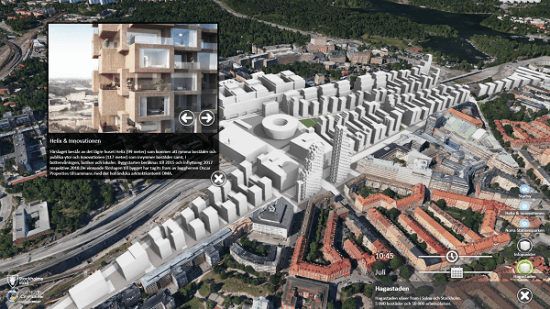 Merging the ultra accurate 3D model automatically generated by Smart3DCapture (including more than 5 billion triangles) and the GIS data already collected by Stockholm Municipality, this photo-realistic 3D city model is not a mere 3D view of Stockholm, but also an incontestable key tool in the decision making process and an universal communication mean with citizens.  
About Acute3D Company 
Acute3D develops and sells Smart3DCapture™, a software solution allowing to produce high resolution 3D models from simple photographs, without any human intervention. 
The principle of Smart3DCapture™ is to analyze several photographs of a static subject, taken from different viewpoints, and to automatically detect pixels corresponding to a same physical point. From many such correspondences, relative orientations of photos and accurate 3D shape of the scene can be inferred. 
Smart3DCapture™ solves this problem with cutting edge photogrammetry, computer vision and computational geometry algorithms fulfilling industrial-quality requirements in terms of precision, scalability, efficiency, usage, robustness and interoperability.
 About Smart3DCapture 
Smart3DCapture™ Advanced allows the production of high resolution 3D models as well as the generation of digital surface models (DSM) and true orthophotos from imagery datasets as big as 10 gigapixels. It is most suited for, but not limited to, UAS/UAV/drone operators.
Smart3DCapture™ Expert pushes the limits of the Advanced edition with an extension to 30 gigapixels per input imagery dataset, and a batch processing ability through a job queue. It is the perfect solution for demanding scanning and surveying projects.
Smart3DCapture™ Ultimate is dedicated to larger-scale 3D surveying and mapping. It can handle an unlimited number of photographs without any limitation in size, and allows computations to be parallelized on a cluster of 3D reconstruction engine.