Earlier this summer, the United Kingdom's Met Office unveiled their new climate portal, built on geospatial technology from Esri UK, with the platform going live in late June. The portal, according to the organization's release of the news, will give "all organizations improved access to climate data and other resources, allowing them to better understand and respond to climate change." The portal includes 60 different data layers at launch, along with guidance and information for the various organizations accessing the portal.
The focus of this new portal, it seems, is to make it much more accessible to the organizations which rely on this climate data. The new portal, for example, makes it easier for organizations to combine this publicly available data with their own internal data to get specific insights into how future conditions could affect their operations. Organizations have the opportunity to view and analyze data at a global, regional, and/or local level for their own action plans to be developed.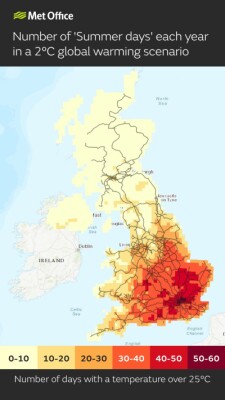 "Historically, climate science has defined the problem, now it's moving to help with the solution, providing information at a local level which is highly relevant to UK organizations," explained Professor Jason Lowe, Head of Climate Services at the Met Office. "By combining the Met Office's latest projections with Esri's geospatial tools, the reach and value of this data is greatly extended. UK stakeholders can investigate their physical climate risks over the next 50 to 100 years. The most detailed climate projections reveal a greater chance of warmer, wetter winters and hotter, drier summers and these help users plan and prepare for extreme weather, climate change and the reporting which new regulations, linked to climate change, will require."
While the portal has only just recently gone live and made available for broad public use, there was quite a bit of lead-up to this unveiling. The portal was in beta for about a year prior to this, during which almost 4,000 users accessed the data. Some of those organizations which took part in the beta include the RSPB (Royal Society for the Protection of Birds), and Forestry and Land Scotland, which oversees Scotland's forest estate.
Alan Gale, Adaption and Resilience Manager, Forestry and Land Scotland, commented: "Organizations like ours rely on authoritative and easy to access information for climate change decision making, in land planning and management. The innovative approach being taken by the Met Office portal makes important climate data available to a broader range of users and critically, lets us understand the local and regional climate differences at a glance. Predicting future climate is particularly important in forestry, given the long time scales involved – trees we plant today will still be growing in the 2050s and 2080s, for example."
According to Esri UK, among the most popular data accessed during the peta was projections of summer days – i.e. dates in which temperatures reach over 25 degrees Celsius – for different global warming scenarios.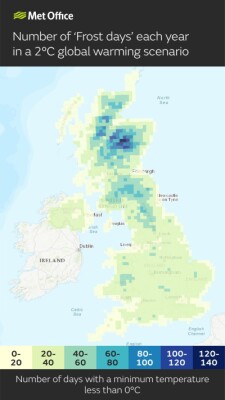 The expectation is that the portal will mainly be used by organizations within government, insurance, transportation, energy, land use, urban planning, and healthcare, with the following examples of potential use cases:
Days above 25°C can indicate when trains could be disrupted due to overheating of railway infrastructure

Nights above 20°C can indicate heat stress as night time temperatures impact the body's ability to recover from higher daytime temperatures

Days below 0°C can indicate transport disruption and increased energy demand for heating
This project is the latest result of collaboration between the Met Office and Esri UK, a relationship which started over 20 years ago. Esri UK provides the GIS technology on which all of the available data is presented, with the company having plenty of experience in building these powerful visualization tools to easily consume complex datasets.
The portal was part of a discussion with the media at Esri's User Conference earlier this summer in San Diego, with Richard Bevan of the Met Office joining Dr. Richard Spinrad of NOAA and Esri President and Founder Jack Dangermond in a conversation around GIS' ability to help combat the effects of climate change. That was one of the broad themes of the entire user conference, and this portal is a prime example of how GIS can play an important role in this fight and how geospatial professionals are at the forefront of so much of this crucial planning.
"The Climate Data Portal is a giant step forward in making climate data more usable for UK stakeholders," commented Pete Wilkinson, Managing Director of Esri UK. "Climate change presents a major challenge and this challenge is a geographic one. Using geospatial technology as a delivery mechanism for climate data makes it quickly accessible and usable in spatial and temporal analysis, helping to identify at-risk areas and develop location-specific action plans."