Earlier this month, TwinUp, a new software application developed in part by former architects along with entrepreneurs and artificial intelligence (AI) experts, designed specifically for architects, launched its beta program. The full suite of tools within the software includes three offerings, which are expected to officially launch later this year. Per the company's release of the news, "TwinUp offers architects a single platform for creating, managing, optimizing, and presenting their 3D design models and project images."
The TwinUp application joins a growing list of options for designers to digitize their workflows, but they do offer a few options to separate themselves. One of which is their incorporation of AI into their product. With the explosion of tools like ChatGPT, AI has come into the forefront of every industry, and while it's not at all a new concept for these kinds of technologies, new capabilities are coming to the forefront. Here, TwinUp is using an "AI-powered personal assistant" named Arch-e, who "processes vast amounts of data in real-time to transform the design process from beginning to end."
Continuing on that, TwinUp CTO and co-founder Dr. Prasanta Bose said in a press statement, "The TwinUp platform features a domain-specific and personalized co-pilot called Arch-e. Powered by AI and [machine learning] technologies, Arch-e helps Architects leverage data innovatively and efficiently to achieve very specific design goals like never before."
In addition to the AI, the other big separating factor I see is the ability to not only share work and collaborate with coworkers and other stakeholders on a project, but also to share work with the broader architectural community. One could envision using this for outside feedback when stuck on a specific component of a project, looking for advice from experienced architects when taking on a new type of project, or even just bragging about work.
As mentioned above, TwinUp's software suite consists of three separate applications which can all be integrated with each other. Those three applications are TwinUp Community, TwinUp Building, and TwinUp World, with the latter two comprising what is referred to in the press release as TwinUp Metaverse.
TwinUp Community is the piece that allows for that collaboration mentioned above, including with the broader architectural community. A free offering in the product suite, TwinUp Community is described by the company as "a free virtual design portfolio and social media platform just for architects." Users have the choice to share any photos or images publicly to the larger architectural community or just to private groups. This is expected to launch in early summer of this year.
In order to gain access to the TwinUp Metaverse platform, consisting of TwinUp Building and TwinUp World, users will have to upgrade to TwinUp Pro. The company is currently offering early bird pricing on that upgrade at $19 per month.
TwinUp Building is described as a "3D Digital Twin maker app that helps architects convert their 3D models [such as BIM] into Digital Twin models." Within this application, users will be able to render, enrich, analyze, optimize, present, and share digital twin models with peers and clients.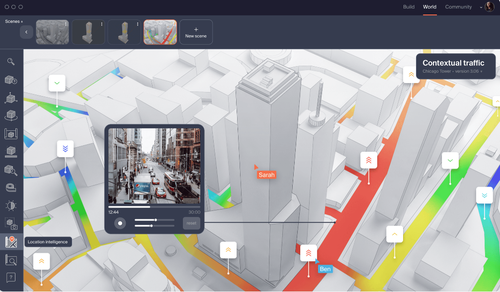 Meanwhile, with TwinUp World, professionals can then take those digital twins and other 3D models and place them within a model of a city or other locations in the real world. Within the base version of the app, users are able to get a proper representation of what their design would look like in the broader context of a surrounding area, and make adjustments within to better fit that space. They can also present to clients with this view. Furthermore, users have access to plug-ins which allow for a variety of simulation capabilities, ranging from simple daylight studies to things like carbon emissions simulations for single and multiple buildings.
Although it's hard to make too many proclamations based on a product which is just entering its beta phase, there are a few encouraging signs here for architectural professionals. The first is simply having architects involved with the development of TwinUp. Their Chief Growth Officer and co-founder Michael Jansen, for example, is a former architect with experience at large, international firms. We see digital products for established fields released at times that are built strictly by MBAs and software developers, and while they contain key capabilities they don't always get the nuance that is needed, particularly for targeted platforms like this one.
Furthermore, the added ability of a "social media" feed is an interesting one. Many people don't necessarily have a positive association with the term "social media," so I'll be interested to see if they stick with that marketing angle. But however it's described, the functionality makes plenty of sense in theory. Even just sharing within private groups should breed greater collaboration, particularly with stakeholders involved in other portions of the project. That type of collaboration between, as an example, architects and engineers can help prevent costly clashes.
And the more social side with the broader architectural world can provide value particularly to smaller firms, especially solo practitioners, and those new to the industry. People in every industry get stuck in their work, and if you don't have someone to bounce ideas off of it can be hard to get out of the rut. For a solo practitioner, having that broader community can be a huge boon. Similarly, newer architects may not always feel comfortable going to coworkers, or perhaps are just looking for different perspectives just breaking into the industry, and the TwinUp Community feature fills those needs.
In a press statement, TwinUp COO-CFO and co-founder Jon David "JC" Cunningham said, "We are excited and proud to offer a first-of-its-kind unified collaborative design platform to the architectural community that architects everywhere can use throughout their entire careers, from student days onwards."