Earlier this week, Trimble announced a new release of their Trimble Terra Office as an add-in for Esri's ArcGIS Pro. The announcement was made in San Diego at the annual Esri User Conference, which took place throughout this week. This add-in, per the official announcement, is a new product in Trimble's Terra Office suite of desktop solutions for integrating Trimble TerraFlex field data collection software with GIS systems of record.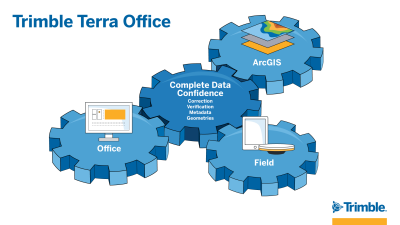 As a result of this new connection, users will no longer have to manually import, or work within separate workflows, to connect data collected within TerraFlex and bring it into the ArcGIS ecosystem. Now, TerraFlex workflows will be directly connected to their ArcGIS environment from within ArcGIS Pro, gaining the ability to create and manage TerraFlex projects while staying within the ArcGIS ecosystem. Per the announcement, "the add-in enables connectivity to feature services (and hosted feature layers) published in ArcGIS Online and ArcGIS Enterprise, as well as traditional on-premise enterprise or personal geodatabases."
Connection with TerraFlex is the main function of this new add-in. TerraFlex is Trimble's solution for creating and managing field data collection, providing a full workflow for those projects. With the solution, users can create form templates to be shared with teams in the field, capture data using smart devices which is in turn synced to the back office, and share data with other stakeholders as well as exporting to files for an organization's system of record.
In addition to these benefits, users and organizations who take advantage of this connection also get the benefit of being able to use Trimble Offline GNSS Corrections service. This service is unique to TerraFlex, is for situations where real-time correction services are intermittent or unavailable, and ensures field data is automatically processed in the cloud without user intervention. The offering is made available for download through the Terra Office add-in for ArcGIS-Pro.
Something we've talked about quite a bit recently at Geo Week News is the continued trend of these kinds of integrations and connections, which are extremely valuable for teams in the field. Workloads right now are full enough as it is, and time is at a premium for firms who both want to do the best work possible and also book as many projects as possible. Inefficiencies often come into play, however, when professionals need to navigate between multiple interfaces and applications, often requiring different data types and other maneuvering to make them communicate, if they do at all. These connections significantly cut down on those kinds of snags, and it's even more significant when it's companies like Trimble and Esri, who are two of the leaders in their spaces.
This connection comes in addition to an existing one between Terra Office and ArcGIS Desktop (ArcMap), and like that one this requires an annual subscription to Terra Office Standard. This can be purchased through Trimble Geospatial Distribution Partners. Additionally, the Terra Office add-in for ArcGIS Pro requires ArcGIS Pro version 3.0 (released last summer) or higher.
"The Trimble Terra Office add-in for ArcGIS Pro delivers functionality that will allow organizations that have adopted ArcGIS Pro and feature services to leverage the unique capabilities of TerraFlex," said Gareth Gibson, marketing director, Trimble Mapping & GIS, in a press statement. "TerraFlex, with its support for Trimble Offline GNSS Corrections, can now be used in parallel with the Esri ArcGIS Field Maps application in the same ArcGIS environment."