A few years ago, augmented reality popped into mainstream headlines via the popularity of apps like Pokemon GO that targeted consumers and gamers. Since then, its potential has grown into something bigger, and arguably far more practical. As an AI and computer vision company, Resonai recently released the "The State of Augmented Reality in Facilities Management" report, showing how AR has broken beyond gaming, entertainment, and consumer applications to provide numerous use cases for property management professionals.
By streamlining building operations, automating maintenance and repair processes, and facilitating health & safety requirements, AR "represents the next step in the world of digital opportunities", especially during global crises like the Covid-19 pandemic. Between November 2020 and January 2021, Resonai surveyed 76 senior facility management directors and executives within 11 industries throughout the United States and Europe to understand how AR is changing the enterprise and which industries are already embracing the technology.
"Augmented reality has come a long way since its first implementations in gaming and entertainment. As buildings become smarter and the digital and physical worlds become one, building owners and facilities managers are turning to AR and AI for everything from improved maintenance to indoor navigation," said Emil Alon, CEO and Founder of Resonai.
"We published our state of the industry report to help facilities management professionals navigate the complex world of digital transformation and understand how their peers are leveraging the exciting innovations taking place."
According to Resonai's report, hospitals and medical facilities have taken most notice of the benefits of AR with 30% adoption of the technology, followed by manufacturing facilities (26%), educational facilities (25%), and corporate offices (23%). Moreover, maintenance automation (49%) and preventative maintenance (45%) are the most perceived benefits of an AR integration, followed by Training and tutorials (38%). In terms of use cases, tours and virtual demonstrations (20%) have seen the highest adoption, followed closely by industrial manufacturing applications (18%) and smart maintenance & repairs (12%).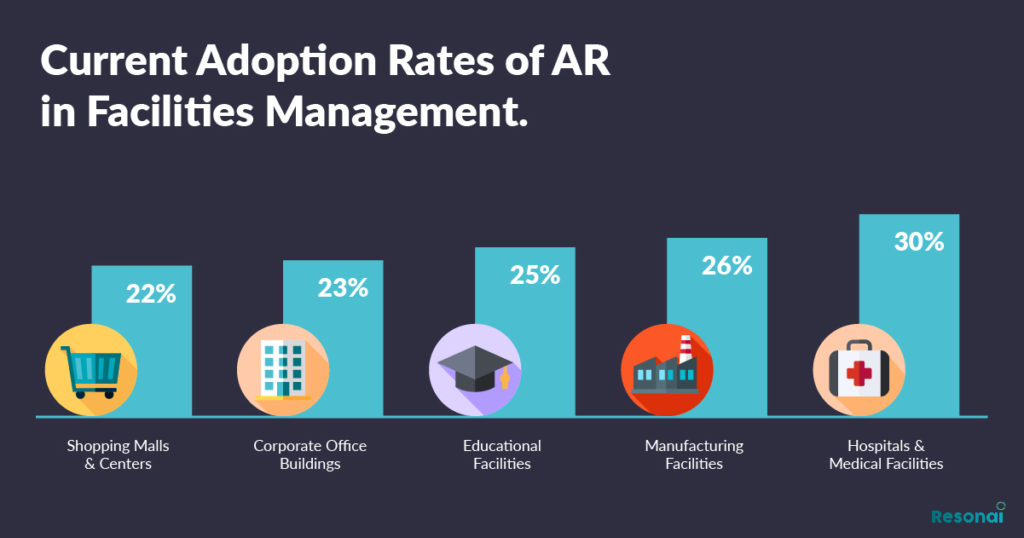 With how social distancing has become crucial due to Covid-19, companies need to use technologies that prioritize worker health & safety. Not only does AR help with that, but it can also provide more efficient solutions while reducing costs. However, despite the benefits, facility managers find that AR is still too expensive to acquire and set up, which is one of the main reasons the technology's adoption is slow. Another issue pointed out by 38% of the survey respondents is the fact that their companies have no internal position equipped to manage AR solutions.
While AR is not quite where some predicted it would be by now, it is constantly growing and improving. In the past couple of years, SPAR 3D has written about how AR is becoming more than a buzzword in Construction, how it is helping enterprises in training and reducing real-world risks, and how it continues to proliferate with enterprise devices coming out every year. Resonai is another company trying to push the use of AR in the enterprise as a standard.
Vera, the company's computer vision enterprise platform, aims to transform commercial buildings into intelligent environments for greater operational control, real-time customer insights, and innovative engaging experiences. Leveraging advanced AI and augmented reality, Vera features built-in administrative tools, multiple visualization options, and pre-programmed location and tracking services. In late 2020, Resonai's AR platform helped the Moscow Trade Center to reduce repair times by 44%.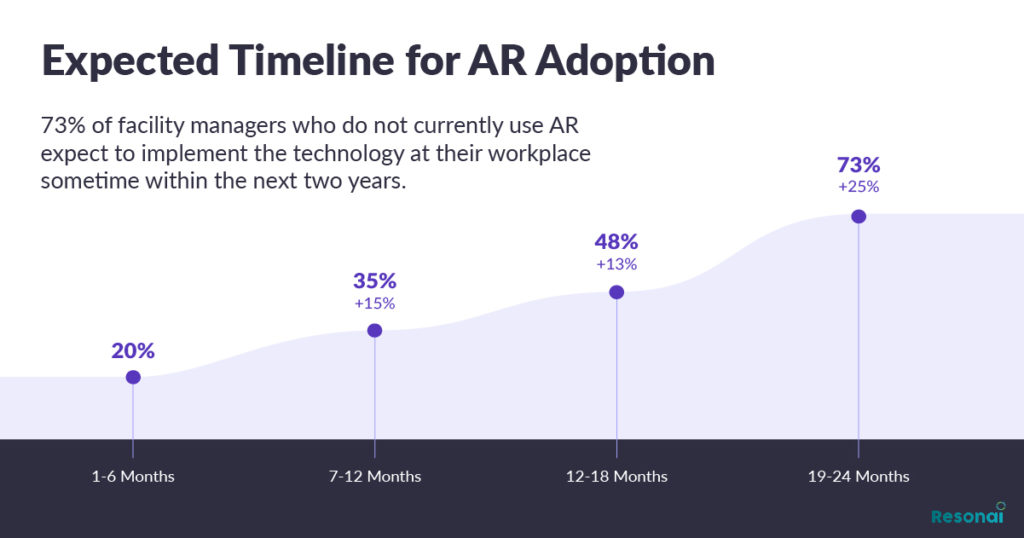 Sometime within the next two years, Resonai believes 73% of facility managers who do not currently use AR will implement the technology at their workplace. "Facility management professionals looking to meet these demands head-on should invest in these solutions today to increase operational efficiencies, provide better services to their tenants, and build a sustainable competitive advantage," the report reads.
To read and learn more about Resonai's insights, download the State of Augmented Reality in Facilities Management report.