3D design software maker sees biggest intraday stock drop in nearly 5 years
3D design software maker Dassault Systèmes SA on Monday warned investors that 2013 sales growth will be significantly below expectations due to order delays, especially in Asia, and a customer shift towards rental licensing.
Based in Paris, France, Dassault reported preliminary third quarter revenue of €496 million (US$673 million), up 4 percent compared to the same period last year, but missing expectations by €24 million ($32.4 million).
Third quarter earnings per share are down 1 percent to €0.88 ($1.19), the company said. Operating margin for the quarter was 31.6 percent, slightly better than expected.
Dassault's stock (OTC: DASTY) fell 10.5 percent in trading Monday, its largest intraday plunge since January 2009. The stock was down nearly another 5 percent on Tuesday to $112 per share. The company has a market value of €11.4 billion. Full third-quarter results will be announced Oct. 24.
"Despite a quarter that was on track until the very last days of the period, our preliminary financial results are below our revenue and earnings objectives and I want to apologize for that," said Thibault de Tersant, Dassault CFO, in a conference call Monday.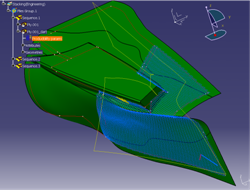 Dassault's new CATIA 3D CAD software composites fiber modeler product
Specifically, the revenue shortfall was due to €16 million ($21.6 million) in transactions that were expected to close by the end of the quarter but "slipped past the end of the quarter in the very last days." Dassault said the delays were caused by the "lengthening of [capital expenditures]decisions."
Dassault also said software revenue was up 8 percent in the quarter with strong renewal rates. However, it lost out on an estimated €8 million ($10.8 million) in new license revenue as more companies decided "late in the quarter" to choose rental licensing instead of upfront licenses.
Recurring software sales is Dassault's largest source of revenue, representing about 77 percent of total software revenue.
Revenue from services was also lower than anticipated by €4 million ($5.4 million), the company said. Geographically, third quarter revenue rose 7 percent in Europe but just 2 percent in Asia and 1 percent in the Americas.
Full-year revenue is now expected to reach €565 million ($766 million), a 5 percent increase compared with prior guidance of 7-8 percent as some transaction delays pushed a "portion of the pipe to 2014," the company said. Guidance for 2013 EPS is €0.97.
Dassault's sells its 3DEXPERIENCE software platform to a global customer base in the following markets: aerospace and defense, transportation and mobility, marine and offshore, industrial equipment, high tech, architecture, engineering and construction, retail consumer goods. Dassault sells these software suites: CATIA for CAD, SOLIDWORKS, SIMULIA, DELMIA, ENOVIA, GEOVIA, EXALEAD, NETVIBES, 3DSWYM and 3D VIA.
Tersant said Dassault is in the "midst of significant, important developments in research and development to deliver what we believe will be a sea-change with our 3DEXPERIENCE platform."