This week, Radar, a provider of location services platforms, announced the wide release of their new Radar Maps Platform. Their new release includes "vector base maps along with a full suite of enterprise-ready geocoding, search, and routing APIs," per the company's blog announcement of the news. Combined with their existing Geofencing platform, which had previously been their main offering, Radar now believes they can offer the first full-stack location platform to support georeferencing along with mapping.
Prior to Tuesday's announcement, Geo Week News had a chance to speak with Nick Patrick, Radar's co-founder and CEO. The discussion touched on the company's new Maps platform, of course, along with some looking to the future of location technology in general. Overall, the conversation made clear where Patrick sees Radar's place in the ecosystem with this latest release. "We've always talked about Radar as a full-stack location platform. I see Maps as the final piece of being truly full-stack."
In speaking with Patrick about how Radar came to be, it becomes clear pretty early on how big of a role the idea of location has played in his and other founders' careers. In fact, in their New York headquarters their conference rooms are named after American cities, and the room from which Patrick is calling, Baltimore, includes a map of the city from OpenStreetMaps. The correlation goes beyond that, with the co-founders having met at FourSquare, a location-based social app, which is where they "sort of fell in love with location," according to Patrick. The group went their separate ways from there before coming back together in 2016 to officially develop and launch Radar.
As alluded to above, building a maps platform was not necessarily top of mind when they first started the company. Instead, it was the location tracking and geofencing which took focus. "We came together and started the company back in 2016, and really set out to build a developer-friendly full-stack location tracking and geofencing platform. That's how we started, and we're really known around the industry as the leading geofencing platform." Their georeferencing technology has helped them build up a customer list including names like Dick's Sporting Goods, T-Mobile, Zillow, and Panera.
The development of a Maps platform has been a bit of a process, and one that didn't always look like it was in the cards. Patrick said that their customers who have used their platform for geofencing were increasingly asking for mapping capabilities, and requests for Radar to power store locator tools led to things like geocoding and address autocomplete APIs, both of which are pieces of the Maps Platform.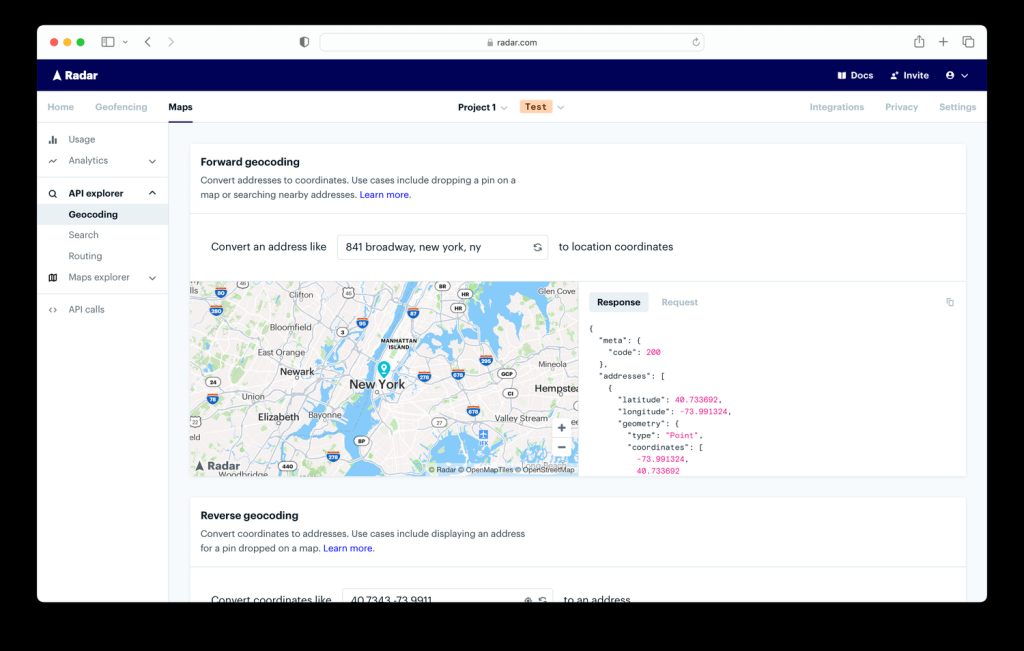 That said, it wasn't always clear Maps would ever be an offering. Patrick told Geo Week News, "There was a point in time where we said, We're not a mapping company. We're never going to launch maps. I think two things really changed. One, more and more customers kept asking us for it, particularly in a year like 2023 when folks are looking to cut costs. The other thing that changed is there's just a real explosion of open map data and tooling." He goes on to name initiatives like OpenStreetMaps and Overture Maps Foundation, along with MapLibre, who Radar sponsors, as examples of that trend.
In terms of what the platform offers, it's a similar suite of developer tools as you'll see from other similar products – Patrick likened the platform to "Stripe or Twilio for location" – with aforementioned APIs as well as routing APIs and a maps tool that offers configurations with any MapLibre MapOptions. Asked, then, what separates Radar's new Maps Platform from competitors, Patrick points to two factors: "Price, and the fact that we also have a geofencing platform."
Looking at the price, it's a fairly straightforward explanation and one that makes sense in the context of today's economy. Patrick notes that he'd been hearing more "from the market" that Google Maps was getting expensive. Considering how many companies across industries – and particularly those with brick and mortar retail as part of their business model – are looking at ways to cut costs, that's an important point. Radar's Maps Platform starts at $0.50 per 1,000 map loads and $0.50 per 1,000 API requests, compared to $7 and $5, respectively, for Google Maps and $2.50 and $0.75, respectively, for Mapbox.
There's also the fact that Radar can provide the full location stack with their geofencing options, too, something competitors aren't able to say. Patrick gives some examples of how they've been working with some of their clients, pointing to things like powering Dick's Sporting Goods' Store Mode on their mobile app, and powering arrival detection for curbside pickup and drive-thru for restaurant customers.
"These are things Radar can do that Google Maps's platform or Mapbox can't really do, and we make it really easy to use all of them together because of the fact that they're part of a single platform," Patrick said. "We've been talking about Radar recently as the all-in-one location platform, really the only location platform that can power use cases across the customer journey all the way from store locators, address autocomplete, to store modes, to arrival detection for pickup, to delivery tracking."
While this does, in some ways, complete the full-stack location platform goal, Patrick recognizes that the importance of location is only going to grow. With announcements like Apple's VisionPro headset and the general movement towards augmented and virtual reality experiences, location is going to be critical. You don't even need to look that far to see that importance, either.
"We talk a lot about the Amazon Effect, or the Uber Effect, where you're hailing an Uber and we see the car coming to us, or we're used to ordering a package on Amazon, it shows up on our doorstep the next day and we can see exactly where it is in transit. I do think people come to expect those experiences. If you're a retailer or a restaurant brand, if you want people to download your app and keep coming back to it, you need to deliver a really great, differentiated experience, and I think location is a really important tool to do that."