Founded in 2017, OpenSpace is a San Francisco-based tech company that is on a mission to bring transparency to construction through better documentation. OpenSpace's solutions combine 360° cameras, computer vision, and AI to capture a complete visual record of the job site and share it via the cloud. Recently, they have announced the expansion of its ClearSight Progress Tracking product.
As the pandemic has accelerated digitization and adoption rates for construction tech, builders have begun embracing automation on job sites for tedious, manual tasks like photo documentation.
Progress Tracking, part of OpenSpace's ClearSight analytics suite, uses computer vision processes to analyze site images and automatically determine what percent of planned work has been completed by builders.
Progress Tracking uses AI to convert 360° images into an objective record of progress that is mapped directly to floor plans and displayed on interactive dashboards that show progress across time, areas and trades. These images can be broken down across vectors like date and time, floor level, or trade (electrical, mechanical, drywall and more) giving stakeholders an instant view into how much work has been completed, when and where.
Using computer vision processes like semantic segmentation and object detection, OpenSpace Trackers are trained to recognize key elements and automatically determine what percent of planned work has been completed by builders. These insights are available within hours of image uploads as the AI compares images with takeoffs and maps the results against the floorplan.
"Having numbers to justify a hunch or gut feeling is so valuable," said Blake Pearce, Director of Operations at Provident General Contractors.
"It allows us to communicate quickly with subcontractors and elevate certain items. If you track the progress of framing, which is in the critical path on 99% of projects, you'll also generally have a good idea of whether or not you're on schedule."
Builders can use Progress Tracking to get better information more quickly, allowing them to stay on pace with schedules, flag possible delays early, and accelerate tedious manual processes like verifying completed work and validating pay applications.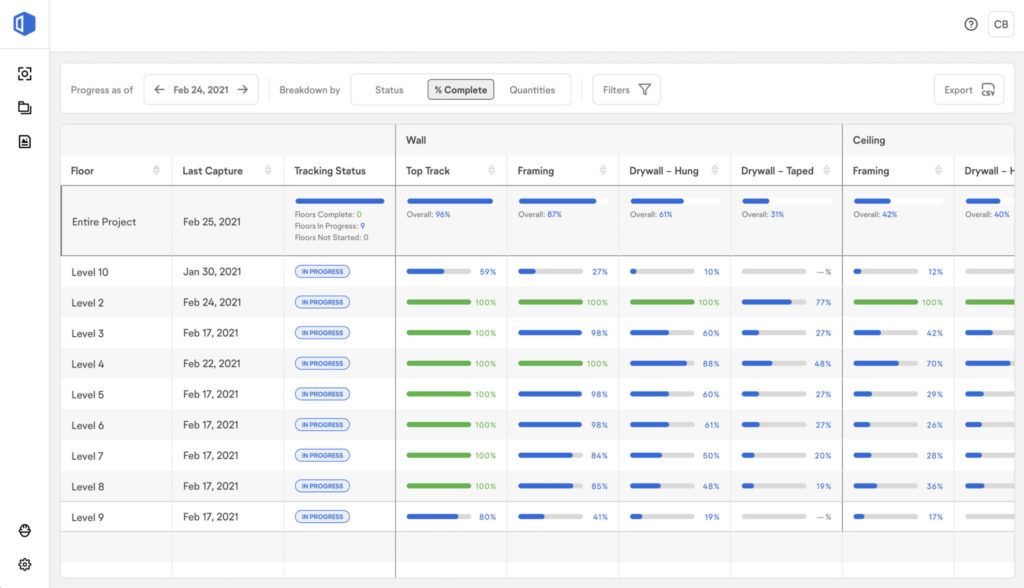 "We've heard from customers that the ability to create a sharable digital representation of their job sites has been hugely beneficial, but we didn't want to stop there—we wanted to go deeper and deliver new solutions that save builders time and money," said Jeevan Kalanithi, CEO and co-founder of OpenSpace.
"Progress Tracking takes the hassle out of tracking and validating completed work by automatically generating a trusted record of progress without requiring tedious manual work. Our customers want to be builders, not accountants."