Earlier this month, geospatial data firm NV5 Geospatial announced the completion of a lidar collection project, gathering data across 5,125 square miles in Eastern Massachusetts. This data collection was done as part of the U.S. Geological Survey (USGS) 3D Elevation Program (3DEP), and uncovered 1000 primary addresses and over 10,000 structures across the covered area, and the data is freely available from the Massachusetts Bureau of Geographic Information (MassGIS).
This kind of lidar data is crucial for the commonwealth, local governments, and private companies within Massachusetts for a number of different functions, and provides it much more consistently than what was previously available. According to Peter Frace, GIS Analyst and 911 Team Lead for the Massachusetts Executive Office of Technology Services and Security, this lidar survey from NV5 will replace data from "about 10 different existing ad hoc elevation mapping projects completed over the last 25 years by various public agencies, each with differences in coverage, accuracy, and point density."
It's certainly not to say that data hadn't been valuable for stakeholders in the time it has been collected, but having consistent data, collected at the same time at the same accuracy, opens up other possibilities. In their release of the news, NV5 notes that the insights uncovered in their data can be used by the governments in Massachusetts for things like supporting emergency services, property tax assessment and boundary infringement inquiries, and saving time and money required for additional boots-on-the-ground examinations.
This kind of data is being collected all over the nation for the aforementioned 3DEP program, with the lidar data providing a wide range of uses, as explained in a closing session at Geo Week 2023. For example, broadband access is becoming ever-increasingly important for everyone in this nation, and accurate elevation data can help determine how wide an area coverage can reach.
For construction projects, ranging from buildings to infrastructure to roads, the lidar data collected by NV5 can form the base for a model with which stakeholders can work while designing and implementing the project. As climate change continues to have its effect in a variety of ways all over the planet, having consistent and accurate data is crucial to first capture changes in the environment and make the necessary actions as a response to those changes.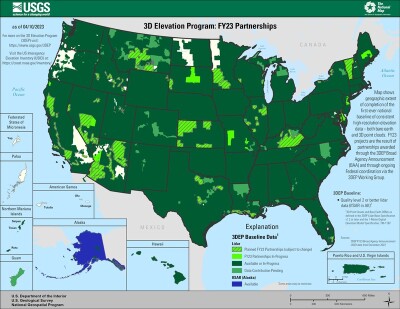 Bob VanderMeer, Vice President of Business Development for NV5 Geospatial, talked more about these uses, saying in a press statement, "Consistent, highly detailed information about the local geography and structures provide the foundation for so many decisions that city and state leaders, public utilities and private companies have to make on a daily basis – from helping keep power on and preventing flooding, to building new roads and bridges that keep us connected."
Work on this project for NV5 in Eastern Massachusetts dates back to the spring of 2021, when the company was first contracted to complete this work. They were given specifications to collect the data at a QL 1 lidar specification, the second-highest quality level as defined by USGS and four times more detailed than previous specifications.
This is not the only time NV5 has been in the news recently for their work with local governments, either, as they were recently awarded a contract with the Commonwealth of Kentucky to support their statewide imagery collection as part of the KyFromAbove initiative. The company also recently expanded their geospatial capabilities, completing an acquisition of the geospatial arm of L3Harris.
Speaking of the relationship between NV5 and MassGIS, VanderMeer said, "We commend MassGIS for their foresight and expertise in spearheading this project, and the coordination required to bring all of the partners together. Having such detailed data in one place, freely available to anyone who needs it, will benefit all who work and live in the state."
Neil MacGaffey, retired director of MassGIS, who initially led the project, added, "This freely available data can help municipalities and state agencies improve infrastructure designs and gain a better understanding of structures in their jurisdiction, make communities more resilient, model stormwater volume and areas at risk from flooding more accurately, and ultimately minimize the spend for all interested parties valuable through economies of scale in data acquisition."