Earlier this month, reality capture and digital twin specialist NavVis announced a new partnership with Mercedes-Benz Cars Operations to assist the latter's digital transformation. Per the release of the news, Mercedes will use this partnership with NavVis "to further advance the process of digitization of the production network and to be able to interact worldwide under the best possible conditions."
At its crux, this partnership and the general idea of fostering a digital transformation is around reality capture and digital twins. Using NavVis IVION Enterprise, a software solution to turn reality capture data into valuable and interactive models, as a basis, Mercedes-Benz is aiming to "make all factories virtually accessible in Plant View," their cloud-based model viewing platform. The cloud-based model is a crucial piece to their plans, too, as it allows stakeholders from both within the company and outside, both on-site and remotely, to view the same data and easily foster collaboration.
This is certainly not a new type of partnership for NavVis, who has been leveraging their technology for not only the AEC industry, but also manufacturing and facility managers. Quite similarly to this, in fact, last year the company worked with the BMW Group to help create 3D models for their own factories. More recently, they announced an upcoming integration with NVIDIA Omniverse, specifically for this same kind of use case. In the announcement of that news, they noted that the integration would be with the goal of enabling "streaming of large-scale reality-capture data for factories." Furthermore, just last week they announced the release of the NavVis VLX 3, their newest generation of wearable mobile mapping to improve reality capture, including in indoor spaces like an automotive factory.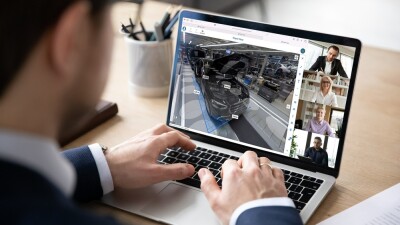 Really, this is the continuation of a larger trend even outside of NavVis we've been seeing for the last couple of years with these types of factories and facilities utilizing reality capture data for operations. Whether it's to run simulations, design renovations, or look for potential areas of improvements, this kind of highly accurate data is extremely valuable for managers and asset owners. Tools like NavVis IVION and Plant View become even more important, too, as more work is moved remotely, giving stakeholders the ability to still virtually walk a space while remaining away from the site. It's an exciting time for the industry, to be sure.
It makes sense, too, that we're seeing the automotive industry lead the way in adopting this kind of technology. To be clear, it's not the only industry seeing this type of digital transformation, but we're seeing these factories be modeled with reality capture technology at a higher rate than others, at least anecdotally. While every industry is reckoning with their role in climate change and adjusting with that in mind, the automotive is being particularly affected by this with shifts to more electric vehicles and just general moves away from fossil fuels. That means major adjustments to manufacturing processes, while still keeping up with the same demand. There's no way to make that easy, but it can certainly be made more feasible with the help of modeling technology and digital twins.
"We are constantly working on improving our production lines, but to do that you have to know what the plant currently looks like," says Oliver Geissel, head of digitalization of production planning at Mercedes-Benz. "NavVis provided the scanning technology NavVis VLX to map every aspect of our plants, and then worked with us to make the gathered data available in Plant View. Now, our employees and partners can navigate through the virtual version of the plant and easily perform tasks such as simulating new layouts and optimizing available space from their devices – without ever stepping foot inside the actual plant."
"Think of Plant View and NavVis IVION as a map for plants - very similar to what you use on your private computer and phone. It acts as the first touchpoint for all the people involved in factory planning. They can navigate through the plant, take measurements, mark important locations, and much more," adds Dr. Felix Reinshagen, CEO and co-founder of NavVis. "We took our own software, NavVis IVION Enterprise, and tailored it specifically to the needs of our partner Mercedes to support them on their digital transformation journey."