Last week, we talked a bit about some of the news coming out of NVIDIA's GTC conference, focusing on a few of the integrations that were announced around the company's Omniverse platform and what those tell us about the progress industries are making towards a workable "industrial metaverse." One of those connections was with NavVis, with the reality capture company making the announcement official last week that they are working towards an integration with Omniverse "to enable streaming large-scale reality-capture data for factories." Their aim is to ensure Omniverse simulations for these facilities can run not only on computer-designed models, but also spatially accurate 3D representations of "the ever-changing real world."
This integration will involve NavVis' two main products, the NavVis VLX and NavVis IVION. The former is the company's wearable mobile mapping system, which can be placed over a user's shoulders, enabling capture of an entire space by simply walking through. With the NavVis VLX 2, users can also monitor progress with a real-time viewer built onto the system to make sure everything is captured before leaving the site. NavVis IVION, meanwhile, is NavVis' processing software where users can turn that captured data into accurate digital twins and 3D models.
From there, NavVis IVION will then be connected to Omniverse via the Universal Scene Description (USD) framework, which was originally developed by Pixar Studios and is becoming the standard in 3D graphic creation thanks in large part to NVIDIA and Omniverse. Once data is imported into Omniverse, users will be able to take advantage of the system's simulation and AI capabilities based on this accurate data captured from a real-world environment.
While NavVis' products are used for a wide variety of environments, it's not hard to see this integration as being most useful for larger spaces like factories, which is already a significant part of the company's user base. It's these types of spaces many see as the ideal beneficiary of an "industrial metaverse" environment, where companies can be assisted in doing everything from designing and constructing a new facility to ensuring smooth operations and efficient renovations for existing spaces. With the NavVis VLX, these entire spaces can be captured by simply walking through a facility rather than needing to rely on terrestrial scanners, which can be a tedious and cumbersome process.
We're talking about this with a bit of a forward-looking view, but it's certainly worth noting that this kind of workflow is already in place for some organizations, though the ability to run powerful simulations in Omniverse will certainly be a welcome value add. That said, NavVis has already been working with large manufacturing companies, citing work with Volkswagen, Siemens, and BMW in their release of this news. In fact, BMW introduced last year their iFactory program for automotive production, and just last week announced that they are starting their global rollout of its NVIDIA Omniverse platform.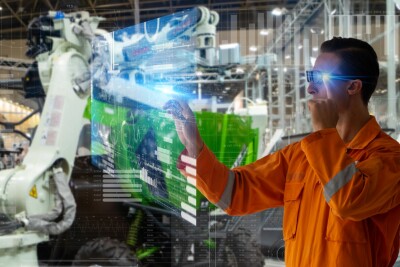 Most of the reasons to be excited about these kinds of developments are outlined in the link at the top of this page, but it's worth going over those quickly here as well. For one thing, with this specific integration it's exciting to be able to run these powerful simulations based on real-world data. There are plenty of insights that can be had from simulations based upon accurate, computer-generated models to be sure, but for many use cases – say, planning renovations of a car manufacturing plant to meet new demand and regulations for electrical vehicles – having data derived from the real world adds another layer of value.
And then there is the piece that is outlined in last week's blog, which is that we're getting closer to what people have been envisioning for an "industrial metaverse." There will never be complete agreement as to what this idea actually constitutes and when we'll reach that ideal, but with the growing number of companies embracing USD and openness in general, the industry is moving in the right direction. With each of these new layers added in, real-world data in this case, more value is being added. That, in turn, should lead to more companies seeing that value and adopting these tools, in theory leading to exponential growth for the idea.
This is an idea backed up by Dr. Felix Reinshagen, CEO and co-founder of NavVis. In a press statement, he said, "We strongly believe in the promise of the industrial metaverse, especially when it focuses on addressing hard problems that real users are facing with advanced capabilities such as physics-based simulations and AI."
He also noted what NavVis' integration can add, continuing, "We see, however, that simulations cannot just rely on existing libraries of computer-generated models but need to be complemented with an accurate, large-scale, always up-to-date 3D representation of the real world to ensure actionable results. NVIDIA is a global leader in this new space of the industrial metaverse, and we're very excited about this collaboration."
As of this writing, there has been no timeline given for when this integration will be fully in place.