Last year, NavVis launched the first VLX reality capture system, aiming to take their SLAM-based mobile mapping devices to more places through a versatile, wearable design. Since then, the NavVis VLX has been used in unique projects, including in the decommissioning of nuclear sites.
NavVis VLX 2nd generation, launched today, is a rugged and light update to the original NavVis VLX system, expanding its potential uses from indoors to a variety of challenging outdoor and field sites. The system features two multi-layer lidar sensors that are combined with SLAM software for survey-grade point clouds. There are also four cameras positioned on the top of the device that capture high-resolution images in every direction for a complete 360-degree capture - without the operator appearing in the field of view.
The new iteration of NavVis' flagship mobile mapping system has been optimized for scanning both indoor and outdoor environments and includes a carbon-fiber frame that is strong and light. This weight reduction is a benefit for users in terms of comfort but also provides the rigidity for withstanding the rigors of the field.
With multiple quality-of-life improvements based on customer feedback, NavVis VLX 2nd generation paves the way for more professionals in the surveying and AEC industries to get their reality capture projects done for a greater variety of projects – with no loss in speed or precision. NavVis VLX 2nd Generation can now go anywhere a project requires, says Georg Schroth, Chief Technology Officer at NavVis.
"Previously, we positioned our devices for indoor scanning," says Georg Schroth, Chief Technology Officer at NavVis, "but since we launched the original NavVis VLX we realized the need of our customers to mature the device towards real outdoor readiness."
NavVis VLX 2nd generation is capable of working in rain and when there is dust on site, and also has a redesigned case that offers more durable storage and portability.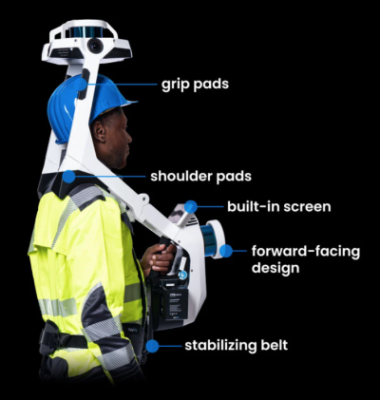 While the shape of the system is similar to the first-generation NavVis VLX, the new design includes different shoulder pads and an updated handle for better comfort and ergonomics. A small monitor provides live mapping feedback in real-time as scans are performed, and are positioned so that the device can be operated while keeping hands free.
The shape and ergonomics aren't the only upgrades - NavVis VLX 2nd generation is powered by SLAM technology, and their algorithm has been improved to make it more robust, especially in outdoor environments with plants and trees. With regular System Software updates – just like the original NavVis VLX – users can continue to benefit from accuracy improvements now and in the future.
NavVis VLX 2nd generation is integrated with NavVis IVION, their platform for spatial data (which was also recently upgraded with new features). Using NavVis VLX 2nd generation with NavVis IVION, users can generate high-quality point clouds of buildings and assets in more environments than ever before, says Schroth.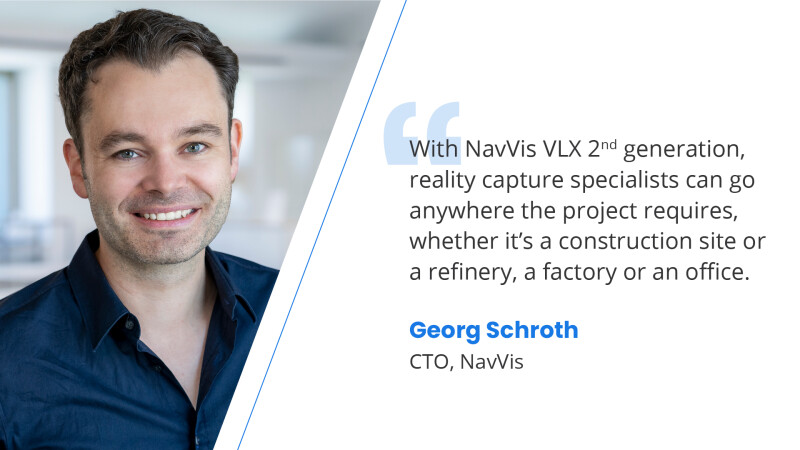 Preorders for NavVis VLX 2nd generation are now open, with expected deliveries in Q3 2021. To learn more, visit www.navvis.com/vlx.