Mobile-mapping company NavVis has announced a new, wearable mapping system designed for hands-free surveying and reality capture. The NavVis VLX promises to deliver survey-grade point clouds, and is designed specifically for challenging environments with dense assets such as construction sites. The new device is equipped with two lidar sensors, and is designed to capture both point clouds and high-resolution panoramas.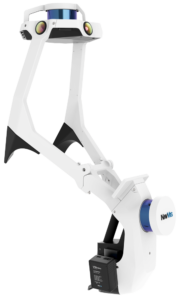 The VLX includes a dual lidar system is comprised of two Puck LITE sensors from Velodyne. The Velodyne image data is married with NavVis's own SLAM technology (developed for the M6) to achieve high accuracy via a light and compact design. The product specs boast an accuracy of 8mm for the point cloud, with a maximum range of 100 meters.
In addition to the lidar, there are four 20 megapixel cameras that capture 360 degrees of panorama throughout the scan. The NavVis post-processing software generates highly accurate point clouds and stitches together panorama images.
To optimize the experience for the wearer, they've also adopted a new configuration for the sensor compared to other handheld or "backpack" style SLAM scanners. The NavVis VLX has hardware positioned overhead as well as in front of the wearer, with a built-in screen positioned so that the wearer can easily check on the scan hands-free.
The total weight of the device is 9.3kg (20.5 lbs) with a body made of anodized aluminum. The batteries are hot-swappable, and one set of two batteries can last 1.5 hours.
NavVis says that the hands-free control over the device is particularly well suited for construction sites and manufacturing facilities with obstacles and staircases. The device can also be folded into a single case, which provides added portability.
NavVis CTO Georg Schroth says that they designed the VLX with AEC specifically in mind.
"We designed NavVis VLX to provide the AEC industry with a compact, versatile device that efficiently captures buildings and still delivers survey-grade point clouds."
The data captured by NavVis VLX can be applied conventional building documentation such as CAD drawings and BIM models, but also to innovative digital twin solutions, such as NavVis IndoorViewer.
NavVis is launching partnerships with PointCab, ClearEdge3D and Hemminger for Bentley Microstation, in addition to the existing integration with Autodesk Revit, to ensure that NavVis VLX and NavVis M6 seamlessly fit into existing workflows of third-party solutions.
---
On May 26, 2020, Dr. Felix Reishagen (CEO of NavVis) and Finn Boysen (Head of Global Sales) will present a webinar with SPAR 3D to discuss the capabilities of the VLX and the future of mobile mapping, moderated by SPAR 3D editor Carla Lauter. For more information on the webinar and how to register, visit our webinar page.