GapMaps is an Australian-based location intelligence company which specializes in providing software to industries like retail, hospitality and fast food for them to make key decisions about their brick and mortar locations and other strategies. Founded in 2013, they have been expanding their reach from Australia to the rest of the world, and this month the company announced their latest expansion. As of August 8, they are providing their cloud-based mapping software to the US and Canadian markets.
GapMaps specializes in assisting key decision-making workflows for industries with physical locations, providing the location information necessary for the most profitable action plans. They provide their services within one platform which can be used on both desktop and mobile interfaces. Within the platform, users can hone in on particular areas of interest and gain insights into how the land is currently being used, visualizing the distribution of things like residential units, demographics, medical facilities, parks, and of course potential competitors.
Unsurprisingly given the service, GapMaps points to a number of different industries which they say can be helped by their location intelligence applications. Fast food is one of the spaces which they point to the most, with Hungry Jacks – an Australian Burger King franchise – being one of their large, early customers. In addition to fast food, the company also calls out fitness, childcare, healthcare, retail, grocery stores, gas stations, and professional services as other industries which would benefit from their mapping software.
In a press statement, GapMaps Managing Director and Founder, Anthony Villanti, said, "Global brands in fast food, café and fitness sectors can now use a single platform to access accurate population, demographics and competitor intel along with location insights for their own stores in these regions."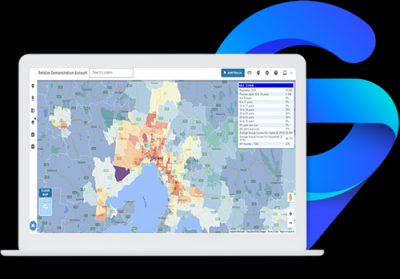 The idea of locational information being crucial for public-facing industries with physical presences is obviously not new. Even people outside of the real estate industry have surely heard the adage about "location, location, location" being the most important aspect of the space. However, decisions like where to open a new storefront haven't always been made with the most information possible. Instead, companies have leaned on consultants to find the best locations, or even just went based largely on gut feel.
GapMaps represents a step forward in this regard, allowing companies to save money by not hiring outside consultants while still making decisions based on complete and up-to-date information. Users can scale their views based on whatever they need to see, whether it be a single neighborhood, a particular region, or even an entire nation.
A fast food franchise, for example, could see where specific competitors have a location monopoly. Similarly, a childcare facility looking to open a new location could filter a particular region to see where more couples in their 20s and 30s are located to find the best location for their targeted clientele.
"These brands no longer need to rely on external consultants to inform their market planning strategies, we've made it easy by sourcing accurate and trusted datasets accessible in one simple to use platform with access to their proprietary information in-house," Villanti added.
"Brands in these sectors using GapMaps Live in Australia, New Zealand, India, the Middle East, and Southeast Asia can use our platform to inform optimal locations for expanding their store networks in the US and Canada. Similarly, large multinational brands based in the US and Canada contemplating expansion into our other international markets gain real-time visibility of their company owned and franchise networks globally through a single GIS platform, helping manage location decisions across all countries."