The most recent disruption in reality capture technology is arguably the debut of portable SLAM scanning, enabling the ability to self-locate while scanning to make capturing while in motion possible. The Leica BLK, originally announced in 2016, was disruptive in terms of size, accuracy, and portability.
When Leica released the BLK2GO handheld imaging laser scanner in 2019, it also introduced the world to Leica's GrandSlam technology and real-time mobility reality capture. GrandSlam combines visual SLAM (simultaneous localization and mapping) as lidar SLAM to build a 3D map of the environment while navigating through it in real-time. The two new Leica product releases are based on the BLK2GO imaging scanner but add autonomy to the picture.
Today, Hexagon AB has announced two new solutions that center around the Leica BLK - launching them into the growing world of automated reality capture: The Leica BLK ARC and Leica BLK2FLY.
Perhaps the most unexpected of the pair of announcements is the BLK2FLY. Described by Leica as a "fully autonomous mobile laser scanner" the product is essentially a fully-integrated UAV built around the Leica BLK.
The Leica BLK2FLY is a fully integrated autonomous lidar UAV that measures 53 x 60 cm x 20 cm, and measures 2.6 KG. It comes with five onboard cameras for full dome visual coverage, and has a dual-axis spherical laser scanner, onboard radar and lidar sensor fusion for advanced obstacle avoidance. The system detects obstacles and adjusts its flight path autonomously, using GrandSlam and radar technology. The BLK2FLY enables users to capture complex buildings and structures completely, bringing reality capture to previously inaccessible spaces. It creates its own scan path while it flies around structures and captures reality in 3D.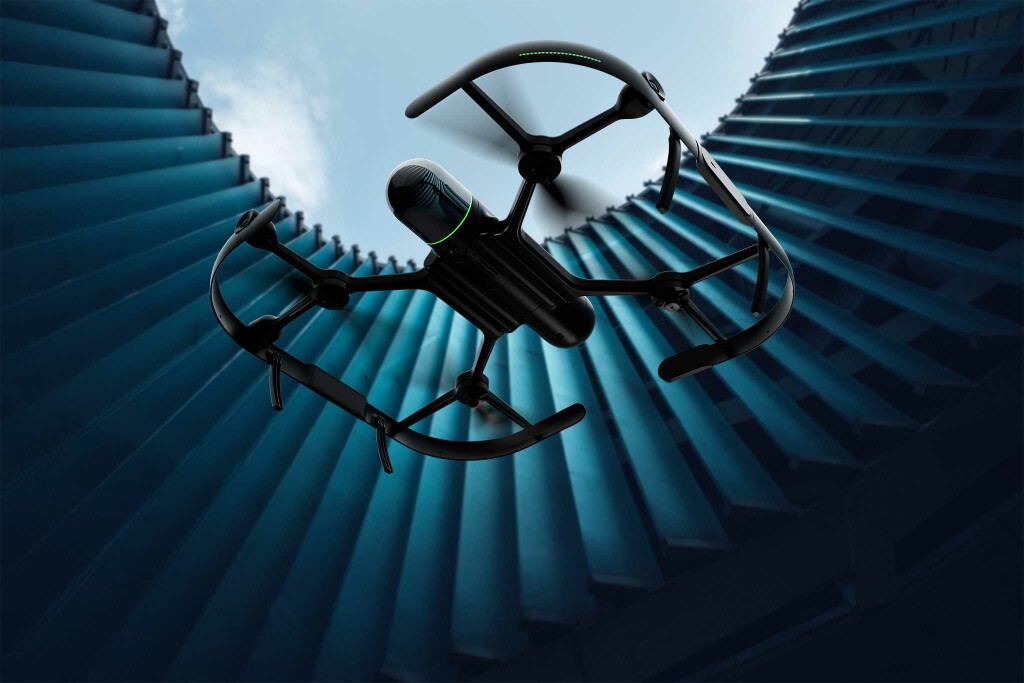 Featuring the same lidar module as the BLK2GO, the BLK2FLY's dual axis scanner captures 420,000 points per second up to a range of 25 meters. A camera system covering the same FOV with five global shutter cameras captures visual data for colorization of the point cloud or to texture a computer 3D model using images. For the operator, the overlapping live images from the cameras are stitched together and streamed back to a remote-control tablet to give full visual feedback during the whole flight.
BLK2Fly includes GNSS for absolute georeferencing. Together with LTE connectivity, the system can make use of RTK correction services like Hexagon SmartNet to improve position accuracy even further. Operating the BLK2FLY happens by using the BLK2FLY iPad-based live-app. Scan mission planning is done by marking objects or areas to be scanned can be marked directly in the panoramic live view on the tablet. The BLK2FLY gives the operator a 3D view of the scanned environment in real-time, which is a representation of the perceived environment based on Leica's GrandSlam technology, which allows for completeness checks while the scan mission is still ongoing. Beside the full spherical obstacle avoidance capability, there are other safety features. For example, in case the remote-control tablet loses connection for both Wi-Fi and LTE, a full autonomy capability returns the system to the launch point.
Once captured, users can then combine data captured from the BLK2FLY with interior scans of buildings and structures captured with the Leica BLK2GO, Hexagon's handheld 3D scanner. The resulting colorized 3D point clouds are invaluable for use with BIM, documenting site conditions and progress tracking.
The BLK ARC (an acronym for Autonomous Reality Capture) is an autonomous scanning module for robots that uses the Boston Dynamics SPOT robot (apart from working with Boston Dynamics, Leica Geosystems anticipates multiple integrations across many industries, hence the design for many platforms and carriers). The BLK ARC combines the BLK2GO's dual axis lidar, IMU and a multi-camera system with a high-resolution camera for detailed images, as well as three panoramic cameras for visual navigation, point cloud colorization and panoramic images capture.
The robot is given greater autonomy with accurate laser scanning and navigation at the same time. This real-time autonomous data collection facilitates the adoption of a reality capture in dangerous and hazardous areas. A typical BLK ARC autonomous workflows starts with data collection in the field and continues with data processing and creation of deliverables directly to the cloud.
The BLK ARC uses SLAM for positioning, orient and therefore navigates itself through 3D spaces, capture images and dimensionally accurate point clouds in real time. In addition, the BLK ARC leverages the SLAM features to provide enhancement to the robot navigation. SPOT Robot uses its close-range perception system to walk spaces and overcome obstacles on its path. BLK ARC extends the robot capability of avoiding obstacles and with real-time scanning enhances the navigation accuracy in a larger and more challenging environment.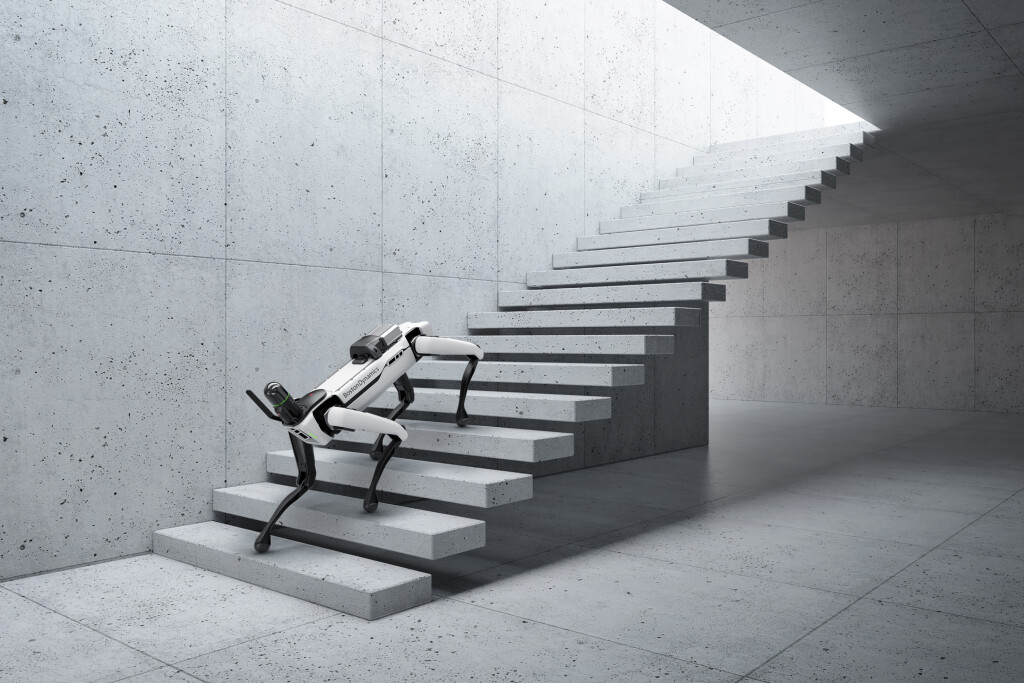 BLK ARC offers offline mission planning and two different scanning modes (static and mobile) within the same mission. Static scanning is similar to a tripod-based approach, while mobile scanning is similar to the BLK2GO, where an operator walks with the scanner in hand through a site. The registration of static scans in the same coordinate system is automatically enabled by GrandSlam. This offers flexibility to scanning projects, a more accurate and dense increased point cloud when a higher data quality is needed, or faster data collection in a larger environment where productivity is needed.
Both the BLK ARC and BLK2FLY will connect directly to Hexagon's cloud-based visualization platform, HxDR. HxDR allows for immediate data upload from the field and utilizes AI-enabled cloud processing and storage of the captured data to make the time from capture to utilization as short as possible, bringing the scanned data in front of decision-makers and stakeholders when and where they may need it. These reality capture workflows are top of mind for this announcement, according to Hexagon President and CEO Ola Rollén from the press release of the announcement.
"The BLK2FLY and BLK ARC illustrate Hexagon's commitment to empowering an autonomous future with smart digital realities. The purposefully integrated sensor-software systems are tailored to bring autonomous agility and speed to any reality capture workflow."
Taken alone, these announcements are adding to the ecosystem of reality capture, but together, they may provide a way for users to take on more projects using only a few pieces of hardware. The opportunities for use fall across many industries says Rollén.
"The robots, sensors and software work together, dynamically adjusting reality capture missions to offer seemingly limitless business applications – from as-built site documentation for buildings to monitoring and situational awareness of remote or hazardous environments, such as mines, factory floors, off-shore facilities, fire investigations and more."