Perhaps one of the more pleasant surprises of the last few years was Apple's announcement to include lidar on some of its iPad and iPhone devices. While mostly marketed as a way to improve photographs and AR experiences, some forward-looking visionaries sought to harness the lidar technology for far more.
For SiteScape, this meant designing an iOS lidar scanning app that allowed users to quickly capture high-resolution 3D scans with accuracy within an inch - and a quickly growing user community that shared their scans of interior spaces, natural features, cars and more.
Today, SiteScape is launching SiteScape Pro, which appears to be the first iOS lidar scanning application designed specifically for construction. Inspired by their users scanning as-builts and exporting them to Revit, AutoCAD, ArchiCAD and more, SiteScape Pro goes a step farther by allowing for synchronization to the cloud where they can be viewed from any device with a link (whether they have an account or not), and enhanced with on-board annotation and measurement tools.


Saving hours in the field
While some have seen the iPad or iPhone apps as commercial-grade technology, they are currently being used in real-world projects across construction, historical preservation and more.
For those concerned about an accuracy trade-off, SiteScape has shared some of their testing data to give users transparency when it comes to measurement accuracy. Their study found that without tracking drift, measurements were within +/- 1 inch on average. This is within range of many tasks, however, especially for project tracking and adjusting models to as-builts.
For the launch, SiteScape has put together several case studies, including one with a technology-focused architecture firm in Alberta, Canada. Holo-Block trialed new workflows using SiteScape to replace their as-built drawings and produce better record models.
"​​On previous projects, it would normally take each trade discipline 1-2 hours (there are normally dozens of trades on a given project) to mark up each room of a building, and then a technologist another 2-4 hours in Revit to interpret the markups and adjust the model to reflect the markups depending on the extent of deviations.

For the Dentistry Pharmacy project, Holo-Blok selected a block of 17 rooms with a similar size (approximately 225 square feet), combination of MEP components, layout, and complexity. With SiteScape, the tradespeople were able to scan each room in 60 seconds and sync the scans to the cloud where they were immediately available to the Holo-Blok team.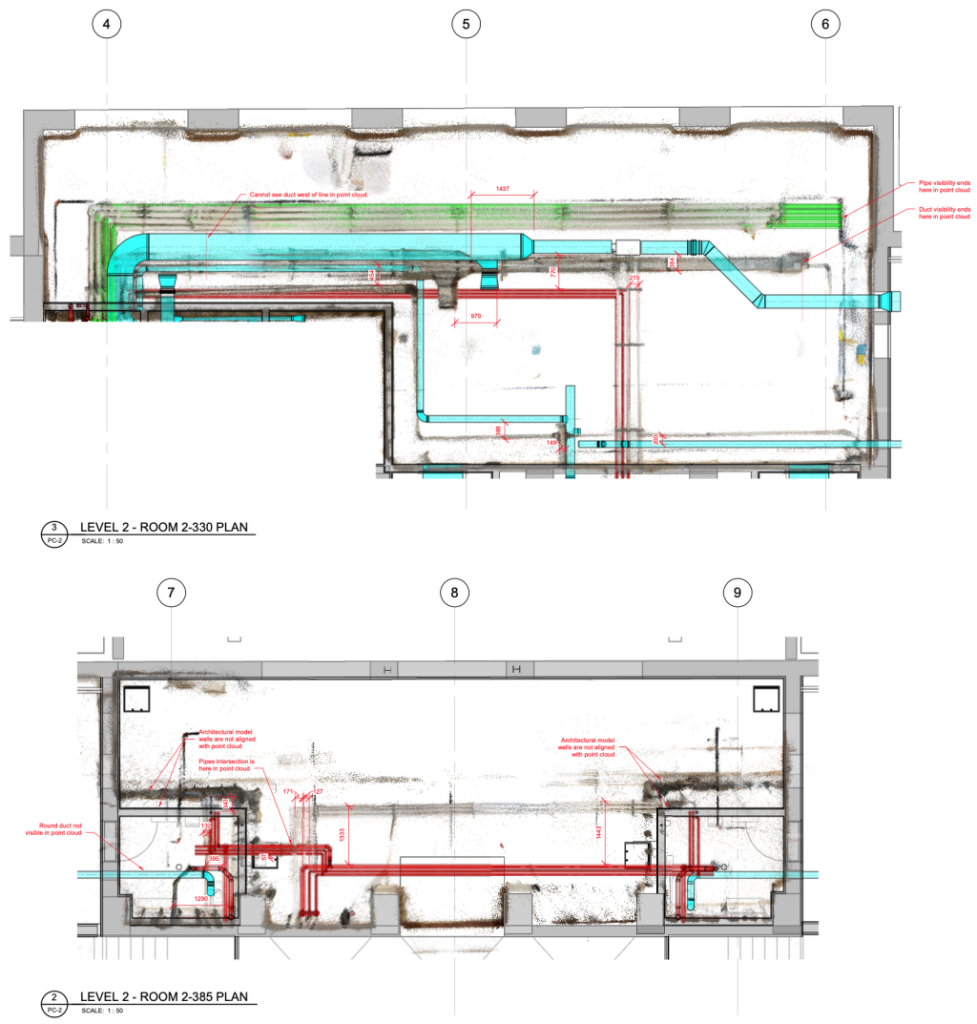 Holo-Blok then downloaded the scans, imported them into Revit, and aligned each scan in the Revit model. From there they could use the scans to align the location of components that deviated from the original drawings, add additional components where required, and directly measure and annotate the discrepancies between the two. Including scanning time, this process took two hours for the sample of 17 rooms. The savings realized is between 48 and 95 hours between the trades and Holo-Blok."
Read the full case study here >
Democratizing reality capture
In the pursuit of better digitalization and documentation of construction projects, there has been a move towards supplementing (or even replacing) traditional terrestrial laser scanning with lower-cost devices, which may be accurate enough for most use cases. The growth of SLAM scanning can thank these new workflows for that demand - a demand which will continue to grow as workflows shift, especially as users change how and when they are at a jobsite. By enabling their own devices to be used, or something as portable as an iPad in a durable case, SiteScape hopes to lower the barriers to adoption even further.
The biggest difference between the free version and the pro is the ability to leverage those cloud synching abilities, bringing collaboration across any device from any time, says CEO and founder Andy Putch.
"What we're offering is an end-to-end solution for folks in construction - what that means for us is really getting the scan out of the silo that is your iPhone or iPad."
Priced at $49/month billed monthly, (or annual subscription for $39/month), SiteScape pro may provide a cost-friendly solution for those who want to incorporate more reality capture using devices they already have.
For free app users, little will change. SiteScape users can continue to capture and export unlimited scans from the mobile app with a free account. Free users can have one scan synced to the cloud at a time with access to all Pro features and syncing additional scans automatically replaces the previous scan. Users can unlock unlimited scans in the cloud by upgrading to SiteScape Pro.
The Pro version of the app can be found on iTunes and is available for iOS devices that have lidar capabilities (which currently involve the 'Pro' lineup of the iPhone/iPad 12 series). For more information on either version, visit Sitescape.ai