Digitization – and transforming manual processes into digital ones – is a common theme across many industries, and mining is no different. The digital transformation of the mining industry is growing, and augmented reality (AR) has emerged as a key technology for incorporating and visualizing mine operations.
To deliver augmented reality digital twins to the mining industry, Arvizio has announced a partnership with mining software company Sight Power. Arvizio and Sight Power will offer stakeholders an integration of mining data, 3D models and LiDAR scans to be shared between Sight Power's Digital MineTM platform and Arvizio's Immerse 3D augmented reality solution. The combination provides the industry with a powerful, integrated suite of mining operations software and AR to optimize the mining process by reducing costs, improving efficiencies, increasing productivity, and enhancing safety.
In mining, augmented reality can be used to incorporate and visualize mine planning data in the design, planning, operations, resource management, and even investor relations.
The Digital Mine software comprises a system for collecting and processing detailed information relating to all operations and work processes. This information, when merged with modeling, monitoring, and distributed sensor systems, offers a cohesive digital twin solution to automate daily, routine operations for geologists, mining engineers, mine surveyors, and other specialists resulting in increased labor productivity and reduction in technical errors.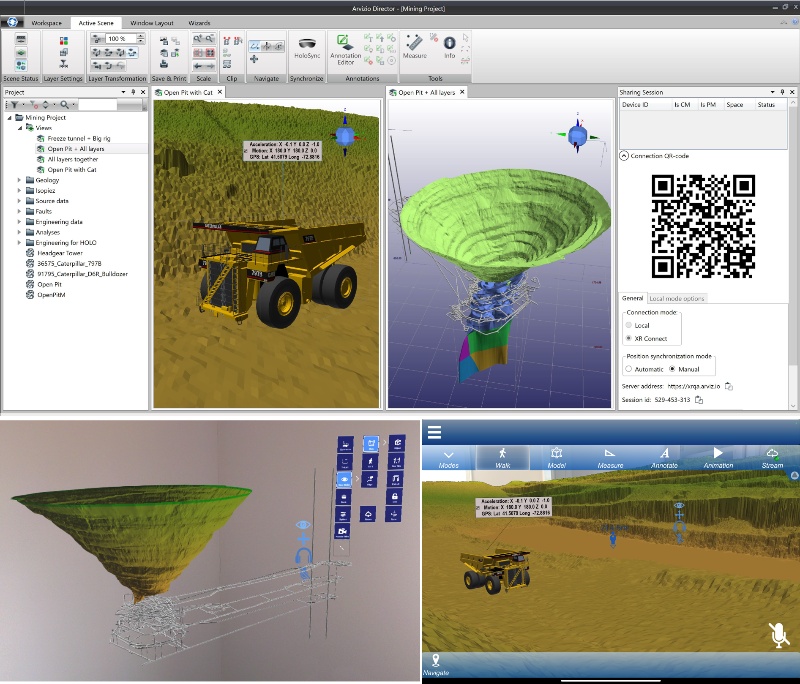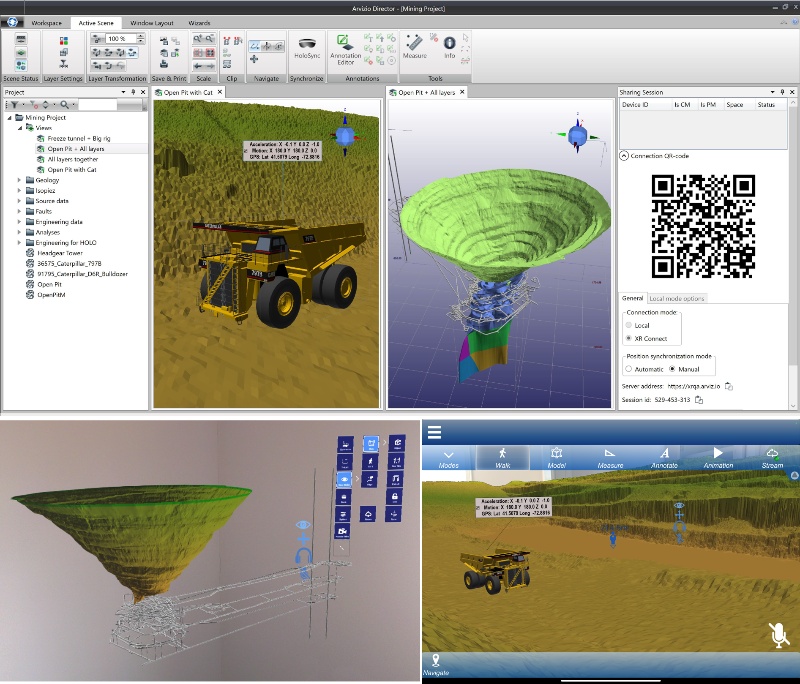 Arvizio's Immerse 3D allows 3D models and LiDAR scans, used with Digital Mine, to be visualized in AR. The hybrid-rendering and advanced model optimization capabilities of Immerse 3D are ideal for visualizing LiDAR scans and geological models from mining operations that may cover many miles/kilometers and include multiple layers. Further, Immerse 3D extends the Sight Power Digital Mine platform by to include multi-user, multi-location AR visualization and collaboration in fully synchronized sessions utilizing web meeting platforms such as Microsoft Teams and Zoom.
"Our work with leading mining companies using Digital Mine, demonstrated that combining operational technology, monitoring systems, devices and spatial datasets into a single workflow system, streamlines mining operations at every phase," said Sergey Reznichenko, CEO at Sight Power.
"We are delighted to team with Arvizio to integrate Immerse 3D AR visualization into our workflows and use augmented reality to empower stakeholders around the world for a more efficient exchange of information, problem solving, verification of key operations and safety systems in their mining projects."
The combination of the Immerse 3D and Digital Mine platforms can help to support staff training, facilitate repairs, and lessen downtime. In addition, by incorporating real-time inputs, the digital twin of mining operations can be set up for real-time monitoring. Together, these capabilities have the potential to reduce costs and downtime, and also to increase safety by limiting the need for personnel to be physically present in hazardous areas.
---
For additional information about Arvizio's Immerse 3D, please visit arvizio.io
To learn more about Sight Power's Digital Mine technology, please visit sight-power.com