FARO Technologies announced the launch of a new capture and collaboration platform combining three innovative new solutions: the FARO Sphere digital ecosystem for the most effective exchange of data possible; the FARO Focus Premium Laser Scanner for fast, accurate and complete field capture; and the FARO Stream mobile app for real-time data verification.
FARO Sphere for cloud data management
FARO Sphere is a cloud-based information platform that provides the most efficient exchange of data possible — including remote collaboration on 3D projects. Sphere provides a centralized, collaborative user experience across FARO point cloud applications and service-oriented platforms through a secure, single point sign-on process. At its core, Sphere is a cloud data management platform that allows users to maximize their leverage of the technology as the world increasingly adopts remote work and subscription-based customer engagement initiatives.
FARO Focus Premium laser scanner
The FARO Focus Premium laser scanner captures accurate and complete measurements of buildings, facilities and complex environments with confidence. Capturing the measurements of a large building, facility, or crash/crime scene with conventional documentation methods can take days or weeks, and even then, the data might contain errors or missing details. But FARO Focus Premium creates accurate, complete and photorealistic 3D representations of any environment or object in just a few minutes.
Focus Premium offers built-in protection from dirt, dust, fog, rain and heat/ cold. And, for best on-site data capture, Focus Premium connects with the new FARO Stream app, bridging FARO hardware to the new FARO Sphere cloud environment. Pre-registration scans are fed directly into the cloud, so jobs can be done more efficiently — feedback is captured and processed as you work.
FARO Stream for real-time data verification
The new FARO Stream mobile app works in conjunction with the new Focus Premium Laser Scanner to enable on-site pre-registration while providing added confidence on the completeness of data capture. For FARO Focus Laser Scanner users, this enables the ability to upload their scan data into the new FARO Sphere platform. It is common for 3D measurement professionals today to register scan data back on an office computer, off-site. Now, users can perform pre-registration in the field, add annotations and instantly upload on-site data collection to FARO Sphere.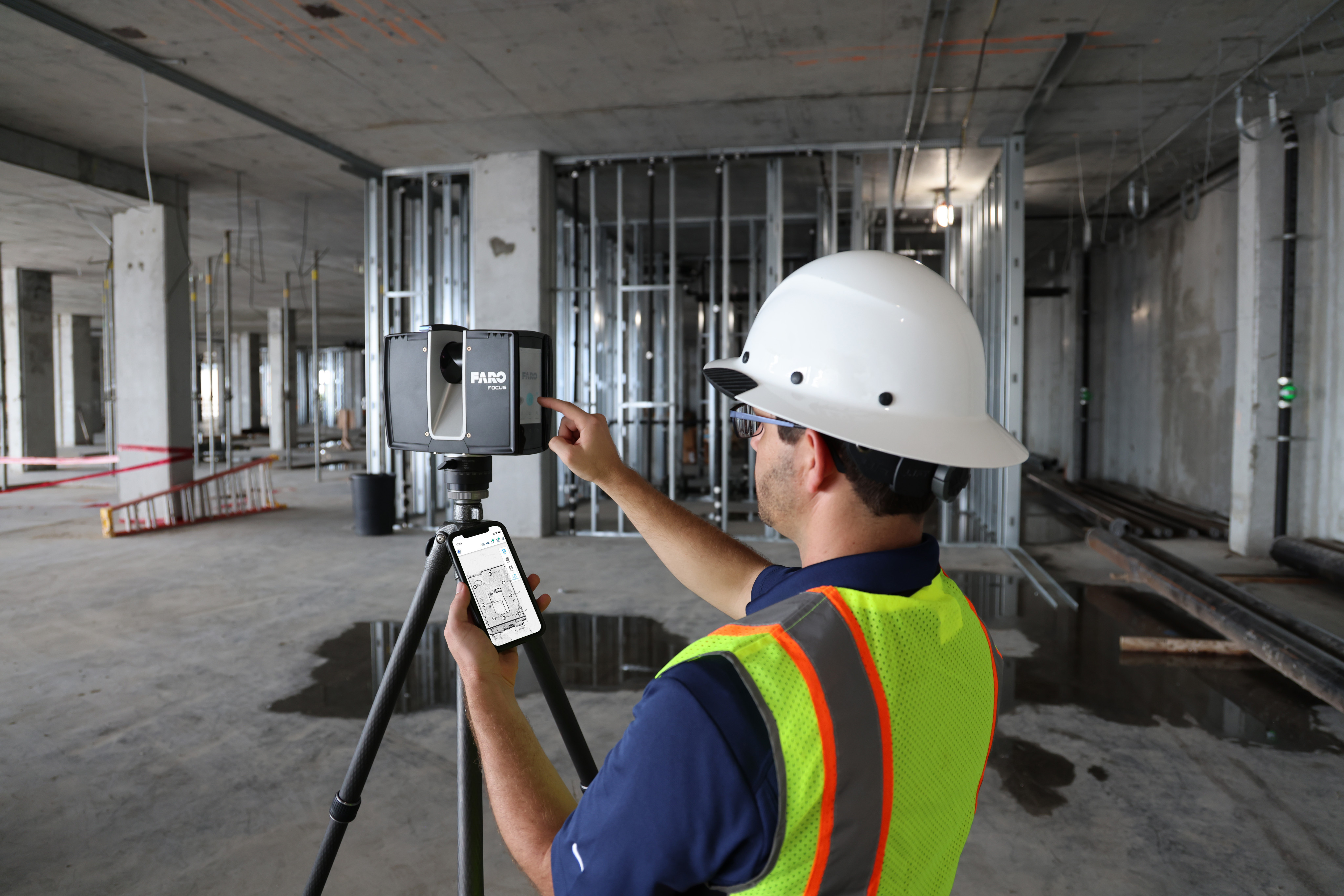 Real-time data verification ensures accuracy and quality control. Users can pre-register scans via FARO Stream app and upload to Sphere, which speeds time to completion and reduces the need to return on-site should any off-site registration failures occur. When you sync on-site reality data to a cloud-based data hub, it ensures project stakeholders have complete line-of-sight on project completion no matter where they reside or where they log in. Data and models are always aligned, reducing the risk of communication misfires, wasted materials and costly rework leading to enhanced organization and project management.
Data validation and collaboration workflows for construction
The next generation Focus Premium is the fastest, most accurate and best data-sharing-enabled scanner on the market today, featuring entirely new components with a proven design. The new Stream app, which is available for Android and iOS devices, used with the Focus Premium enables on-site scan data validation (preregistration) and can be immediately synched to Sphere for registration and collaboration.
In construction, using the combined workflow of the new Focus Premium, Stream App and Sphere, on-site crews can now inform other project stakeholders that a scan is complete and that as-built modeling and quality analysis can begin. This allows an on-site job to be finished up to 50% faster than before with total confidence the data is complete. The Sphere platform, in conjunction with Stream and Focus hardware, will save users significant cost per project.
"Once uploaded, global teams can have immediate access to that data where it can be downloaded again, off-site, and point cloud registration can be completed. Synched back into Sphere, project stakeholders have direct line of sight on all completed projects. The result is significantly improved project management", adds Mark Benhard.