Intermap uses radar mapping technology on pair of Lear jets
Location-based information firm Intermap Technologies Corp. said Tuesday it won a $3.5 million airborne mapping contract for hi-res 3D digital models of the earth's surface aggregated with customer-specific data.
The Denver-based airborne mapping company said it's using its proprietary Interferometric Synthetic Aperture Radar (IFSAR) mapping technology on the new project to collect orthorectified radar imagery and hi-res elevation data to update the unnamed customer's existing geospatial map database.
Intermap recently combined its mapping services capability and NEXTMap database with its software application development capability to create spatial data infrastructure (SDI) environments for customers.
Final deliveries of the project's dataset – used for improved disaster planning, resource management, security interests, and infrastructure planning – are slated to be complete by the end of the first quarter 2014.
IFSAR Apps
Current applications for Intermap's NEXTMap products and services include:
 GIS
 Insurance hazard risk modeling and analysis
 Satellite and aerial image rectification
 Military
 Aviation
 Line-of-sight analysis
 Base mapping
 3D visualization
 Flight simulation
 Forestry
 Agriculture
 Water management
 Natural resource management
 Surface analysis
 Landslide hazard analysis
 Internet visualization and mapping
 Outdoor advertising
Intermap creates its own 3D geospatial map products using its IFSAR technology mounted in its two Learjet aircraft. IFSAR allows fast and accurate digital mapping of large areas, at higher collection speeds, at any time, including overcast and dark conditions.
Multi-sensor data acquisition
Intermap also uses a multi-sensor data acquisition approach, which includes lidar, photogrammetry and satellite imagery, to aggregate data in its NEXTMap database, which includes terrain, elevation and imagery data,  3D city models and flood models, as well as other geospatial related information such as demographics, view sheds, real-time traffic, outdoor advertising assets, weather related hazards, points of interest, and cellular towers.
Once the raw digital map data is collected, it is then processed to create three different NEXTMap 3D digital models: digital surface models, digital terrain models, and orthorectified radar images.
Intermap's fee- and cloud-based 3D business intelligence (3DBI) applications, including its Pro series of software products, allow the company's subscribers to access NEXTMap information using their current web browsers and through popular desktop GIS software applications.
Intermap said it believes the value of its NEXTMap data lies primarily in web-based application solutions for specific vertical markets, and not solely in the data as a standalone product.
"These web services offer a suite of hosted tools that gives even those unfamiliar with GIS the ability to quickly and easily perform terrain analysis based on an area of interest such as a land development site, county, or an entire state," the company said.
Intermap's 3D data licensing model
Unlike other geospatial companies, Intermap typically retains ownership of its data and licenses the use of its products and services to its customers. Intermap currently has 3D geospatial data commercially available for 17 countries in Western Europe, the contiguous United States and Hawaii, portions of Alaska, and significant areas in Southeast Asia.
Earlier this year, Intermap announced a $14.5 million mapping services contract to provide digital 3D elevation models and imagery for areas in Southeast Asia to serve as foundation data for an updated national spatial data infrastructure to be used for improved disaster planning, resource management, national security interests, infrastructure planning, and the provisioning of new 3D geospatial information applications.
The airborne data acquisition portion of the project started in the first quarter and is slated to wrap up by the end of the year.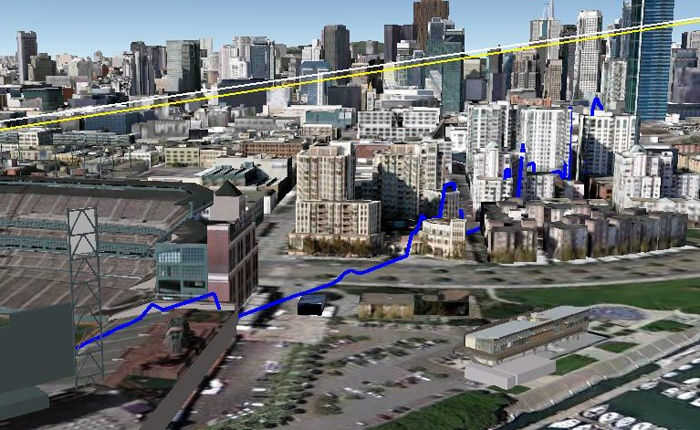 Q1 sales up 21%
Intermap reported total revenue of $5.1 million for the first quarter of 2013, up 21 percent from the same quarter in 2012. It also recorded a $2 million net loss for the first quarter compared to a net loss of $5.1 million for the first quarter of 2012.
2012 revenue was $28 million. A significant portion of Intermap's revenue is expected to come from customers outside of the United States. During 2012, Intermap had three key customers that accounted for two thirds of total revenue. In 2011, it had four key customers that accounted for about 43 percent of total revenue.