When Trimble first announced they'd entered into an OEM agreement with Faro to rebrand and sell the Focus3D as the TX5, I'll admit I was a little surprised. Sure, like others in the industry, I thought maybe Trimble would buy Faro, since, you know, that's what Trimble does. But the OEM deal was like, well, I believe I told Faro CEO Jay Freeland it seemed a little bit like your mom marrying your cousin.
In the SPAR world, I knew that the two companies would be across the aisle at our show, with the same device. Sure, that happens with Trimble and Surphaser, but Faro is putting out 10 times the marketing effort Surphaser is and it just seemed in my little myopic view like they'd just be selling against each other all the time.
Here at Trimble's Dimensions conference, though, it really hit home why this makes sense.
First of all, Trimble has an army of loyalists in the construction industry who neither know nor trust Faro. That doesn't mean they couldn't come to trust them, but construction firms are pretty conservative by nature – trying new things makes buildings fall down, right? So they like a brand and organization they can rely on and go back to, and many people here seem to have been either waiting for Trimble to come out with a lesser-priced scanner of their own or to do exactly what they've done. Now they know who their distributor is, they know who's going to service it, and they have some idea that it will work well with the software they've already got from Trimble (maybe – it's laser scanner we're talking about here, so it's not like there's going to be point clouds in every Trimble software package tomorrow).
Even more so, there's a whole squadron of people in construction who don't even really know what laser scanning is, and Trimble is ready now to push the technology to their customers. The ROI is quicker, the applications are more developed than when Trimble first got into scanning, and the other industry software packages their customers are using, like Microstation and AutoCAD, are starting to more easily ingest point cloud data or already do it quite well.
I think Trimble could very well sell quite a few of these TX5s.
Certainly, the interest here was large from both kinds of folks – those in the know and less so. Here's a typical interaction I saw on the floor of someone already familiar with laser scanning, coming over to see what's different between the TX5 and the Focus3D (answer, not much – it's really just a different outer package and a slight couple of tweaks to the on-board UI):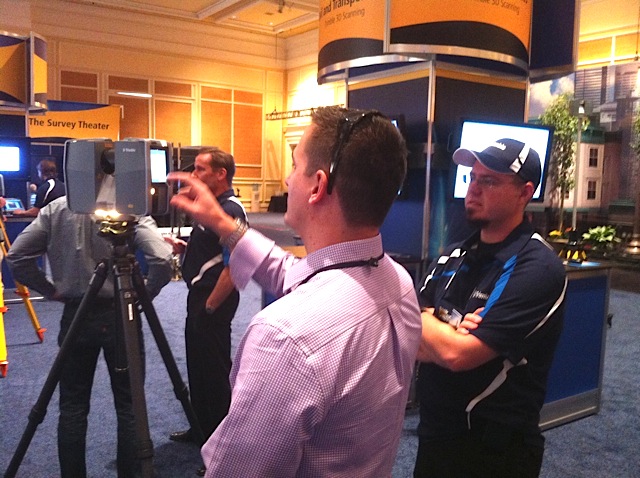 That wasn't happening all the time, but certainly pretty often. There was definitely a contingent who wanted to show off their savviness and joke about the new logo on the old scanner. The Trimble folks were happy to chuckle about it.
However, here's a photo of the hands-on demonstration of the TX5 that was offered yesterday, involving a basic scan of the theater at the Mirage: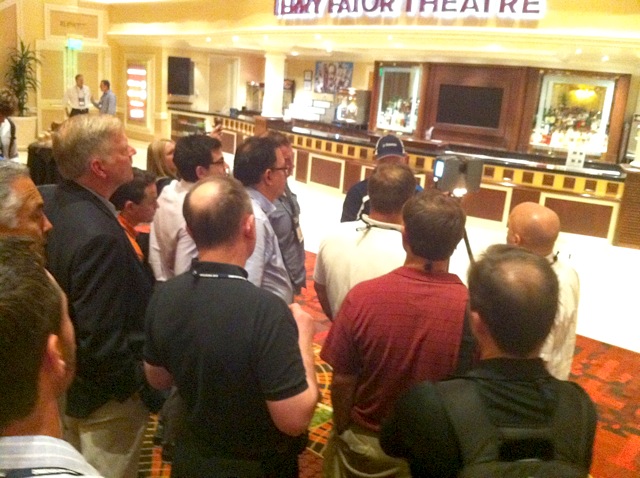 Let's just say people were crowding around. I won't say every onlooker was clueless about laser scanning, but you could tell from the questions that many people were definitely being introduced to the finer details for the first time. Which is great, obviously, as it's broadening the market and increasing awareness, if nothing else. There was quite a lot of interest in placing the spheres out in the scene and learning about the eye-safeness and what the different lights mean, etc. And I was in other sessions that weren't much more than laser-scanning 101 presentations and the rooms were very full.
Add to that some excellent next-level presentations showing the value that laser scanning can add to construction projects and I think Trimble really did well to promote their new product and laser scanning in general. Now let's see what happens.