By Elissa St. Clair & Eugene Liscio
On November 12-14, the International Association of Forensic and Security Metrology (IAFSM) held its first annual training conference in sunny Orlando, Florida. This conference showed IAFSM's commitment to building a strong foundation for users of 3D measurement and imaging devices within the law enforcement community. Attendees from around the world, representing a dozen different countries were in attendance along with FARO, Trimble, Riegl, Z+F and DotProduct, who were the major sponsors of the event.
During the three-day conference, attendees were introduced to new 3D-measurement hardware and software. They also had the chance to observe several case studies delivered by experienced users, who provided attendees with examples of how to best translate 3D data collected in the field into courtroom presentations. Several discussion sessions were held, which gave newer operators the chance to solicit advice from experienced operators on how to develop a standard workflow for crime scene documentation and address common problems that can occur in the field and during post-processing of data.
There was also a crash scene workshop. This workshop presented a simulated vehicle and pedestrian accident scene and asked participants to document the scene, take measurements, provide a plan drawing, provide a 3D visualization, and determine the field of view for a witness in an upper-level window of a nearby building. The results were presented to attendees on the last day of the conference.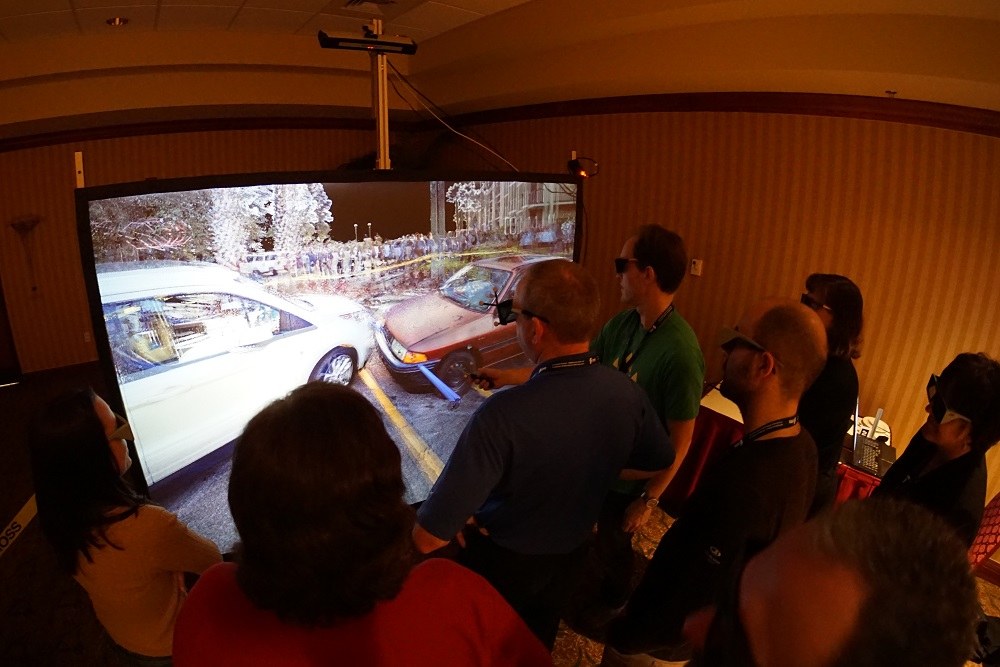 One of the highlights of the conference was the virtual reality simulator provided by Uwe Woessner of the University of Stuttgart. Attendees were able to immerse themselves in a bloodstain scene, a full body CT scan, and even the results of the outdoor car crash scene. For most in attendance, it was the first time they had ever been immersed in a point cloud and many thought it was a very interesting way to present point cloud data.
The IAFSM considers this gathering a great success and is already making plans for its 2015 conference in California…stay tuned!