Sponsored by Schneider Digital
We all understand that the Earth is not two-dimensional. Thanks to advances in surveying, measurement and modeling, we can now create detailed 3D recreations of our environment and built structures - getting closer to a true digital representation of the real world. Broadening use cases for 3D scanning, modeling and visualization have helped professionals across myriad industries better see and comprehend their assets, surroundings and interactions with the natural world. However, viewing 3D assets on a flat computer or tablet screen may not reveal the whole picture.
While augmented and virtual reality (VR) have shown promise for viewing some 3D assets (such as a digital 'walkthrough' for a client design review), there is still an unmet need for GIS, CAD, BIM and other professionals to work all day on detailed models in 3D, instead of just popping in and out for a virtual tour. The current reality, however, is that working and focusing for a full workday with a heavy VR headset is impractical and potentially detrimental to the wearer, and is unlikely to become the industry standard solution any time soon.
Schneider Digital's line of 3D PluraView monitors offers an alternative, enabling the ability to see 3D data in high resolution, flicker-free for hours. Built as a monitor that can be used in regular office/daylight conditions, the 3D PluraView monitors are compatible with a massive list of supported applications, which can make their entry into existing 3D workflows simple and straightforward.
Putting lidar and mapping data back into 3D
The use of stereoscopic visualization is helpful for many geospatial applications, including viewing point clouds and maps generated from lidar collection. When working with massive 3D datasets, PluraView monitors can be a powerful tool to help bring work to new levels of detail and clarity - without the fatigue and short working times offered by virtual and augmented reality devices.
When viewing point clouds, the 4K resolution of the monitors enables single points to be viewed with ease, as well as providing depth and context when flying through collected point clouds. This clarity can also help point cloud processing and clean-up workflows take less time and effort compared to working on traditional screens. The wide viewing area can also make more of a model visible at once, reducing the amount of motion and movement needed to investigate an area of interest. The ability to edit spatial structures in a 3D stereo environment is a key benefit to working in 3D.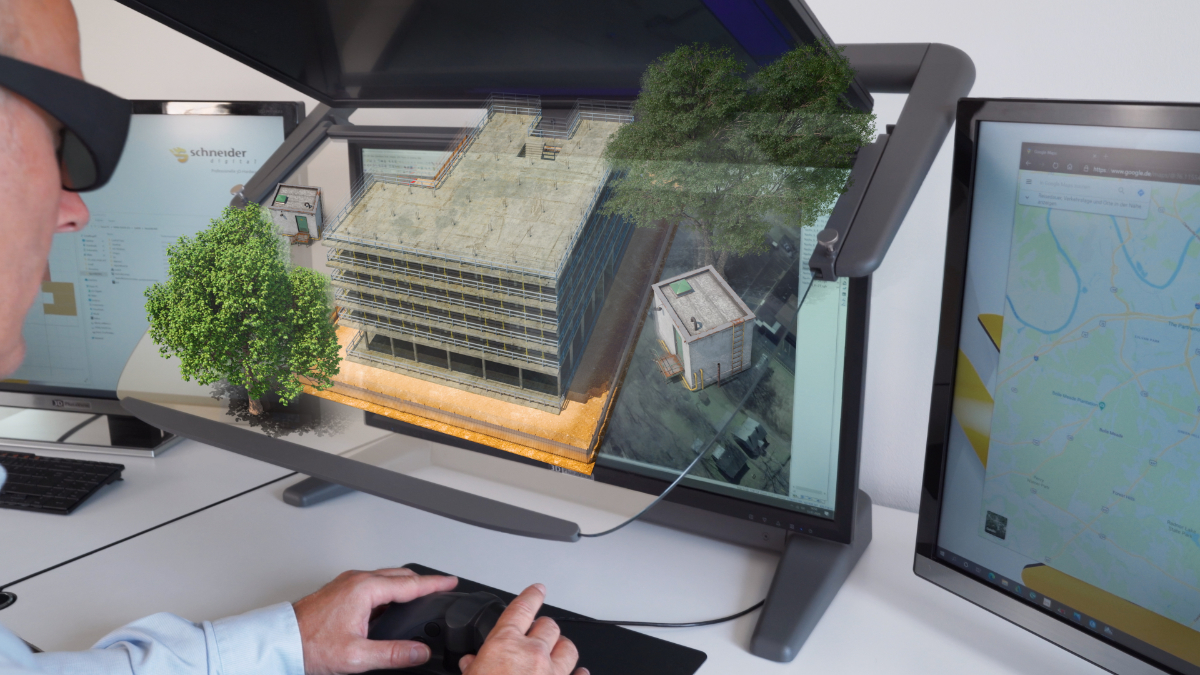 Because the applications PluraView supports are "plug and play", no special graphics drivers or additional software needs to be installed to use these workstations. So users who work heavily in applications like ArcGIS Pro, FARO Scene, Bentley ContextCapture, Hexagon and Leica's mapping products, and others will have no problem bringing their work into stereoscopic 3D.
Streamlining photogrammetry workflows and applications
When visualizing photogrammetry, especially airborne and UAV-captured scenes, the addition of 3D stereo viewing can bring more spatial understanding to the process. The ability to perform comparisons from stereo to mono is also highly valuable. The precise, pixel-accurate calibration of the 3D PluraView systems enables the simultaneous display of stereoscopic and monoscopic applications in full-screen resolution.
The 4K stereo resolution also enables the representation of the finest textures and object details, which can be important when viewing 3D city models and other detailed environments that are complicated to render.
Especially with geospatial applications, professional users are faced by the challenge of quickly loading large amounts of data and visualizing these in stereoscopic mode on a 3D-capable system. Because the PluraView systems involve a passive stereo filter (rather than a resource-heavy projection within a headset), the lag time is eliminated when working with large datasets, enhancing the comfort and efficiency of working with them.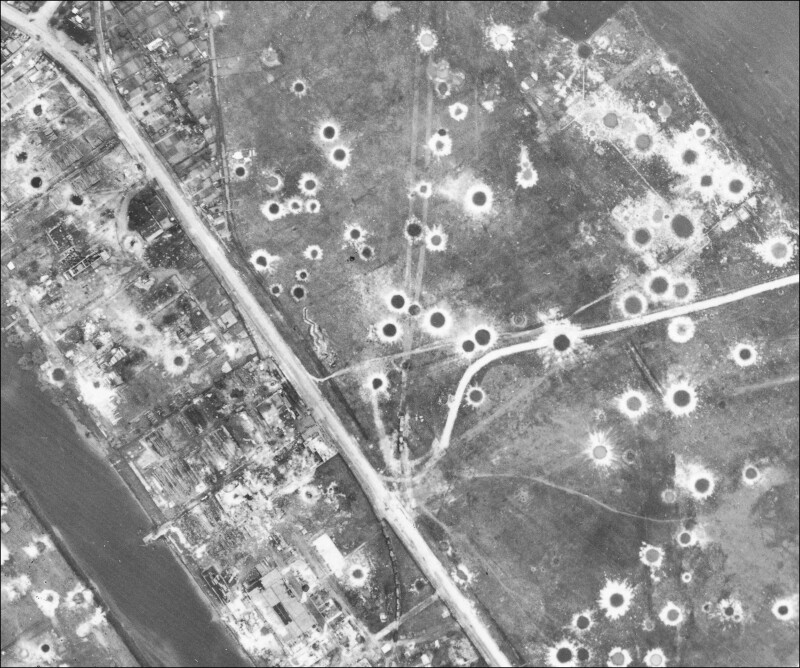 Case Study: When precision work is required, high resolution and true stereo imagery is paramount to success. In the heavily bombarded area of Hamburg Germany, discovering where unexploded ordinance may lay is an important precursor to any land management or construction project. The challenge of working out what are suspected locations of unexploded bombs, and what are tree crowns or open manhole covers is a huge ask, and was faced by the Hamburg Fire Service's Unexploded Ordinance Survey Department. With the utmost meticulousness, the Hamburg Fire Service interprets wartime aerial photographs to clarify whether or not there might be unexploded ordnance present. 3D stereoscopy helps to differentiate between small craters and mounds.
"A very important element of our work is spatial 3D-stereo representation, because that lets us see whether a black spot on the image is a subsidence or an elevation: A subsidence can be an indication of an unexploded bomb that entered the ground, but did not detonate", explains aerial photograph interpreter Matthias Otto.
"Stereoscopy makes it easier to see, whether or not the intermediate floors were present in damaged buildings. If they were still there, that part of the site is no longer under suspicion, but if none of the floors remained, it most definitely is."

Read the full case study >>
How does it work?
Drawing on beam-splitting technology, 3D PluraView monitors offer a view of 3D assets via a stereoscopic display. The 28-inch screen displays outputs of 3D software in 4K resolution and up to 10 bit color depth. With two high-resolution screens, the stereoscopic image pairs for the left and the right eye are combined by the beam splitter (a specially coated transflective mirror) to form a very bright and high-contrast holographic stereo image. Due to the different polarization angle of the PluraView glasses, both stereo channels are separated for the left and the right eye, resulting in a perfect 3D-stereo display for the professional desktop.