Content sponsored by Bentley
Full disclosure: Bentley has paid for editorial consideration, but SPAR 3D has retained full discretion over the final content of this article.
3D laser scanners are extremely powerful tools for capturing as-built conditions, tracking change, and more. However, they're still a very large expense and require extensive training to use properly. 
Photogrammetry software like Bentley's ContextCapture, on the other hand, makes 3D capture affordable and simple enough for anyone to perform. This is a benefit to 3D-laser-scanning veterans and newcomers alike.
3D for Everyone
According to ContextCapture product marketing manager David Huie, the software can be used by anyone with a digital camera. The only real difficulty "is learning the best practices for acquiring photos. Several years of experience show us that when users have a solid understanding of how to take photos, the downstream processing is straightforward and produces great results."
ContextCapture's output format—the reality mesh—is also helping to make 3D technology easier for everyone to use. Where point clouds often seem like dots floating in empty space, reality meshes present users with solid, photo-realistic objects that they can interact with easily. 
Reality meshes are also much smaller files than point clouds, which means they can be shared in a variety of ways. They can even be served up in a web viewer, which makes the data accessible to that many more people. (Click here to demo a model of Marseille in your browser.)
New Applications for 3D
Simple photogrammetry software is doing more than making 3D capture tech available to everyone. It's also enabling customers to perform 3D capture in situations where they wouldn't have considered it before. 
Often in the past smaller projects (with smaller budgets and smaller time-scales) would fall below the threshold of the project size where 3D capture made sense. "Now," Huie says, "in any instance where a 3D model would be valuable for design, construction or operations purposes, photogrammetric reconstruction can be done quickly and cost-effectively."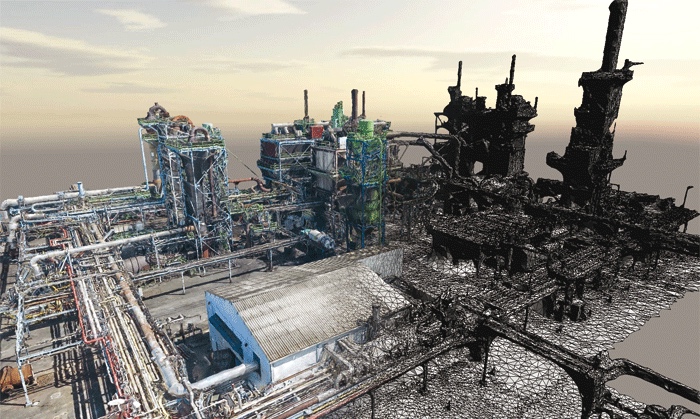 A particularly valuable example of this is construction site monitoring. Construction companies can mount a camera on a UAV and fly it around a site every day, capturing photos to be processed into a mesh by ContextCapture. Next, they simply have to compare one day's mesh to previous meshes to see how work is progressing.
Another enticing application is for the asset owner. "Every oil & gas owner has assets in operation, but very few have accurate documentation of as-built conditions," Huie explained. "They can benefit enormously from the creation of a 3D model of a site using photos acquired from a drone, a plane, or ground-based images captured with an ordinary digital camera to automatically generate 3D documentation for operations, safety, maintenance, and more."
What's more, these asset owners could use ContextCapture to create a highly accurate representation of a specific piece of equipment, like a vessel or pump. Any field worker with a camera can photograph the subject and use ContextCapture to generate a 3D model to use for inspections, retrofits, and other design or analysis purposes.
A Complementary Tool
As useful as software like this can be, it won't replace laser scanners, Huie says. Instead, software like ContextCapture acts as an ideal complement.
For one, it brings more workers into the reality capture workflow since all that's required is a digital camera. "So, while you may have a dedicated crew today using specific expensive hardware for acquisition, with software like this, many many more people can contribute. This means more frequent, easier data acquisition to facilitate more up-to-date data for the enterprise to act on."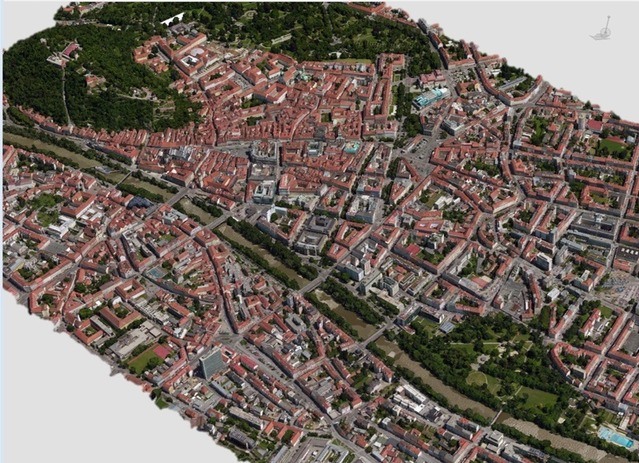 Combining the two tools also means enabling yourself to capture a wider variety of environments. When capturing poorly lit spaces—for instance when working at night or underground—laser scanning has a clear edge over photogrammetry. It also has an edge over photogrammetry when you're capturing subjects with limited texture, like large continuous white walls.
Photogrammetry, on the other hand, provides an advantage in small-scale projects like those detailed above as well as what Huie calls "very large, city-scale acquisition." A prime example of this is the modeling of Philadelphia that Bentley and their partners performed for the Pope's visit in 2015.
Combine the two and you'll produce better data, since laser scanning points can contribute to tighter spatial registration and better surface definition for your reality mesh.
In other words, Huie explained, photogrammetry software like ContextCapture shouldn't be seen as a challenge to laser scanning, or a replacement for the expertise of expert laser scanning providers. It's better to think of these developments as another powerful tool in the tool box—one that can benefit anyone.