Leica Geosystems is on hand at this year's International Lidar Mapping Forum in Denver to showcase its new TerrainMapper aerial lidar sensor—and the system is more than just a small step forward.
As VP for airborne lidar Anders Ekelund told SPAR 3D, "at some point in time, you come to the conclusion that you need to do something brand new and completely different. The Terrain Mapper is our next generation of linear mode lidar system."
Leica Geosystems says the TerrainMapper is so advanced that it can perform virtually any kind of aerial data collect the user needs. Here's why.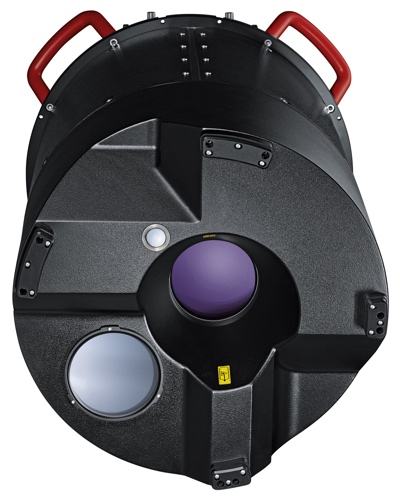 Better performance
The full-waveform system comes in two variants, one with an 80 MP NADIR camera, and one without. Both variants feature a design based on Leica Geosystems' recent CityMapper lidar system, with a cylindrical shape that enables installation in the company's stabilized mount. However, Ekelund notes, the TerrainMapper system has "materially improved capacity" over its sibling.
It features an increased pulse repetition frequency of 2 MHz, handles up to 35 pulses simultaneously, and supports a wide variety of flying altitudes—from 300 meters to 5,000 meters. Leica Geosystems has also made improvements to the system's sensitivity, promising 5 cm accuracy even at higher altitudes.
Ekelund was careful to mention that the sensor offers scan speeds of up to 7500 RPM, or 250 scan lines per second, which enables good point distribution over a "broad range of altitudes and aircraft speeds." He also pointed out that, in addition to RGB colorization, the TerrainMapper offers colorization with elevation, intensity, RGB, CIR, and NDVI data.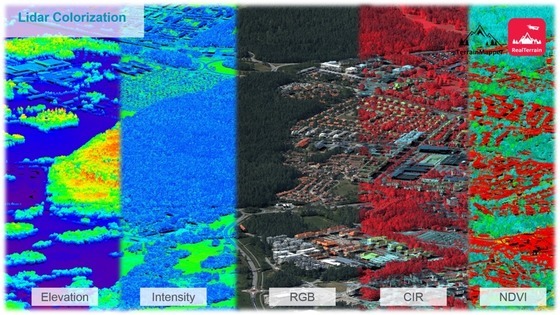 Cylindrical design
A benefit of the cylindrical design the TerrainMapper borrows from the CityMapper is a circular scan pattern.
"That gives the benefit that you have both forward and backward scans," explains Ekelund. "You always have two angles of incidence for the lidar, covering sides of buildings and providing fewer shadows in the data." Furthermore, the pattern allows users to adjust the sensor's field of view between 20 and 40 degrees. This enables users to reduce the size of their capture swath in order to gather higher point density when flying at higher altitudes.
In the past, such scanning patterns have returned denser results at the edges than in the center. Leica Geosystems has developed the sensor to eliminate this problem, and offer even density across the scan field.
Higher efficiency and greater flexibility
To recap, the TerrainMapper offers a higher pulse rate, variable FOV, support for a wider range of flying altitudes, higher accuracy, greater density, and variable scan speeds. These upgraded specs enable the TerrainMapper to offer a number of operational benefits compared with the "previous generation" of airborne lidar sensors.
For one, the TerrainMapper captures USGS quality level 0 data, with 8 points per square meter, at up to 2000 meters flying altitude. Ekelund explains that the sensor can capture data of this quality while covering 500 square kilometers every hour.
Click through below to view data screenshots. Metadata in file names.
Perhaps more importantly, the system's design characteristics offer greatly increased flexibility, which means users can deploy it for collects over many different kinds of terrain. To illustrate this point, Ekelund showed us the data from a number of test flights that Leica Geosystems has conducted at different altitudes, different speeds, and over different terrain.
One data set depicted a mountainous area with a 260-meter variation in altitude. This terrain was flown at 1,250 meters and 110 knots. With a pulse rate of 2 Mhz and a field of view of 40 degrees, the sensor was able to gather a point density of 25 points per square meter—even across the varying terrain.
The second data set captured a power line at 500 meters and 110 knots, with a 2.0 MHz pulse rate. The sensor was set to capture a smaller 20-degree field of view, which enabled it to produce data at 140 points per square meter. This high density made the power lines, as well as the branches of nearby trees, easy to discern.
The last data set he showed us was gathered at 4100 meters, with a 40 FOV, which meant it covered a wide area—a 2,800 meter swath—with a point density of 2 points per square meter.
"We think the TerrainMapper is very flexible, and can be used for both these lower altitude flights and the higher altitude flights," said Ekelund. "We believe that customers buying this sensor want to fly all different types of use cases and really get the maximum use from the sensor."
Click through below to view data screenshots, metadata in file names.
Improved workflow
Over the past few years, Leica Geosystems has focused on developing a common workflow for all of its sensors—an effort that brings great benefits to TerrainMapper. For one, the HxMap multi-sensor workflow offers users the option of distributing their processing across multiple computing cores to enable users to process large amounts of data quickly.
HxMap also offers tools for every task, including imaging, lidar QC, viewing, editing, registration, and even a new tool for calibration. Ekelund explains this last tool, saying that it "compares two overlapping scans, and it creates a number of patches, and then compares the variation of those patches," to ensure that capture accuracy remains constant.
Leica Geosystems's best linear-mode lidar yet?
With its improved accuracy, efficiency, and flexibility, and its evolved workflow, Ekelund says that the TerrainMapper "is capable of handling all different terrains, from high complex urban terrains to mountainous areas, delivering seamless data sets over a huge altitude variation."
No wonder Leica Geosystems thinks of the tool as a replacement for the current generation of linear-mode lidar systems.
For more information, see Leica Geosystems in ILMF booth #212.