Contributed by Blue Marble Geographics
Established as an advanced, all-in-one geospatial software, Global Mapper Pro excels in terrain analysis, point cloud editing, drone-collected image processing, and much more. The comprehensive GIS toolsets in Global Mapper Pro allow users to generate 3D data from sets of drone- or UAV-collected images and move seamlessly into data analysis and processing.
Pixels to Points
With the growing availability of affordable camera-equipped UAVs, more GIS professionals can head out into the field and collect data. Captured as a set of overlapping, geotagged 2D images, the data needs rigorous post-processing to derive 3D point cloud data and seamless imagery from the collected image set. Global Mapper Pro's Pixels to Points tool can take in a set of drone-collected images and surveyed control points available and reconstruct the scene in 3D using the Structure from Motion (SfM) process.
As easy as loading the collected image set into the Pixels to Points tool in Global Mapper, setting up the processing options, and clicking run, users have the option to generate a 3D point cloud, 3D mesh, and seamless 2D orthoimage from the process. These outputs are valuable visuals that can be captured in recorded fly-through videos in Global Mapper's 3D Viewer. The newly created data can also be exported to any supported format or used for continued analysis in Global Mapper Pro.
Automating Point Cloud Processing with Global Mapper Script
The post-processing of generated or imported point cloud data can be executed through the user interface or via Global Mapper script, a text-based scripting language specific to Global Mapper. The Script Builder tool, available in version 24, makes the creation of workflow scripts more accessible by transforming actions taken in the user interface into fully written script commands.
Ground Classification
Most often, the first classification applied to a point cloud is ground. Automatic ground classification in Global Mapper Pro uses user-input parameters to guide the tool's algorithm to identify and apply a classification to likely ground points. With parameters like a minimum height threshold above the local area mean elevation and others describing the expected height change and maximum slope encountered in the dataset, the ground classification tool in Global Mapper Pro is easy to use.
Contour Line Creation
Vector contour lines can be generated directly from any point cloud in Global Mapper Pro at a user-defined interval. However, it helps to have ground classified so the contour lines more accurately describe the terrain. The point cloud data can be filtered through the Contour Generation Options dialog box, and the contour interval and additional advanced specified can be set. After generating contour lines, the vector features can be exported to any supported vector file format to be saved outside the workspace.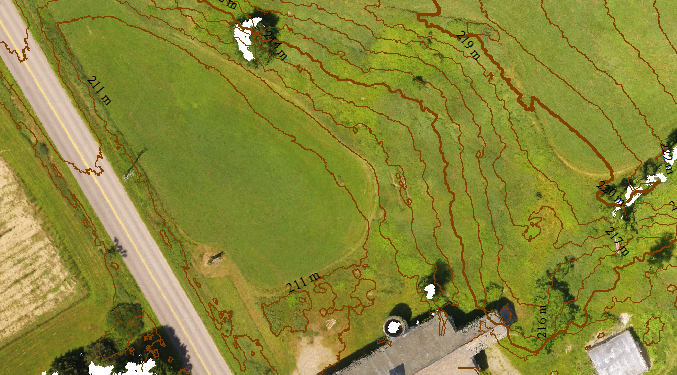 Editing the Script
After activating the Script Builder to record and working through a point cloud post-processing workflow, the recorded script commands can be edited in the Global Mapper Script Editor or any text editor. To make the scripted workflow applicable to any dataset, variables can be added, prompting the user to select specific files to import or enter any needed parameter values for the processes captured in the script. By replacing data-specific file paths and values with user-prompted variables, the script is converted into an automated workflow that can be used with any selected dataset or shared with other Global Mapper users to execute the workflow with point cloud data on their machine.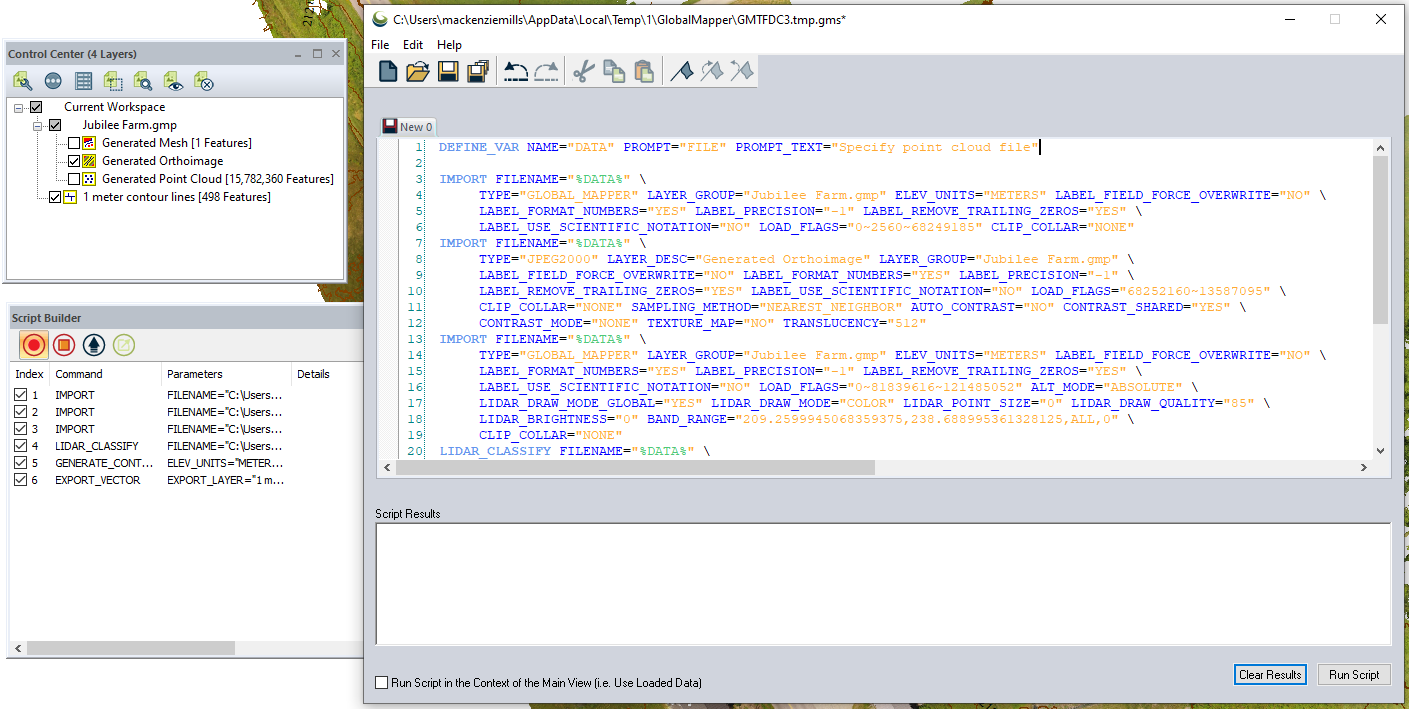 Providing users at all skill levels with advanced tools, Global Mapper Pro continues to be an affordable all-in-one GIS software solution. To check out the drone-collected image processing and more in Global Mapper Pro v24, download a free 14-day trial today!