Last year at the Commercial UAV Americans expo, YellowScan, one of the leading UAV lidar makers, announced a new flagship long-range lidar system, Explorer. Less than a year later, they've added another new product to their line of lidar systems, introducing Voyager, their newest product. The long-range lidar solution, which is compatible with both manned and unmanned aircrafts, can be used to efficiently cover complex and vertical targets.
The Voyager boasts the ability to fly at an AGL altitude up to 440 meters, an increase of over 100 meters compared to the Explorer model. In addition, it has a system precision of 0.5 centimeters and system accuracy of one centimeters, while coming in at just 3.5 kilograms excluding the weight of the battery. Those are also just general specs, as the Voyager includes the ability for its specs to be personalized in order to fit a user's specific project and platform needs.
YellowScan's newest product is best utilized by those tasked with surveying some of the most complex terrains, particularly with heavy vegetation. It's also operable in a wide range of temperatures, ranging from -10 to 40 degrees Celsius (14 to 104 degrees Fahrenheit). A number of different potential users can take advantage of the scanner, which can be integrated with manned aircrafts, multirotor UAVs and fixed-wing UAVs.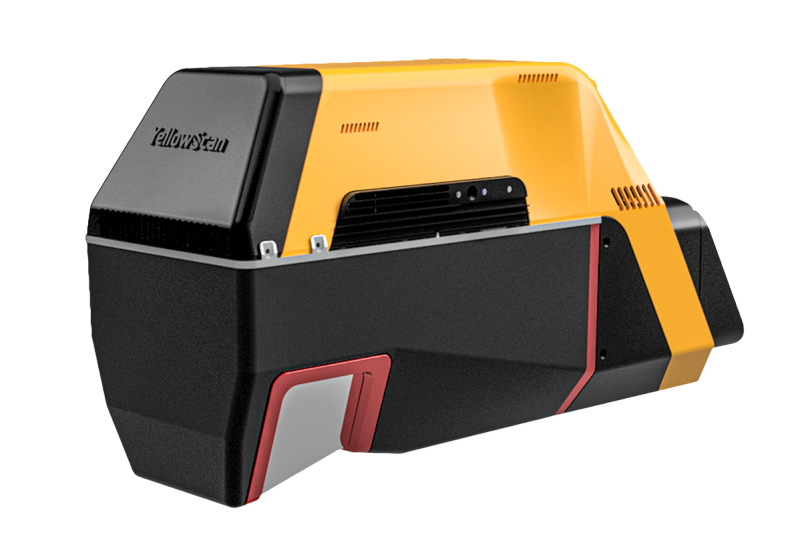 The Voyager's wide field of view ensures that all of the points are orientated towards the ground, resulting in no loss of points. And unlike a 360-degree scanner, 1.5 million points per second will ultimately be usable. On top of that, the scanner can detect and process up to 15 target echoes per laser, and its data acquisition rate of up to 1800 kilohertz, allows for impressive vegetation penetration and makes it an ideal solution for projects which require the highest point density.
The Voyager takes advantage of technology inside the hardware from some of the most respected names in the industry. The laser scanner is a RIEGL VUX-120, while they also utilize Trimble's GNSS-Inertial systems with Applanix's AP+ 50 AIR or AP+ 30 AIR. In addition, users of the Voyager will also have the ability to combine the data acquired via the scanner with YellowScan's full suite of software solutions, including the company's CloudStation.
Potential customers can expect a substantial package that would come with the purchase of a Voyager. Along with the scanner itself, users will get a pair of batteries along with a charger, a GNSS antenna and cable, two USB flash drives, a pelicase, and documentation. In terms of software, they would get the aforementioned CloudStation along with Applanix's POSPac UAV, as well as unlimited support for the first year, boresight calibration certification, a one-year warranty, and included training either in-person or virtual.
There shouldn't be any shortage of prospective users here, with the market for lidar-enabled UAVs growing rapidly in recent years. A January 2022 report from Fortune Business Insights indicated that the global lidar drone market is expected to grow from $129 million in 2020 to $455 million to 2028, a Compound Annual Growth Rate (CAGR) of nearly 18 percent. And now boasting the Explorer, a lighter option and the flagship, and the new Voyager which specializes in more complex environments, YellowScan should be able to take full advantage of this quickly increasing market.