Last week, Bentley Systems announced a new collaboration initiative with engineering firm WSB with a goal towards assisting and leading owners of civil infrastructure, as well as contractors working on infrastructure and other construction projects, to adopt and utilize digital twins. WSB will lead the effort with a new digital construction management solution and advisory service, which is based on Bentley's SYNCHRO tool, trying to help this crucial space overcome the barriers that have previously prevented and slowed adoption of these tools and workflows. Per Bentley's announcement of the news, "WSB is the first firm to join the Bentley Digital Integrator Program for construction to provide programmatic go-to-market support and knowledge transfer to eligible engineering and project delivery firms and system integrators creating and curating digital twins for their clients' infrastructure assets."
As we talked about recently when discussing Mach9's new software solution aimed at the infrastructure sector, it's a space which is ripe for innovation for a couple of reasons. One is that it's massively important right now, particularly in the United States where much of the infrastructure around the country is aging out of usability around the same time. This was the impetus for the 2021 Infrastructure Investment and Jobs Act, which is going to flood the sector with cash. It makes sense for a good chunk of that money to be fed towards digitalization, as this is a space that has traditionally been lagging in adoption of these tools, but there also needs to be an onramp, so to speak, to actually get going and make maximum use of the solutions.
It seems that WSB has taken this same view, and in collaboration with Bentley are looking to create that onramp and make those first steps as simple as possible. Much of this focus is going to be on digital twins for infrastructure, which comes as no surprise given Bentley's acumen in that space. The goal is to convey the importance of a digital "single source of truth" to some of these legacy organizations who are still relying on things like 2D drawings, spreadsheets, and physical documentation, which leads to both waste and errors.
The tool WSB will be developing to help these firms create and distribute their new 3D and 4D models uses the aforementioned SYNCHRO as its foundation. SYNCHRO is Bentley's infrastructure construction management solution, which the company says allows "your team can plan and better manage people, materials and equipment more easily and affordably." Assuming WSB's tool will have similar goals to SYNCHRO, there will be a heavy emphasis on creating those single sources of truth, while also focusing on the importance of collaboration for projects like this. In addition to the digital solution, this new collaboration between WSB and Bentley will also aim to provide training to infrastructure customers to ensure success.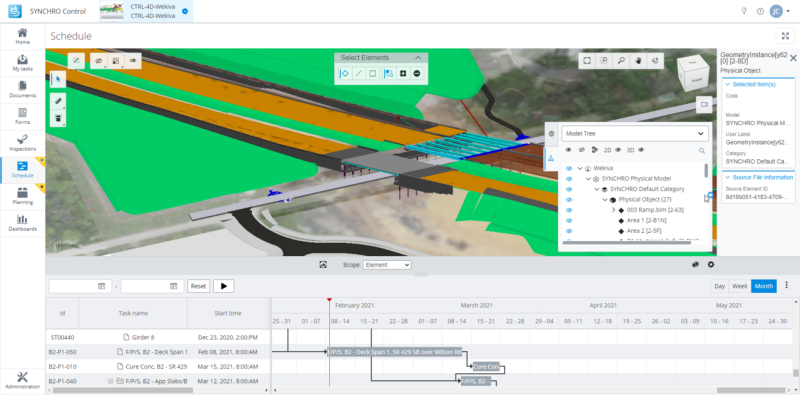 We got a little into the reasons why the infrastructure space in general is so important right now, and that's why we've just recently seen two new software solutions focused specifically on the sector. It's worth looking more into WSB and Bentley's goal with this particular solution, though, specifically around the idea of on-ramping and assisting these firms with the adoption itself. There's a lot of consternation around the construction industry's so-called aversion to technology, but frankly we don't always see solutions offered up.
There are a lot of reasons the industry is a relative laggard in this space, and while some small percentage is likely due to stubbornness, it's certainly not the most significant reason. It can be intimidating to try new tools, particularly in an industry which has long succeeded without them. Additionally, construction is generally a low margin business, meaning these types of risks are heightened, and given increasing demand coupled with worker shortages, it's not hard to see why firms might be hesitant to take these leaps. Having an experienced team with people in your field with knowledge of your specific barriers assisting with those first stages could very well be the difference between taking the leap and not for a lot of these firms. It's a worthy goal for WSB and Bentley.
It's also the goal for the broader Bentley Digital Integrator Program, for which WSB is the first participant. The goal of the program is "to provide programmatic go-to-market support and knowledge transfer to eligible engineering and project delivery firms and system integrators creating and curating digital twins for their clients' infrastructure assets."
On that point, Bentley vice president of construction Rich Humphrey said in a press statement, "to provide programmatic go-to-market support and knowledge transfer to eligible engineering and project delivery firms and system integrators creating and curating digital twins for their clients' infrastructure assets."
Jon Chiglo, COO at WSB, added, "WSB is committed to delivering innovative, reliable, and secure solutions through the use of advanced technology. We believe the successful deployment of an operational 3D model drives transparency, maximizes return on investment, makes possible true lifecycle planning, and drives collaboration to connect and align all stakeholders. We have an entire organization that is leading, creating, and innovating into our digital future. Our partnership with Bentley is an important part of this vision and we are excited to bring this digital construction management service to market."