Targetless registration, de-noising, and automatic modeling for over 10 billion points.
Japan-based Elysium Global isn't exactly new, but they're probably new to you. In the few years since the release of their InfiPoints software, it has gained a reputation in Japan as an all-in-one solution for processing and utilizing massive point clouds, even those containing more than ten billion points. Based on technology developed for the automotive PLM market (with marquee clients like Toyota, Nissan, and Daimler AG), InfiPoints represents the company's play to bring their products into new markets worldwide, including plant engineering, civil engineering, and architecture.
Elysium calls InfiPoints a comprehensive software application for point cloud data utilization. The application pre-processes data automatically by performing targetless registration, noise reduction, as well as the modeling of planes and pipes from point cloud data, among other processes. The software is built to "realize the entire process from data pre-processing to point cloud utilization (modeling, simulation, etc) in a single application. Users do not need to learn several tools or export intermediate files for data exchange anymore."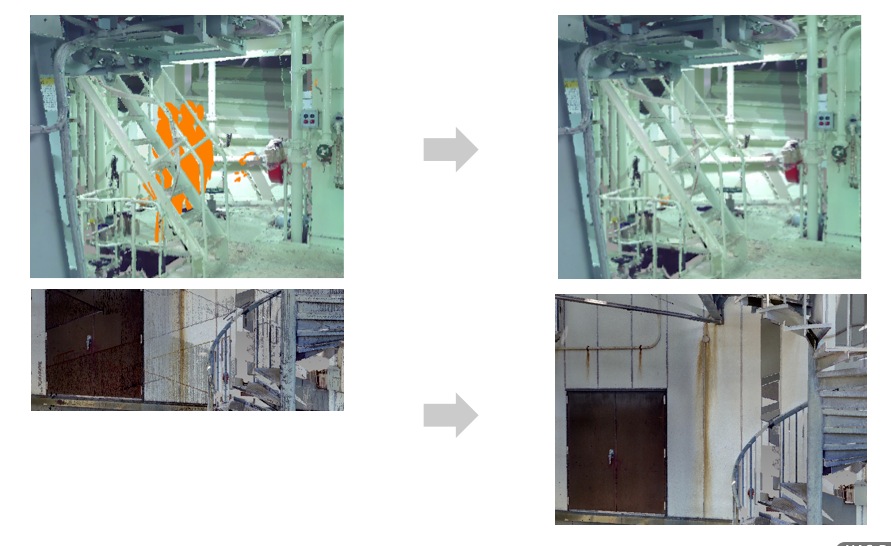 Automatic Noise reduction
InfiPoints automatically detects cylindrical and planar shapes (piping, floors, walls, equipment, etc.) in point cloud data for extraction to multiple CAD environments. The company says that the modeling capabilities of InfiPoints have been upgraded considerably for the latest version, released in February.
The software also communicates with the company's Rhinoceros application for the creation of 2D drawings or CAD models by tracing point cloud data.
In a statement, Elysium stresses that the graphic engine has been released to partners as an SDK, which means that data processed within InfiPoints will be easily usable within digital mockup software or virtual reality systems created by outside developers.
A Solution for Decaying Infrastructure
In contrast to American sentiment, the increasing obsolescence of infrastructure is regarded in Japan as a social problem, and the expectations placed on 3D technology for solving this problem are growing. According to Elysium, the company is responding to these expectations by developing an InfiPoints-based application called InfraDoctor to facilitate the upkeep of roads.

The software was created in cooperation with Shutoko Engineering Company Limited and based on their own workflow. It is described as a system that allows users to manage all the necessary information for road upkeep, including drawings, repair history, and point clouds in one single application.
InfraDoctor, Elysium explains, leverages InfiPoints to "connect point cloud data mainly obtained from scanning with mobile mapping systems with GIS. Moreover, it can conduct a virtual simulation of heavy equipment, model CAD data of existing structure, and more."
The software is planned to be released for general use in the near future.
Future Plans
Elysium plans to expand beyond Japan and bring InfiPoints to the global market, utilizing the experience and support infrastructure that the company has developed over its 30-year history.
The company can be found showing the newest version of InfiPoints at SPAR International 2015 from March 30 to April 2, 2015 in Houston, Texas.