In a continued pursuit of becoming the automotive industry's top automotive-grade lidar solution providers, Velodyne Lidar has announced a "next-generation" update to its solid-state Velabit sensor that has improvements that address the cost, design and safety needs of the automotive industry.
The new Velabit sensor is built on Velodyne's micro-lidar array architecture (MLA) that was found on the original Velabit. The MLA is Velodyne's groundbreaking optical chip technology that forms the "engine" of the lidar sensor. The MLA brings together the core elements that make lidar work: the optical chip and Velodyne's ASIC (application-specific integrated circuit) technology.
The biggest difference between the previous version and the newly-launched Velabit is a dramatic change in its field of view. The original had a 60-degree horizontal FOV and 10-degree vertical FOV - the new sensor has a 90-degree horizontal and 70-degree vertical FOV. In a video from Velodyne, the difference in the field of view is illustrated below. This expansion of its view means that the sensor's 100 meter range can now take in more information at once, which can lead to a greater safety or a better understanding of a scene.
The new Velabit has a smaller form factor compared to the original as well, and boasts a three-fold increase in the points per second collected. Keeping the automotive industry's desire for small, modular sensors in mind, the form factor was kept small, and the power consumption lowered to maximize battery life and vehicle range.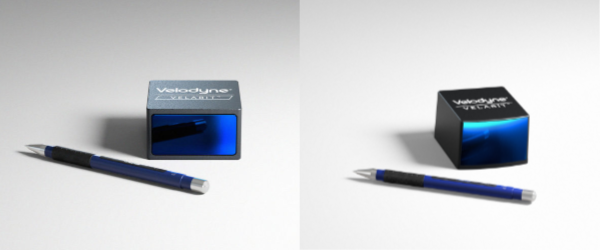 Engineered to be an optimal automotive-grade lidar solution for Advanced Driver Assistance Systems (ADAS) and autonomous vehicles, the Velabit is designed to fill sensing gaps, helping automakers achieve full coverage around a vehicle.
The sensor enables perception coverage for ADAS features including Blind-Spot Monitoring, Cross-Traffic Detection, and Pedestrian Automatic Emergency Braking (PAEB).
Velabit will be combined with Velodyne's lidar-based perception software, Vella, to streamline customers' projects and advance a broad spectrum of vehicle safety functions. The software translates Velabit's high-quality point cloud data into valuable perception outputs, including object classification and tracking, obstacle detection, scene segmentation, and object velocity, that can be utilized by vehicle systems. When combined with vehicle odometry data, Vella provides time and distance to collision measurements, enabling safer vehicle response.
The sensor can also be combined with other Velodyne lidar technologies, such as the Velarray H800, for high-speed operation or function as a standalone lidar solution in low-speed applications.
The combination of the Velabit's small size and low power consumption could also expand its use to other applications, including in industrial forklift or other warehousing technologies, other autonomous mobile robots and small vehicles, as well as UAV mapping and navigation. The wide vertical field of view also makes this an ideal technology for near-field sensing and robotics applications that are not as "fixed" in their perspective as a car would be.
In a press release from Velodyne, the Velabit is estimated to be able to go into mass production "as early as Q4, 2022."
Anand Gopalan, CEO of Velodyne says that Velabit delivers on what their customers asked for.
"With our next-generation Velabit, Velodyne continues to innovate with a sensor that has small size for sleek, stylish integration while delivering high-quality performance," said Anand Gopalan, CEO, Velodyne Lidar.
"Our dedicated engineering team worked to bring our customers' needs to life in under a year, highlighting our commitment to meeting market demands. And our goal is to not only meet market demands but transform lives globally. We believe this sensor will democratize lidar-based safety and autonomy across many different industries."
As the pursuit of safe autonomous vehicles continues, the sensor market has become a crowded place to be - especially for lidar manufacturers. For lidar-maker Velodyne, this may be an opportunity to continue to pull ahead.