This week, Trimble announced the release of the Trimble X9 3D laser scanner, the company's latest reality capture solution designed for surveying, construction, and engineering professionals. The new scanner is the latest iteration of laser scanning technology from the Westminster, Colorado-based company, which they say is "engineered to enhance performance in more environments while leveraging innovations such as the Trimble X-Drive technology for automatic instrument calibration, survey-grade self-leveling, and laser pointer for georeferencing."
Expanding upon the established Trimble X7 laser scanning system, introduced in 2019, the X9 is the latest addition to the company's laser scanning portfolio, joining the X7 and the X12, which was introduced in 2022. Compared to the X7, Trimble indicates the new X9 boasts longer scanning range, higher accuracy, shorter scan times, and "exceptional" sensitivity. They continue to point out that the advancements they have made with their new scanner makes it an ideal solution for capturing dark or reflective surfaces, which can often cause problems for collecting data. With the improvements, Trimble points to broader applications for customers in industries like surveying, construction, rail, mining, and more.
Perhaps the most important detail about the new scanner is its ability to automatically calibrate and self-level, a feature also included in the X7 and X12. These automated features improve efficiency and, as Trimble points out in their release of the news, can help save costs by eliminating the need for annual calibration, while also ensuring professionals get dependable data with each scan. Additionally, the X9's survey-grade self-leveling makes for quicker and simplified setup processes, saving both time and headaches.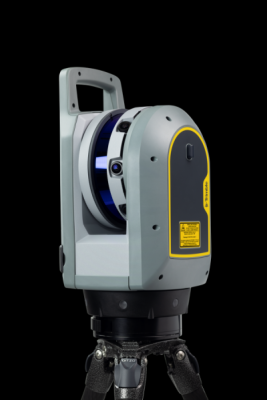 In terms of more specific specs for the Trimble X9, it includes high-speed scanning up to one million points per second to go with a range of up to 150 meters and an accuracy of two millimeters. Furthermore, the scanner weight comes in at just over six kilograms (or just over 13 pounds) including the battery, and comes with three batteries with each lasting up to three-and-a-half hours on a full charge.
Along with the improvements made to the hardware, the Trimble X9 crucially also integrates seamlessly with Trimble software to ensure an easy and efficient workflow. Data collected from the X9 can be delivered from Trimble Perspective, the company's in-field point cloud software, to back office software like Trimble Realworks, Trimble Business Center, or SketchUp and Tekla. Data does not have to go to Trimble software, either, as it can be exported to industry-standard formats for application-specific deliverables.
With this latest addition to the scanning portfolio, Trimble is continuing towards their goal of providing powerful laser scanning technology that is relatively simple to use. And with the X9 joining the X7 and X12, they now have solutions for a range of possible use cases, depending on the strength one would need from their scanner for a given project. The X12, for example, has higher scan speeds and is ideal for projects that require higher point cloud density and higher range from a scanner.
The idea of providing high-quality data with an easy-to-use system was something echoed by Jason Hayes, market manager, Reality Capture Solutions, Trimble Geospatial. "Our customers buy Trimble because they want reliability and performance," he said in a press statement. "The Trimble X9 is simple to use, provides unsurpassed reliability, and excels at creating high-quality digital representations of the world for applications ranging from fast-paced building documentation to challenging outdoor surveys."