Trimble Business Center updates
Trimble Business Center is a desktop application for processing and managing optical, GNSS, and imaging survey data. These are some of the new features in the latest version, 5.40, released last December:
A new Automated 3D point cloud extraction tool
To satisfy the need for tools to efficiently extract information are critical to maximize productivity, Trimble Business Center 5.40 introduces eCogAI software library, a fusion of Trimble's eCognition technology and state-of-the-art Deep Learning AI, which automates the extraction of information from 3D point cloud data. The new tools reduce the time to create CAD and GIS linework and objects that are used to generate topographic plans, surface models and GIS database layers.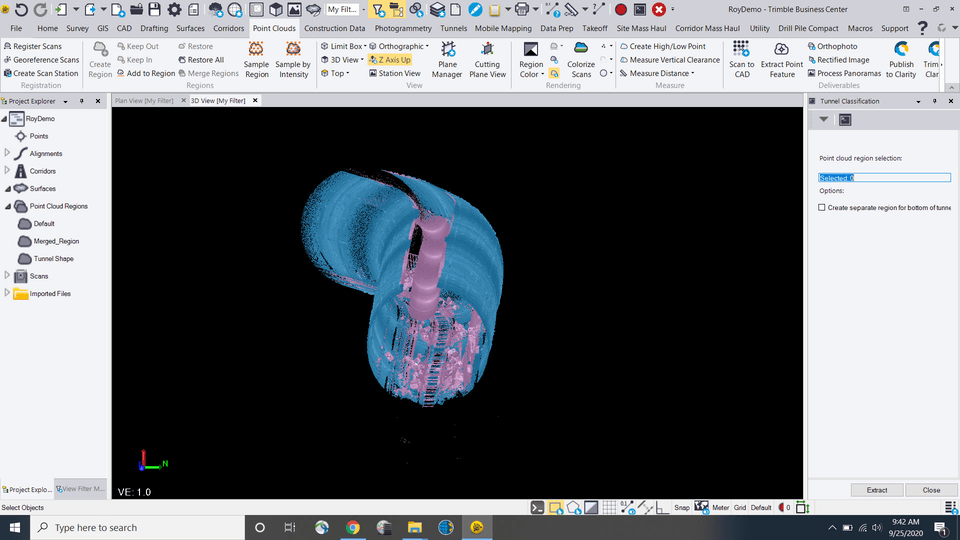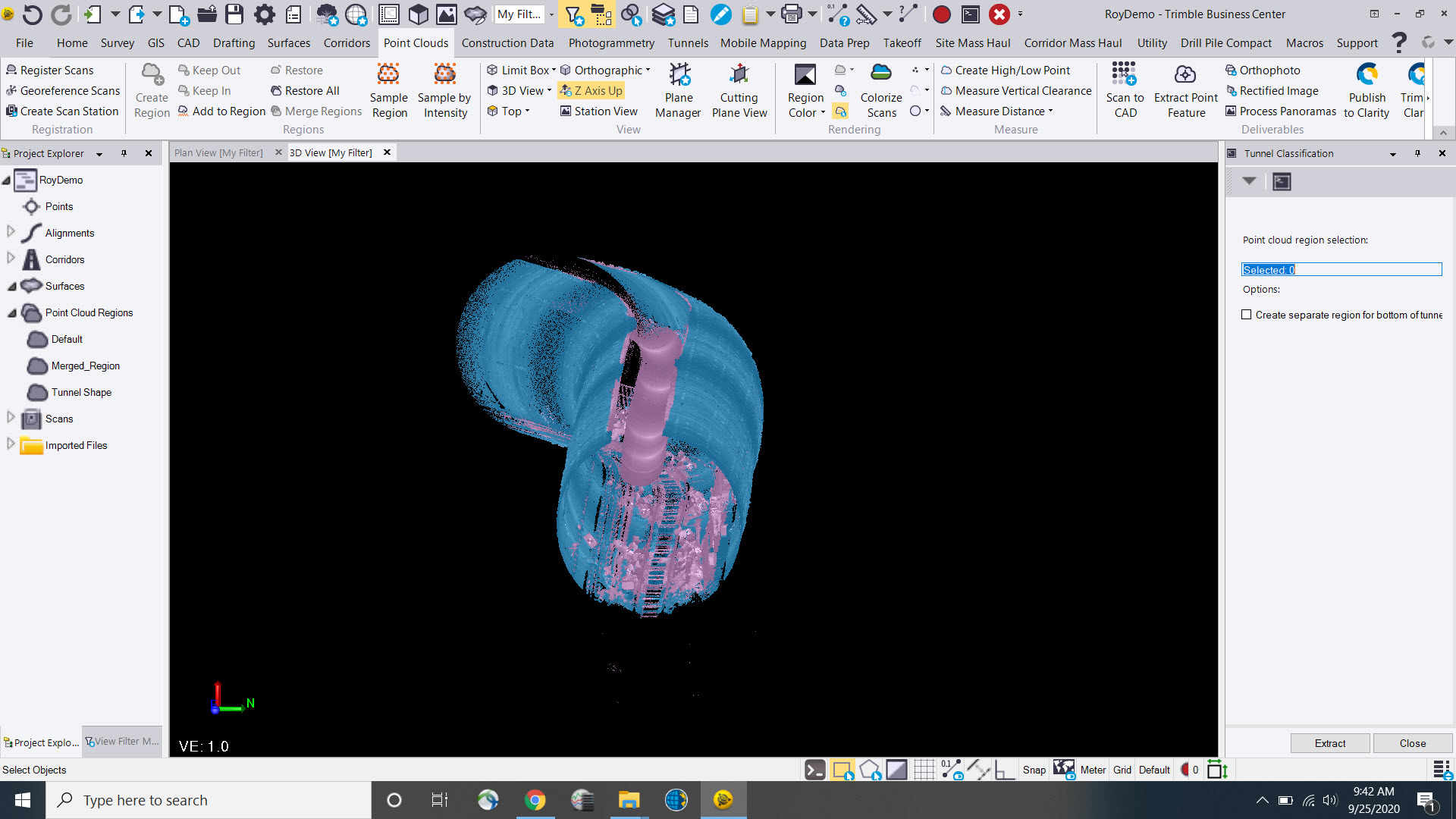 A new monitoring module
Trimble Business Center 5.40 introduces a new Monitoring module that integrates deformation information from Trimble T4D Control software. The new capabilities provide surveyors with the ability to view all relevant survey data within a single project environment, enabling quicker and more informed decisions for civil infrastructure and mining applications.
Tunneling module enhancements
Enhancements to the Tunneling module allow surveyors to rapidly compare 3D point cloud data of the construction progress with the tunnel design. With an automated tunnel extraction routine and detailed mesh comparison models, the new capabilities reduce the effort to generate highly graphical as-built reports to enable rapid construction verification.
New subscription plans
New subscription plans enable businesses to more effectively manage and control their operating expenses. With new license management tools, administrators can assign licenses to individuals, matching software capabilities to personnel skills and project needs.
Trimble Access updates
Trimble Access services provides cloud-based data hosting and visualization tools for collaboration and easy access to your data with the Trimble Connect cloud. It also features a synchronization service that allows data to be shared instantly between the office and field crew, as well as between field crews. These are some of the new features in the latest version, 2020.20 in December 2020:
New subscription pricing options
In addition to the standard pricing options, Trimble Access v2020.20 introduces a new way to purchase the software on a subscription basis. The new subscription pricing may be valuable for companies that purchase software on an annual or project basis.
Usability improvements
Users now have a simple slider control at their disposal to resize any form that appears alongside the map, on any controller. In addition, the software now remembers the user's preferred size for different groups of forms. Projects created locally on the controller can be uploaded to the cloud.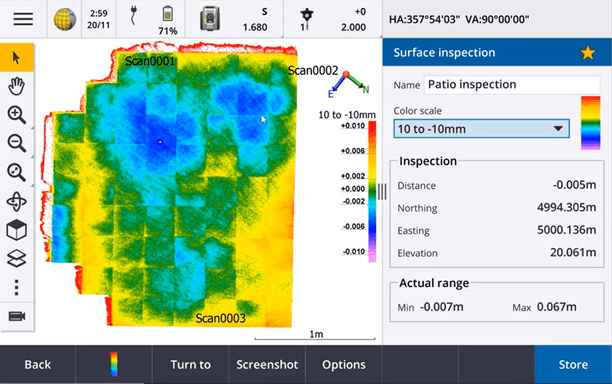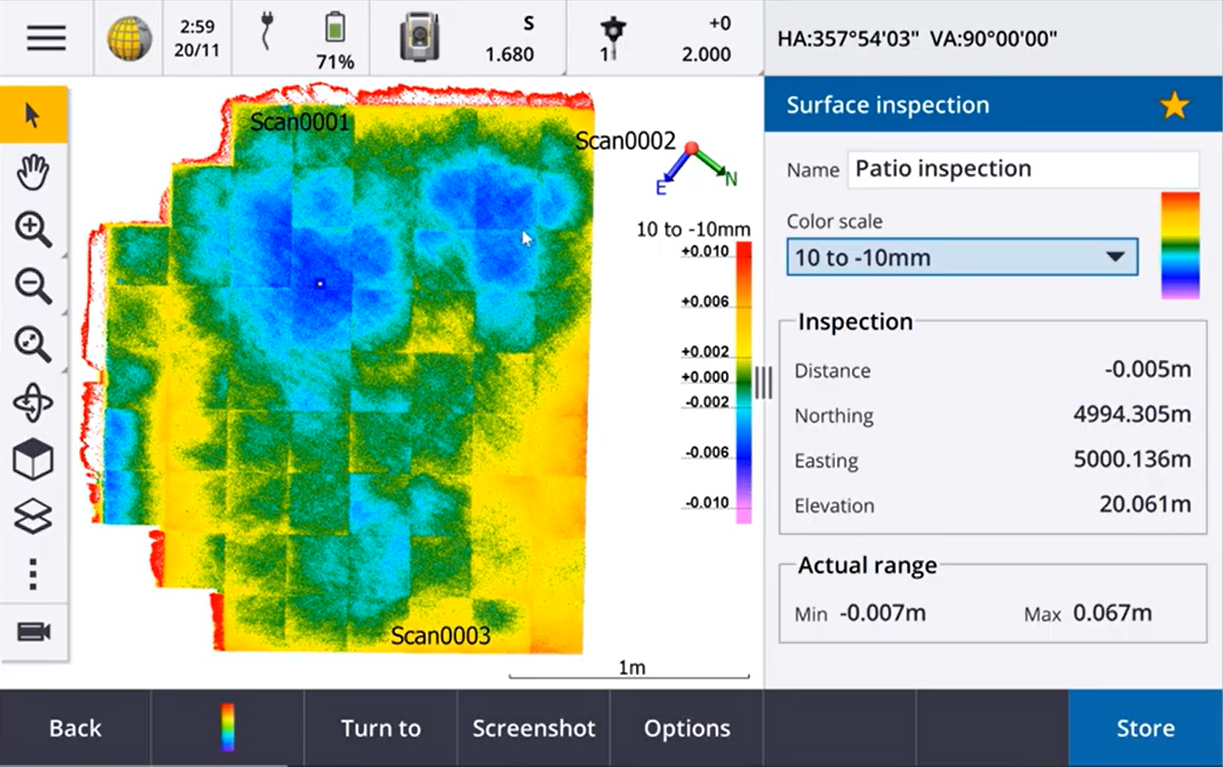 The new Surface inspection feature compares an as-built surface, with a reference surface. The Surface inspection Cogo function calculates the distance to the reference surface for each point in the selected scan(s) and creates an inspection point cloud. Finally, improvements have been made to the time-dependent coordinate transformation feature, which is used to transform RTX positions between ITRF 2014 at the epoch of measurement and the global reference frame.
Trimble INPHO updates
Trimble Inpho software suite is a comprehensive workflow solution enabling photogrammetrists to rapidly produce highly accurate and quality deliverables for their clients based on large frame aerial imagery, LiDAR or satellite data. Here are some of the new features for the INPHO version 11 product suite, that was developed to meet the evolving needs of the rapidly growing aerial imagery market with an enhanced productivity.
New 'Batch-Processing' feature in MATCH-3DX
The new feature 'Batch-Processing' in MATCH-3DX allows users to produce point clouds from repeated flights of the same camera in the same area, increasing productivity especially for forensics, insurance and disaster management applications.
Unified matching engine in UASMaster
A unified image matching engine for UAS scenarios now enhances the adjustment geometry, improving the quality of final results, while simplifying the workflows for challenging UAV projects.
Trimble eCognition updates
Trimble eCognition is an advanced analysis software for geospatial applications designed to improve, accelerate and automate the interpretation of a variety of geospatial data and enables users to design feature extraction of change detection solutions to transform geo-data into to geo-information. eCognition 10 offers a variety of new tools and an overhaul of existing tools, such as:
New Developer UX & Increased Usability & Accessibility
An overhaul of the Developer UX now offers a dark mode and updated icons. When starting the software, users will be greeted with a start screen that provides fast access to eCognition news, resources and recent Workspaces, while Menus and toolbars have been optimized and simplified to decrease mouse paths and clicks.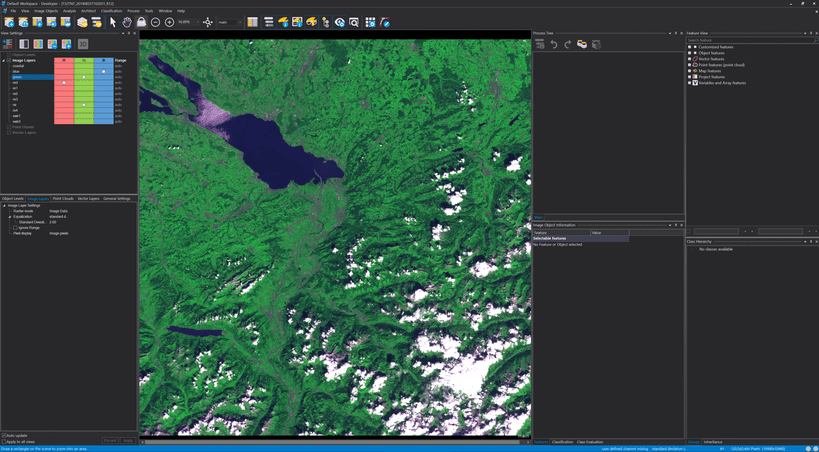 Expanded Data Handling Tools & New Cloud-Readiness Capabilities
New pre-processing tools have been added to enable project front-end tasks directly within Developer and decrease the need for additional 3rd party applications. A new Docker container-based eCognition Server setup that can be easily managed within various cloud systems, brings eCognition Server's processing power to the cloud.