Veripos board recommends shareholders not to accept Hexagon's $152 million cash offer
A joint rival takeover bid from Topcon Corporation and Siem Industries Inc. for shares of Veripos Inc., a Norwegian manufacturer of satellite navigation and positioning systems for offshore oil companies, has edged out a previous offering from 3D measurement and visualization firm Hexagon AB.
Stockholm, Sweden-based Hexagon's $152 million (910 million kroner), or NOK 28 ($4.91), bid last month, in cash, for each Veripos share was 22 percent more than Veripos' stock closing price on Oct. 11 and 44 percent higher than the three-month volume-weighted average.
Japan-based Topcon, a major positioning and navigation firm serving the geospatial, construction, agricultural, and mapping industries using GPS, optical, scanning, and machine control technologies, and Siem, Veripos' largest shareholder, have indicated they will bid NOK 30 ($4.91) per share. That's a 7 percent premium over Hexagon's bid, prompting Veripos' board to recommend to shareholders not to accept Hexagon's offer.
Veripos was spun off from Siem subsidiary Subsea 7 Inc. in July 2012, when Siem became Veripos' largest shareholder with 21 percent ownership. Siem operates through its subsidiaries serving the oil and gas, ocean transportation and shipping industries. Eystein Eriksrud, deputy CEO of Siem is also the chairman of Veripos, and has recused himself from the board's consideration of the offer situation.
Veripos' products and services include navigation and positioning hardware and software for segments of the offshore industry, including seismic exploration, survey and construction, dynamic positioning marine and dynamic positioning drilling. Veripos operates and controls its positioning network with over 80 GNSS reference stations.
Topcon and Siem said acquiring Veripos would increase the company's "ability to successfully penetrate the near shore and land satellite positioning market and ancillary markets."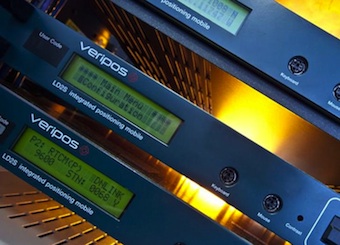 But Veripos shares have continued to soar in price since the offer activity, hitting a new high Monday of NOK 32.70, and market capitalization of NOK 1.06 million ($174.3 million).
The higher stock price also had Veripos' board recommend that shareholders hold off on accepting Topcon and Siem's offer until the board has accepted it.
Under terms of the agreement between Siem and Topcon, Topcon will acquire the first shares accepted in the offer up to a level where Topcon will own the same number of shares as Siem – any further shares accepted in the offer will be split 50/50 between the two firms.
Toshiba Corporation is the biggest shareholder (30 percent) in $1 billion Topcon, which is the parent company of Livermore, Calif.-based Topcon Positioning Systems Inc. (TPS), the world's largest manufacturer of precision GPS and GNSS systems, commercial lasers, and optical instruments for the global surveying, civil engineering, asset management, mapping, construction, agriculture and mobile control industries.
Publicly traded Hexagon (NASDAQ OMX Stockholm: HEXA B) has annual sales of €2.4 billion ($3.3 billion), and sells 3D measurement and visualization software and hardware under the Leica Geosystems, Intergraph, and Hexagon brands for the surveying, power and energy, aerospace and defense, construction, safety and security, automotive and manufacturing industries.