Leica Geosystems released the Leica GS18 I, the world's first GNSS RTK rover with integrated visual positioning technology, enabling surveyors to check the quality of data while on site.
The GS18 I was designed for surveyors who want to measure previously inaccessible points accurately with GNSS and for those who want to capture the environment quickly and decide later which points to measure. Also, the added visual positioning functionality means that no supplemental field locations with total stations are required to complete an area being surveyed. As such, there's no need to switch between tools in the field, enabling quick and safe data collection in the field.
Visual positioning technology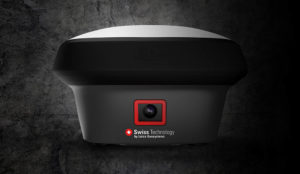 Just like any other Leica GS sensor, the Leica GS18 I can use RTK corrections from all GNSS correction services. Additionally, the GS18 I offers all the functionality of the Leica GS18 T RTK Rover, but with added visual positioning technology. The Leica GS18 T, first released three years ago, introduced the ability to measure points in spaces that cannot be measured with vertical poles such as walls and points underneath obstacles.
With regards to the GS18 I, the term "Visual Positioning technology" refers to sensor fusion combining GNSS, IMU and a camera. The technology is based on near real-time data processing so that data can be checked while on site. Visual Technology is appropriate for a variety of use cases, such as mapping hundreds of points, measuring inaccessible or difficult to reach points, such as trenches, high power lines and busy roads. It's also useful in places with GNSS signal obstruction, for example, areas underneath bridges or canopies. Leica also targets specific non-traditional mapping applications with this release, such as volumetric calculation of stockpiles and capturing images of a crash scene for point measurements.
Capturing imagery and measuring points from images
Image capture on-site happens with Leica Captivate field software with a frequency of 2 Hz, running on the CS20 LTE, BASIC controller, or the CS35 tablet. After data capture, the software calculates the position and orientation of the imagery in a global coordinate system by integrating the data from the GNSS and IMU with features recognized in the images.
Images are processed in real-time and can be used for measuring points on-site. The GS18 I does not require manual picking of points when calculating 3D coordinates from images: when the user picks a single point, it is automatically matched in consecutive images, the 3D position of the point is reconstructed using forward intersection (Figure 3). This is the process of establishing a geometric connection between consecutive images by extracting distinctive points from images.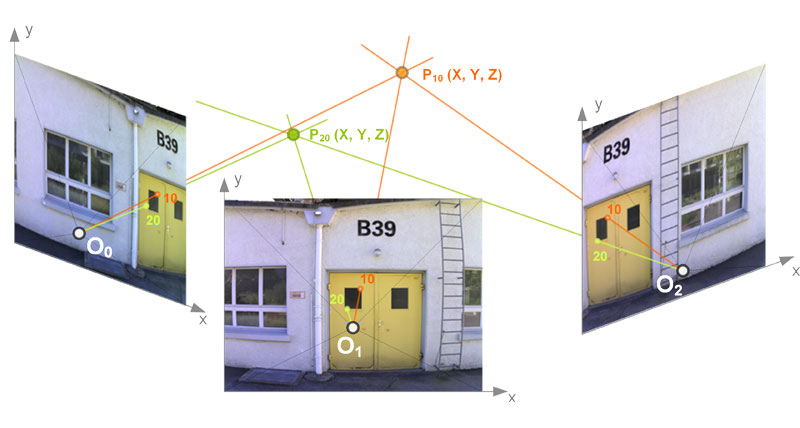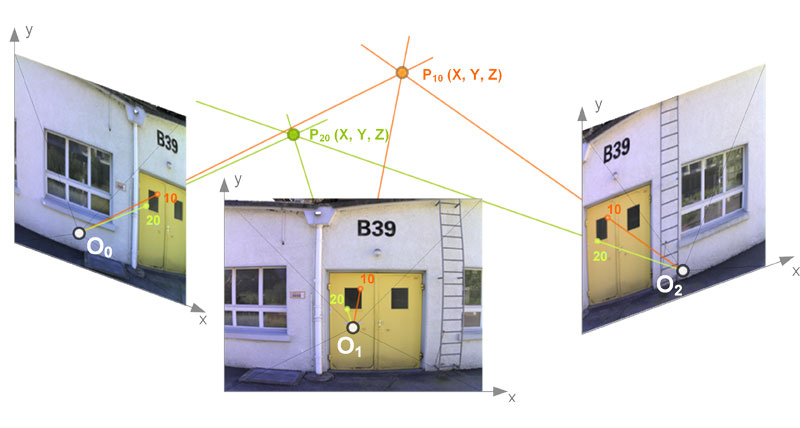 Images can also be imported to Leica Infinity office software, where users can measure points on a large screen. Infinity also enables the creation of 3D point clouds from the images for use in a variety of point cloud software. This way, the GS18 I can save the user time onsite as points can be measured in the office, while additional points can be measured from the captured images, eliminating the need for site revisits.