The Leica BLK2FLY is a fully integrated autonomous lidar UAV that was released in 2021. The system enables users to capture complex buildings and structures completely by creating its proper scan path while it flies around structures and captures reality in 3D. Additionally, it uses five onboard cameras for full dome visual coverage, a dual-axis spherical laser scanner, onboard radar and lidar sensor fusion for advanced obstacle avoidance. Leica Geosystems has now added the capability to use the system indoors via a firmware update at no additional extra costs for current and future users.
Enabling more flexibility and maneuverability to scan indoor spaces
The new BLK2FLY indoor map can be seen in action in a short video, where it is demonstrated in the Swiss Life Arena, a large hockey rink and event hall in Zurich, Switzerland. Tobias Pforr, Leica BLK2FLY Business Lead, states that the new indoor scanning feature was high on the priority list of existing BLK2FLY customers. To enable this new feature, Leica has been working on improving low-light visibility and reducing collision avoidance from 3.5m outdoors to 1.5m indoors. This provides more flexibility and maneuverability to scan indoor spaces. Additionally, Indoor Mode can also be used outdoors where GNSS is not available as it does not require GNSS, which enables even more airborne scanning applications.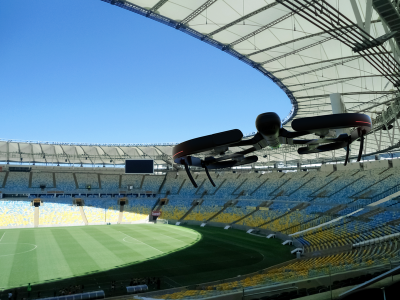 The BLK2FLY can scan in areas without GNSS availability, opening reality capture opportunities in new settings and with new applications, including hazardous indoor areas like nuclear power plants, arenas, warehouses, and other facilities. After its release in 2021, the BLK2FLY, with its advanced autonomous UAV-based scanning, redefined reality capture workflows for multiple industries, especially digital construction, architecture, historic preservation and utilities. Digital realities are a crucial component of those workflows, and now that the BLK2FLY scans indoors, users can create complete, comprehensive digital twins of buildings and structures.
Capturing the Swiss Life Arena
An online blog post explains that the BLK2FLY can effectively and safely scan indoor spaces through a combination of a reduced obstacle avoidance distance, and by flying slower for maneuverability, so the drone can get closer to objects and fly in tight spaces, without requiring GNSS. The aforementioned Swiss Life Arena was scanned through a combination of autonomous and manual flight missions, resulting in a complete dataset of the entire arena with all features included. While the open spaces such as the area itself and the seating area could be captured using autonomous reality capture scan missions, more difficult-to-capture areas such as the ceiling were captured using the BLK2FLY Indoor mode in combination with manual flight. This enabled capturing ceiling rafters, rods, and other structures that would otherwise not have been possible to capture in close detail.